Miss Seed, Mrs Taylor and Mrs Noor would like to welcome you to Nursery!
Introduction to Nursery
Within Nursery we encourage children to engage in a range of play activities which help the children to make progress in each of these key areas of learning and development:
Personal, Social and Emotional Development.

Communication and Language.

Literacy.

Numeracy.

Knowledge and Understanding of the World.

Physical Development.

Creative Development.
Your child's time in Nursery will be organised so that the children can choose from a range of activities and, in doing so, build up their ability to select and complete tasks. This is also known as Continuous Provision. The children are also helped and encouraged to take part in small and large group activities led by the teachers which introduce them to new experiences and help them to gain new skills, as well as helping them to learn to work with others.
What can I do with water?
During the second half of the Summer term, we are launching our new and exciting Learning Challenge Curriculum where the children's learning will be based around the key question 'What can I do with water?'
Each week the children will find out about, explore and investigate the following questions –
Week 1/Learning Challenge 1 – What does Mrs Wishy Washy do?
Week 2/Learning Challenge 2 – How can I make bubbles?
Week 3/Learning Challenge 3 – What jobs do people use water for?
Week 4/Learning Challenge 4 - What would you see at the seaside?
Week 5/Learning Challenge 5 – Can I make some friends for the Rainbow Fish?
Week 6/Learning Challenge 6 – Where do puddles go?
Week 7/Learning Challenge 7 – What can we do with water outdoors?
The children will also enjoy participating in a water themed fun day, and learn about the celebration of Father's Day. The children moving up into Reception in September will also be involved in some transition days into their new classrooms (more details to follow).
You should have already received a Nursery class newsletter outlining the children's key learning opportunities for this half term, ideas of things you can do and games you can play at home to help, however, please feel free to ask a member of staff for another copy if needed, or to discuss this further.
Other Information
Useful Websites
http://www.bbc.co.uk/learningzone/clips http://www.naturedetectives.org.uk
http://www.bbc.co.uk/schoolradio/subjects/earlylearning/
Class Fund
Please can we remind all parents that the class fund money for this term is now due. It is £1.00 per week and you are welcome to pay weekly or the full amount for the half term. This money is used for providing the children with tasting, baking, craft and investigation activities.
Bedtime Books
Your child is able to select a Bedtime/Story book to share at home on a weekly basis. Your child must have a book bag to put the book in before they will receive one. School book bags can be purchased from the school office.
Class Newsletter
We have sent home a class newsletter informing you of this half term's topic, the types of activities your child will be participating in, the knowledge, understanding, opportunities and experiences your child will gain. There are also some ideas of things you can be doing at home to support your child's learning. If you need another copy of this letter, please ask one of the Nursery members of staff.
Thank you and we hope you find this information useful.
Look at Our Learning!
Here are some photographs of the fun activities the children have been engaged in so far linked to our topic 'What can I do with water?' -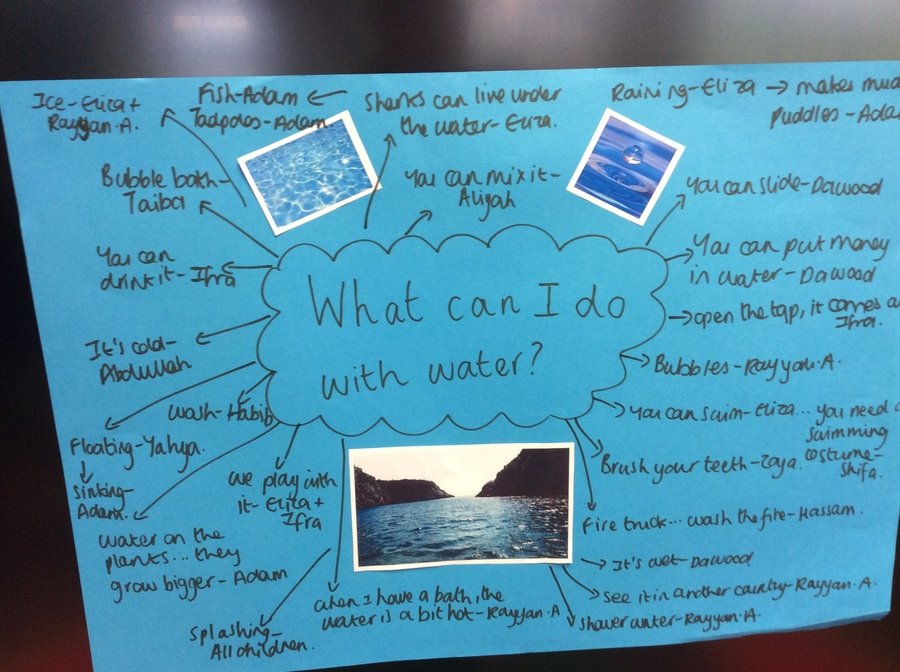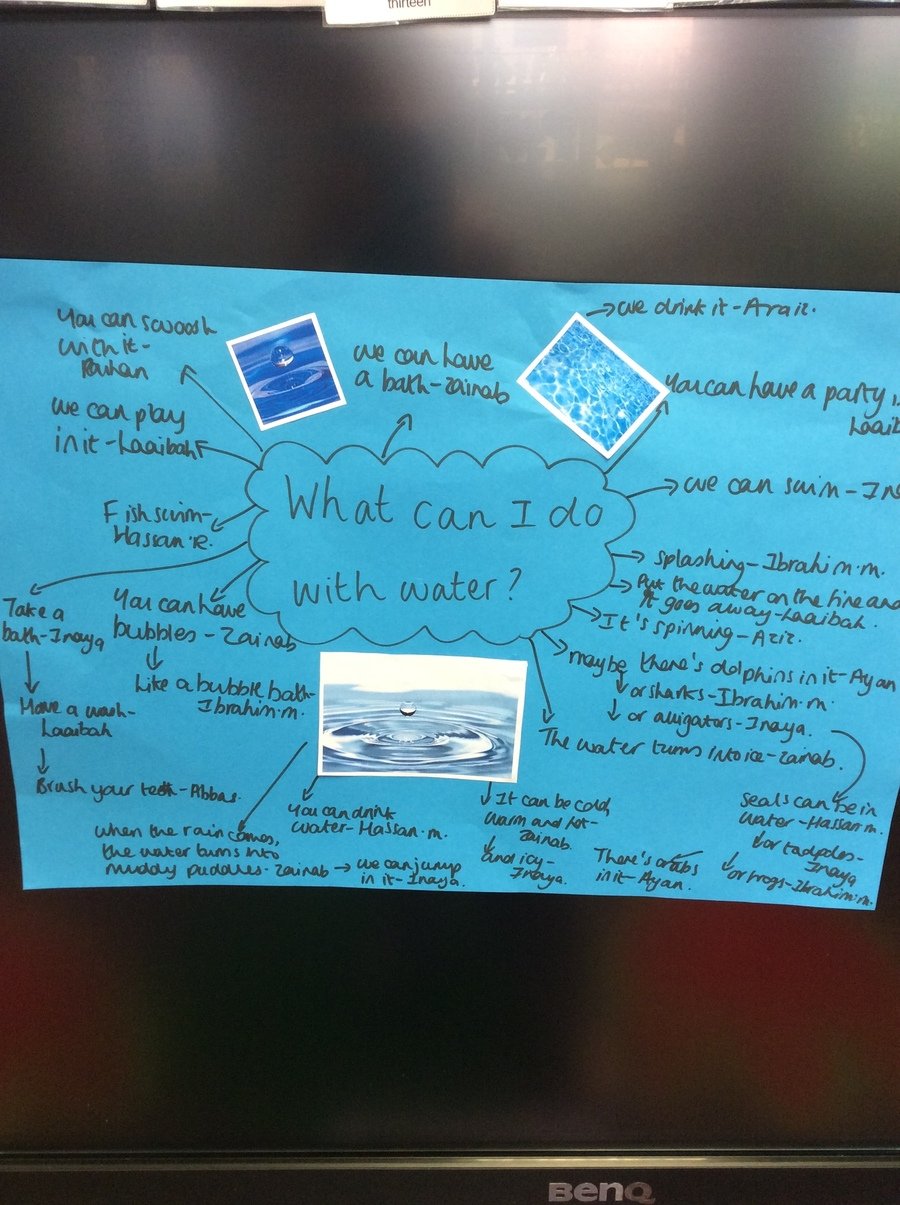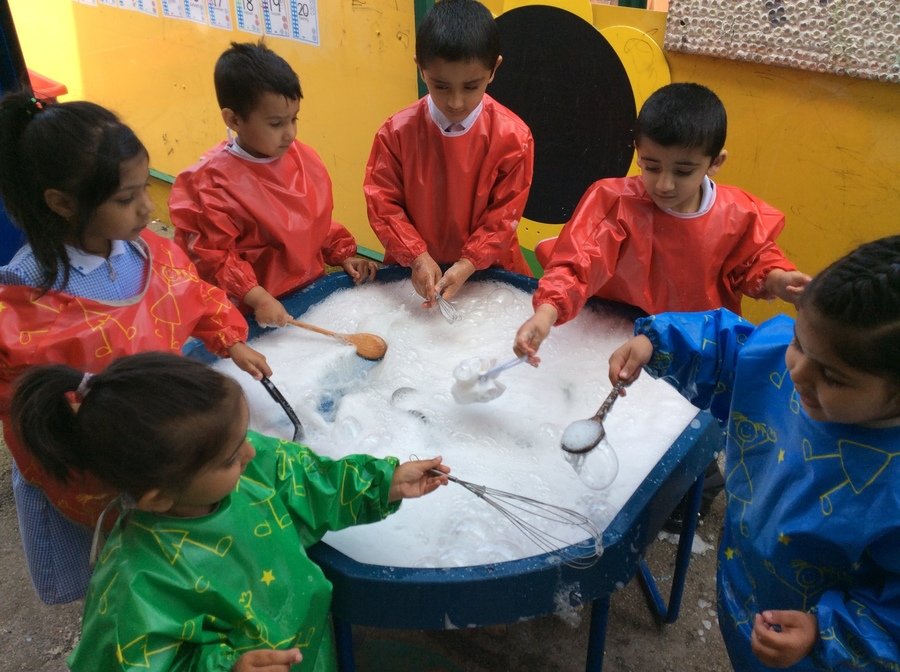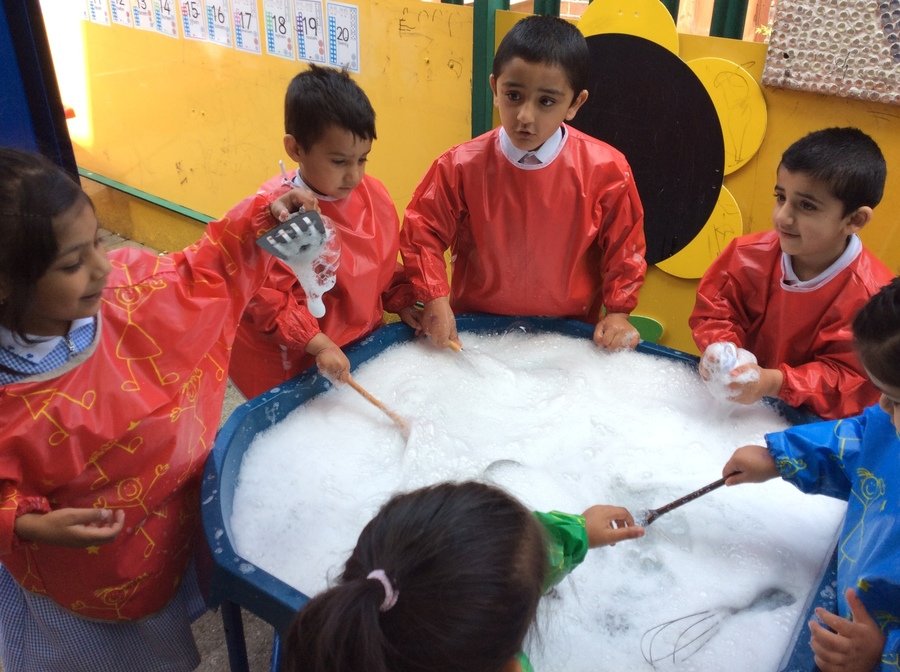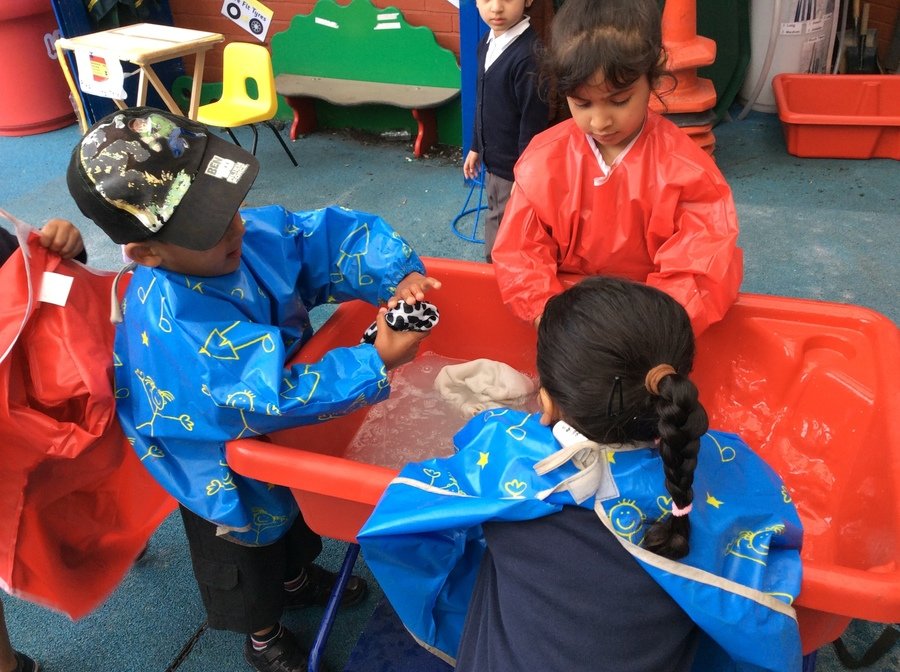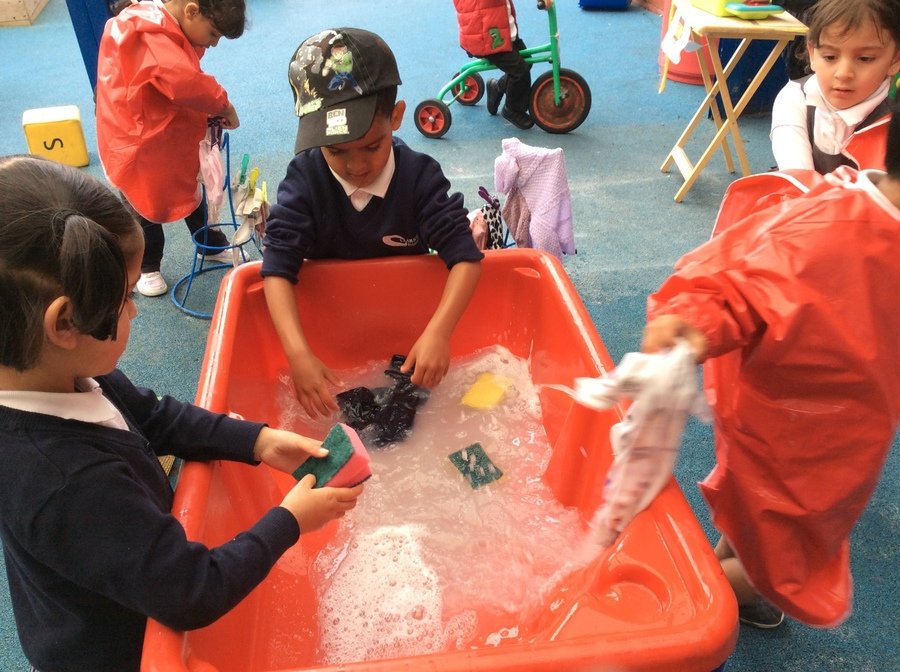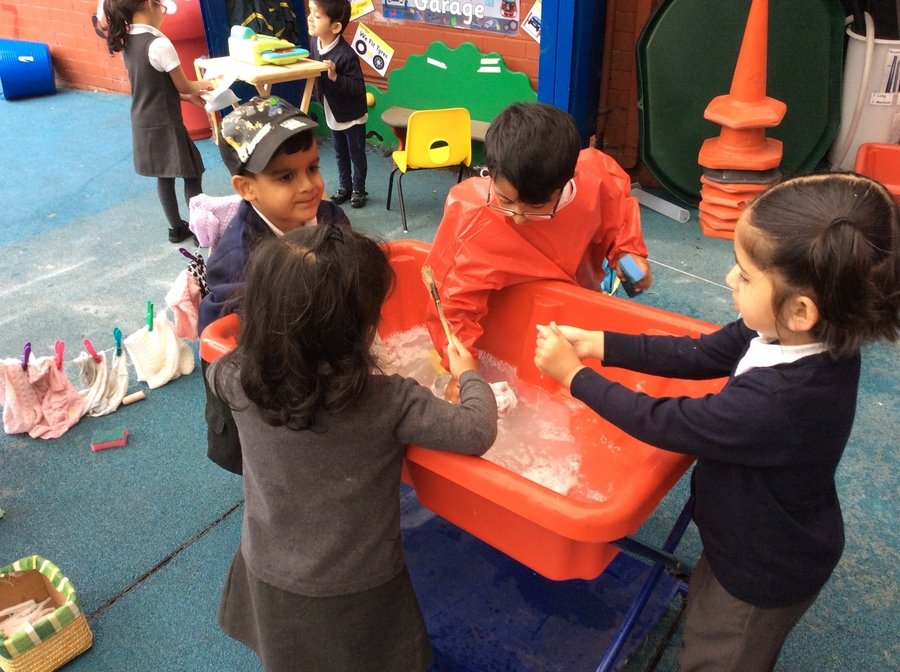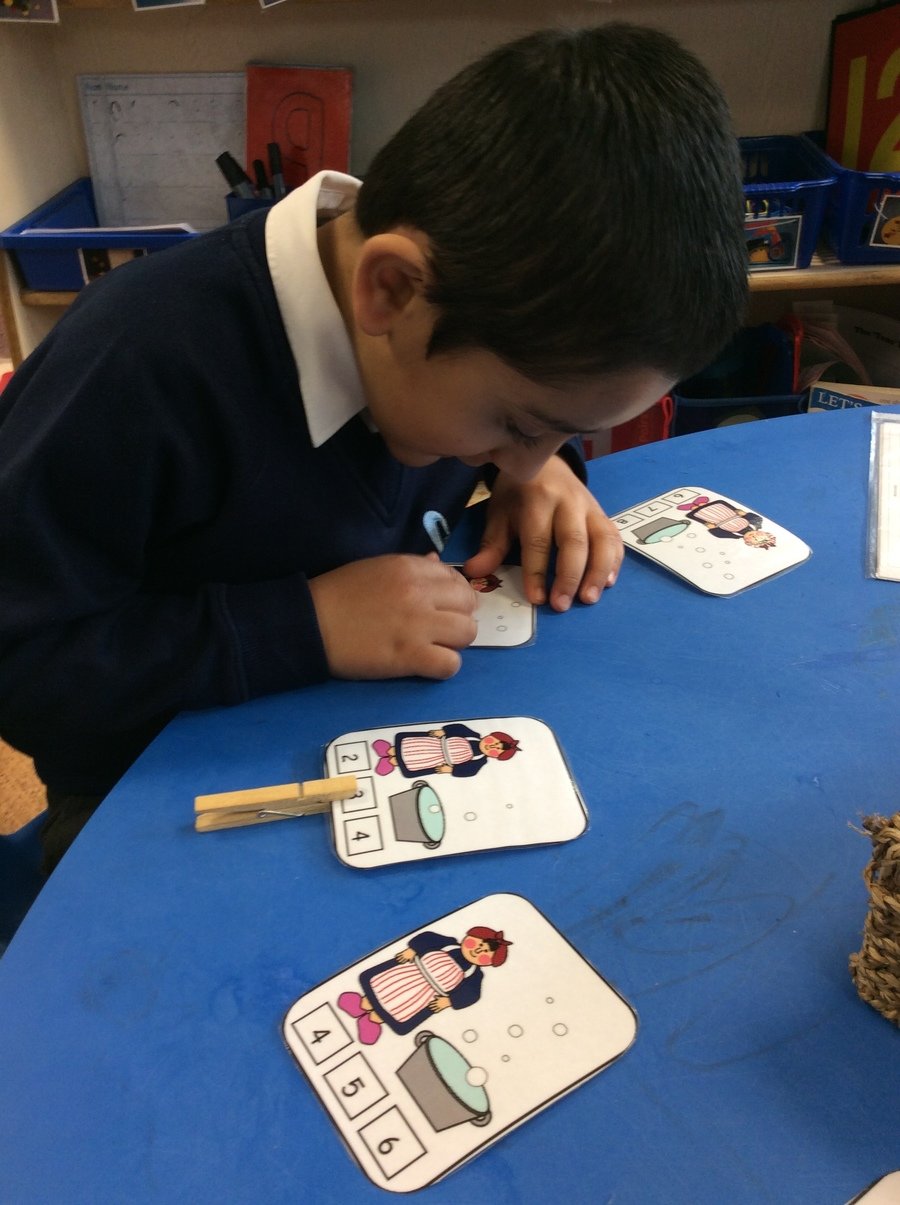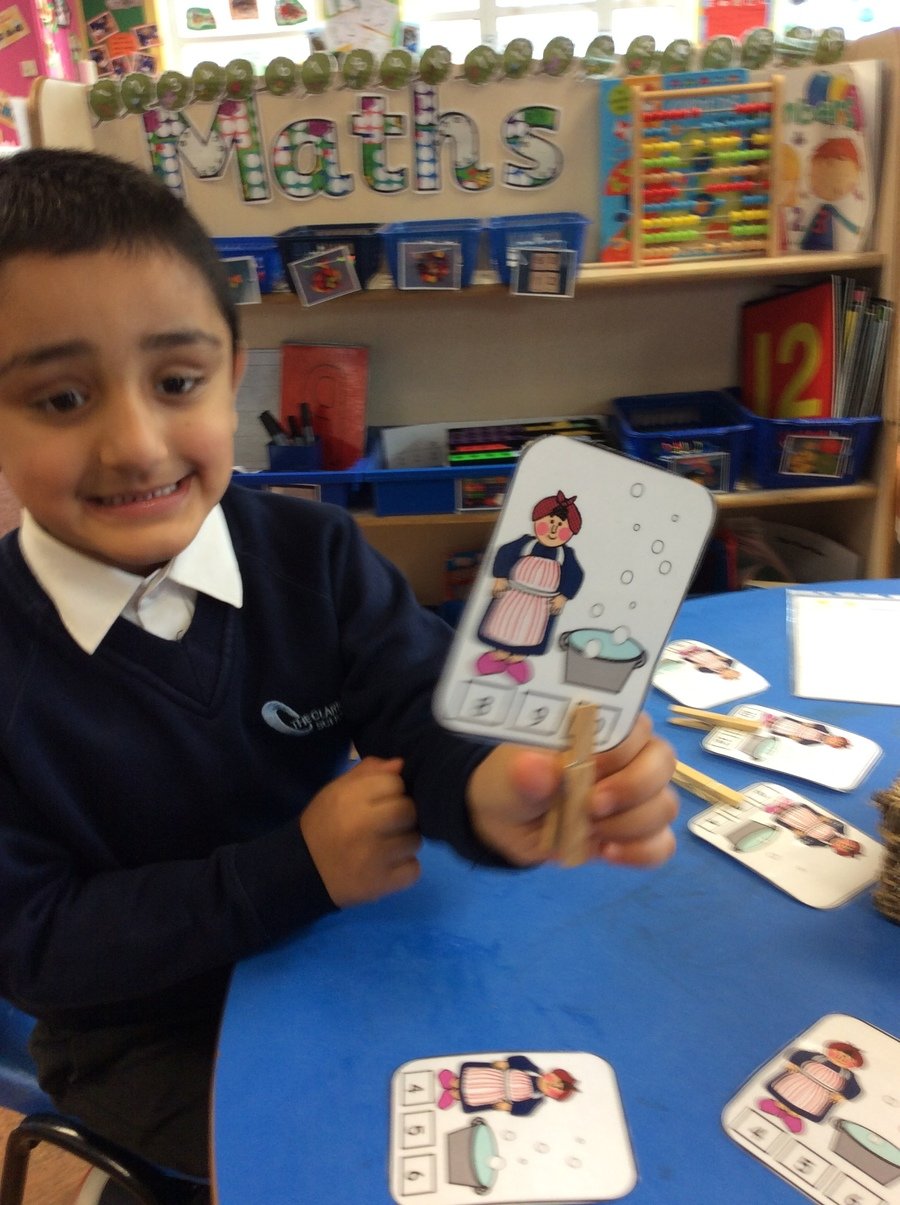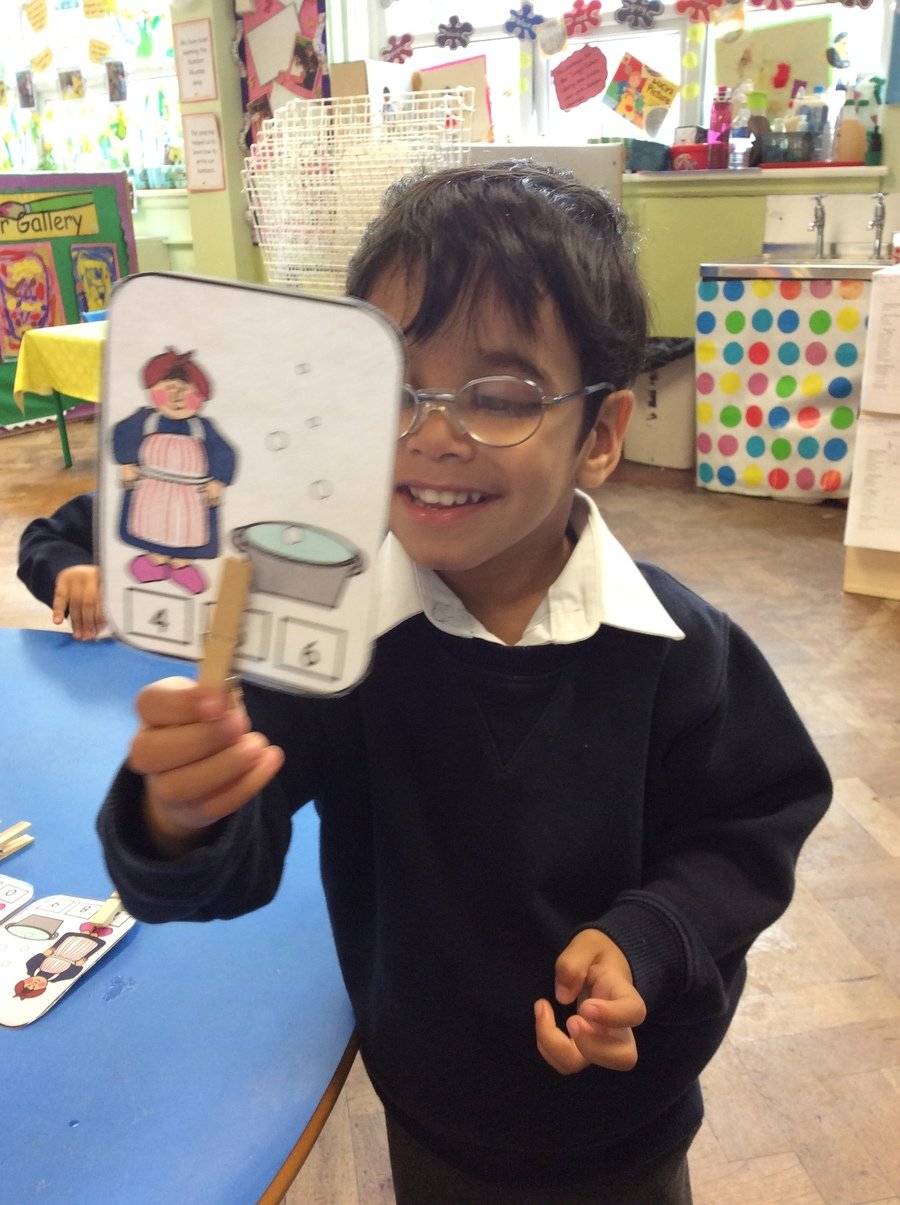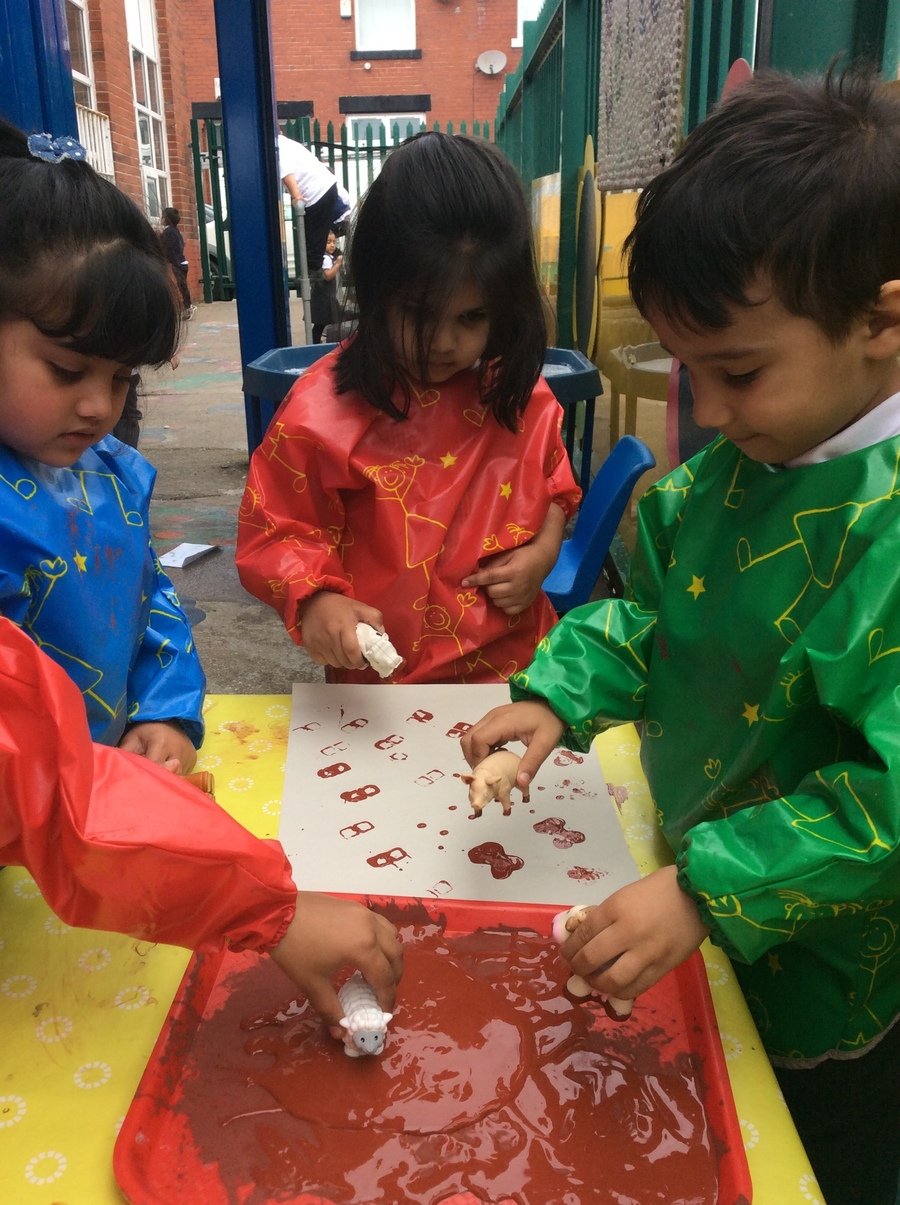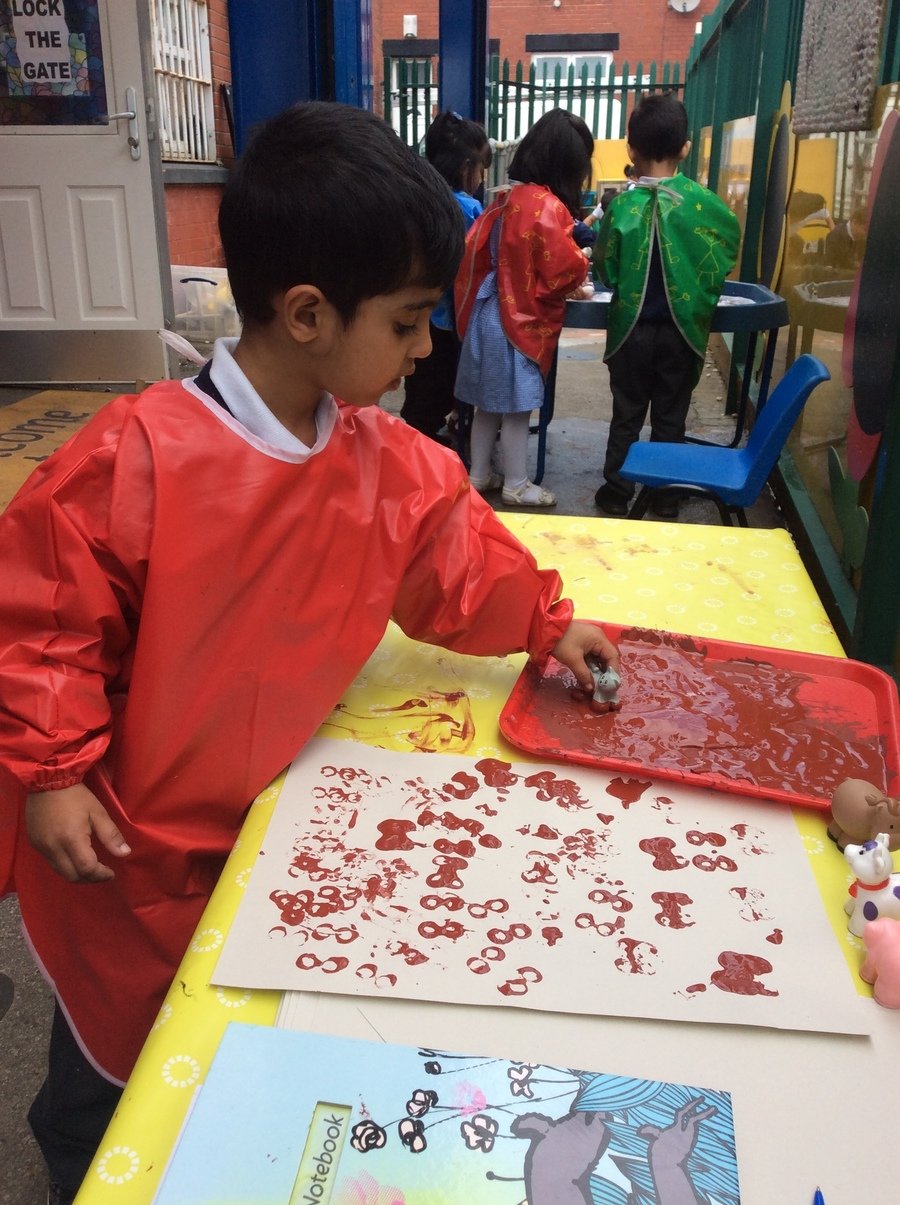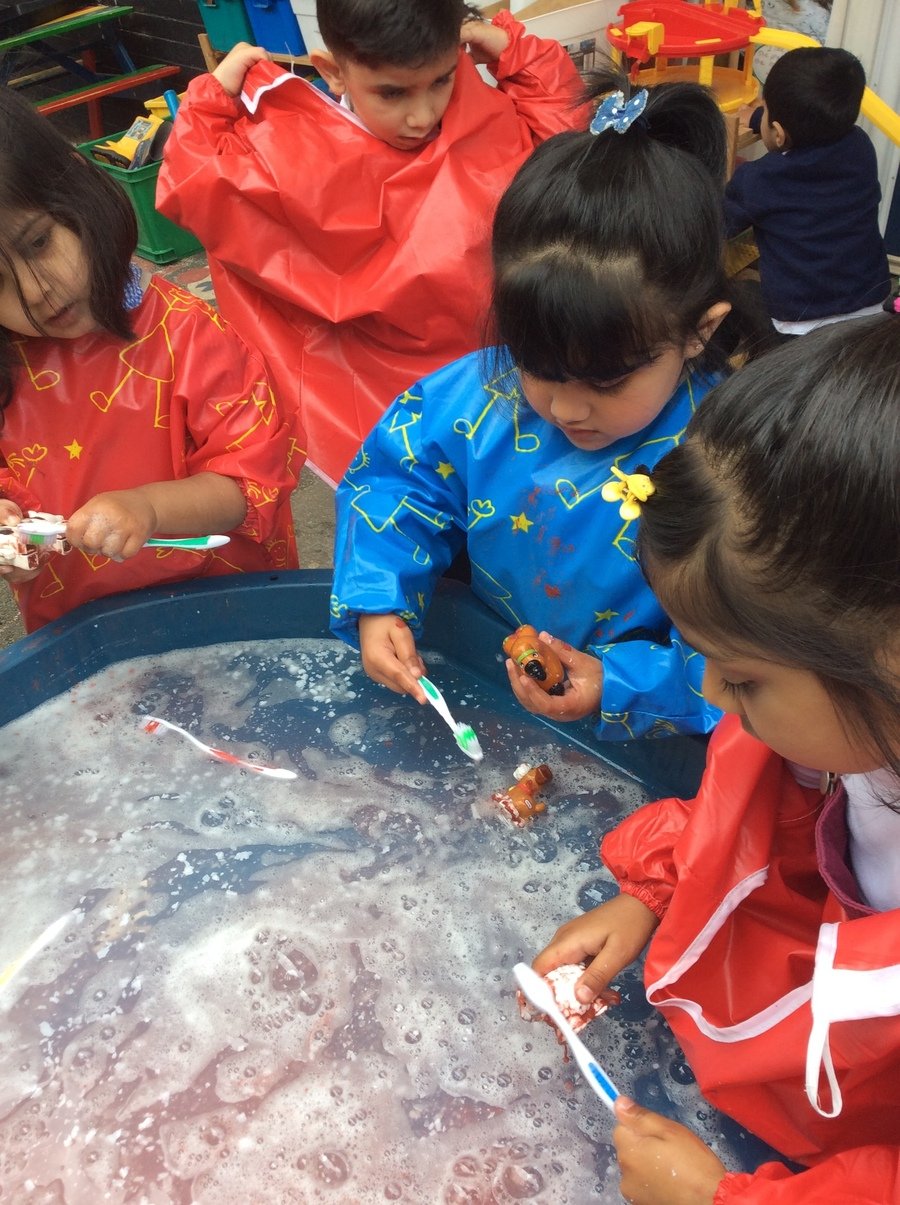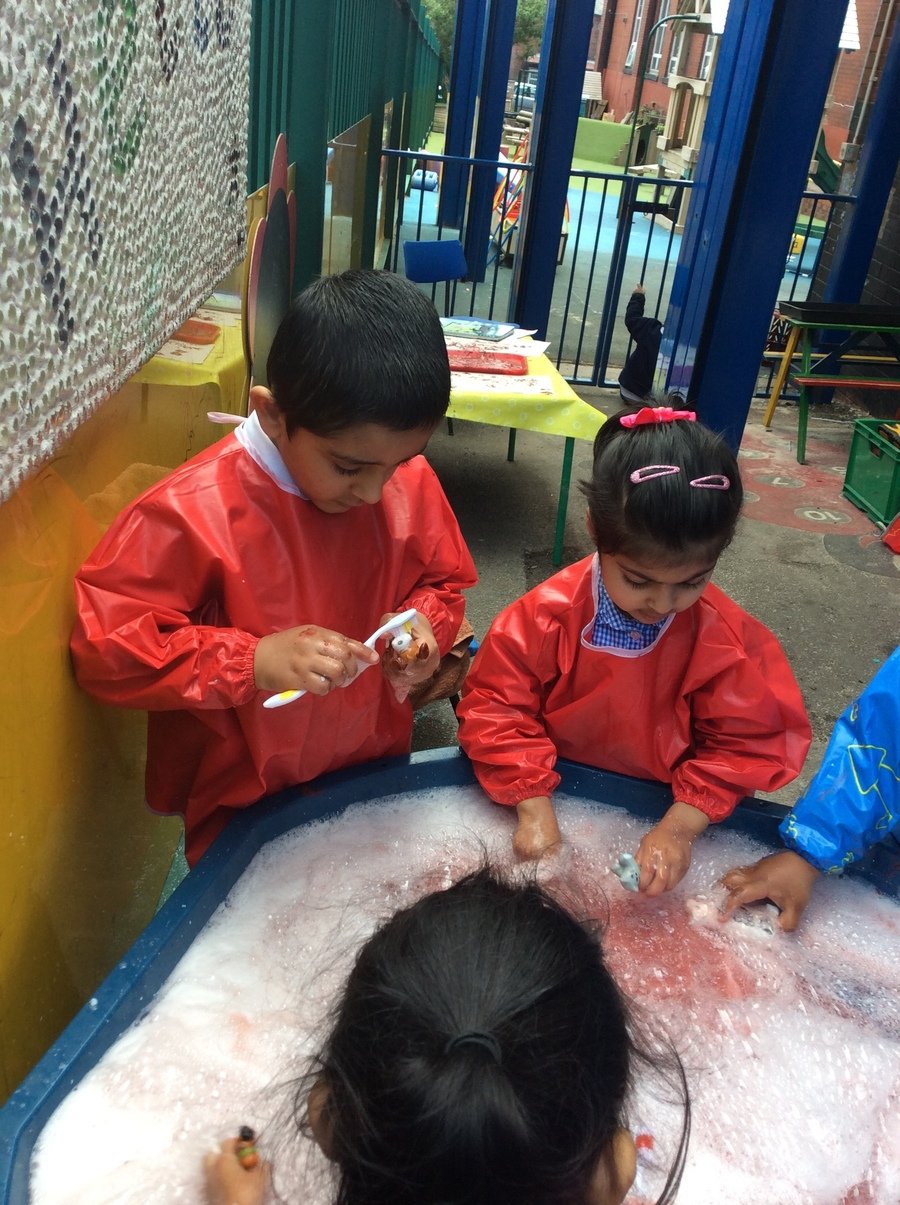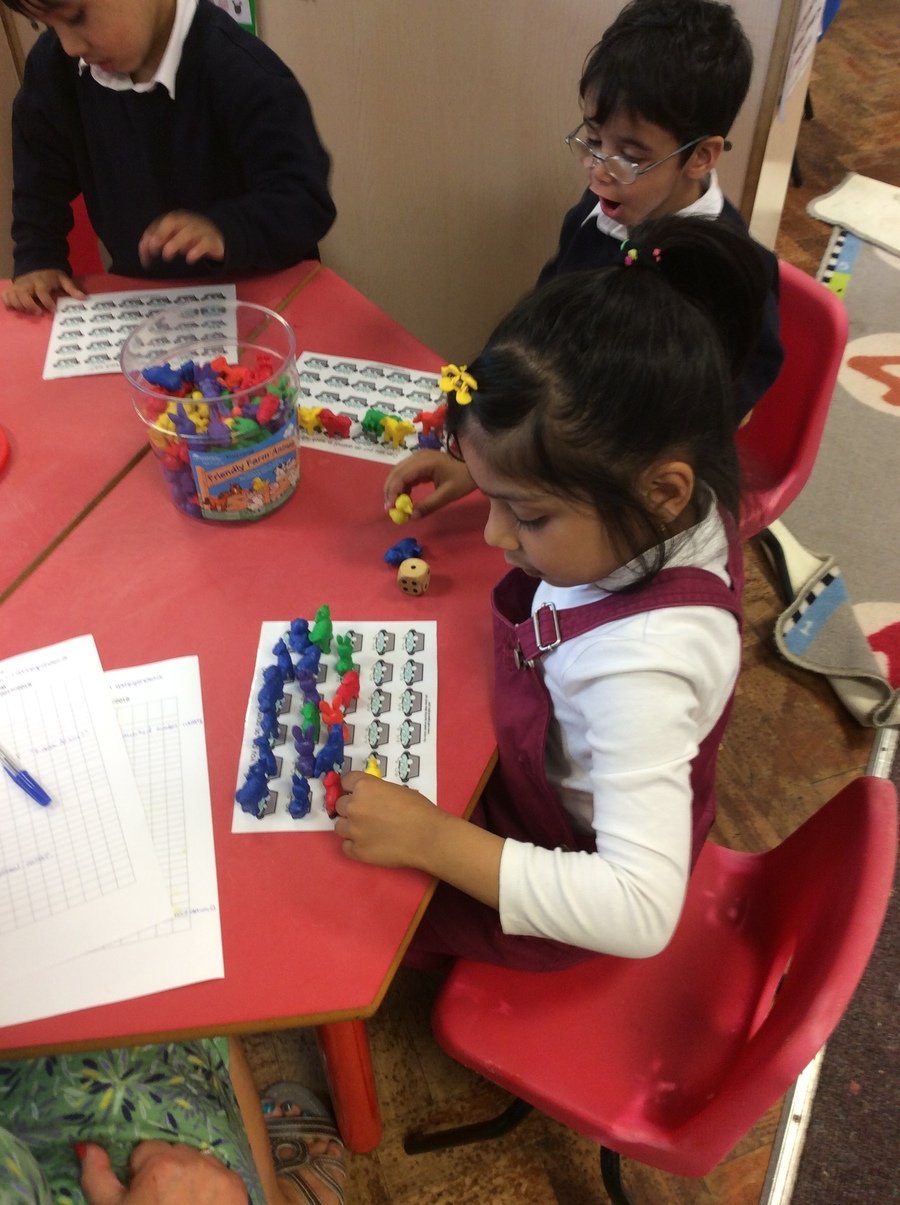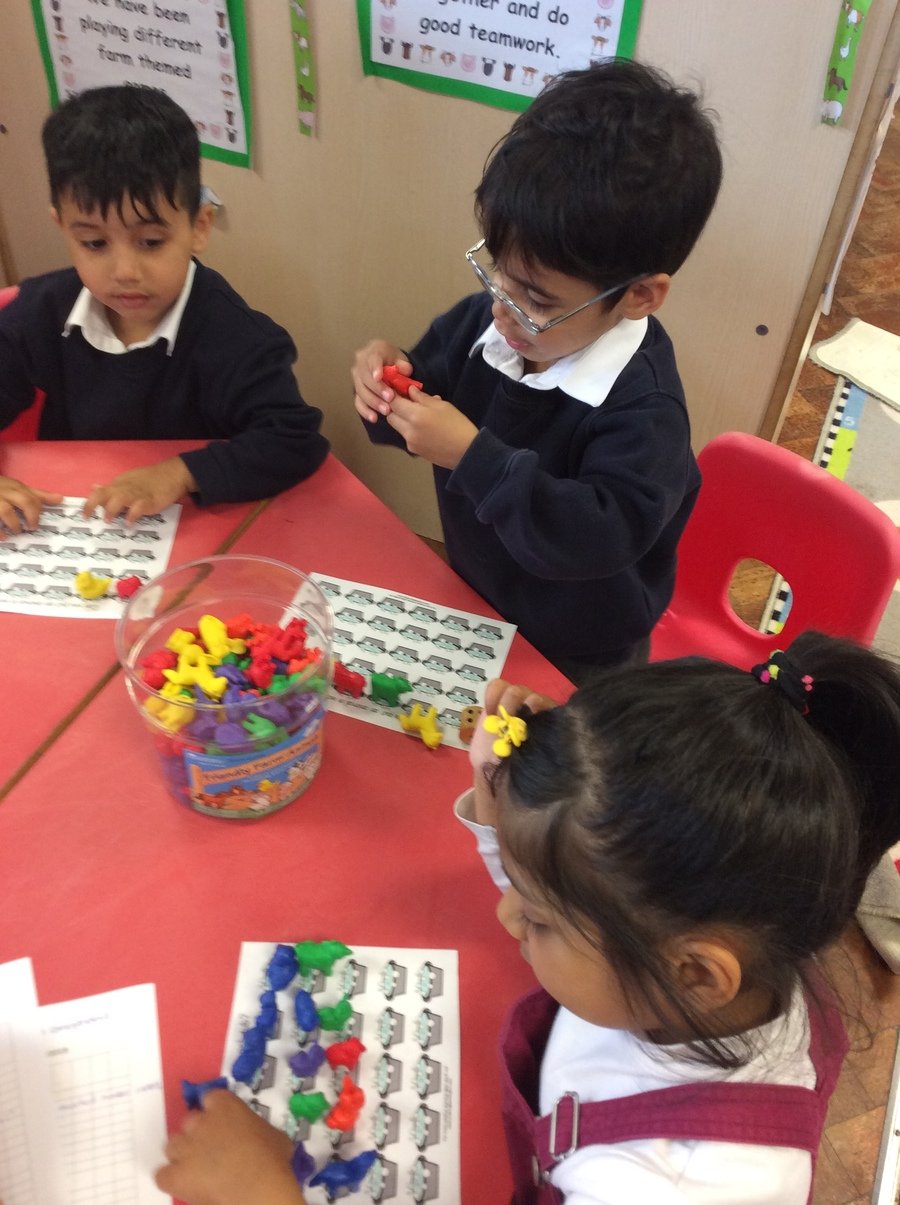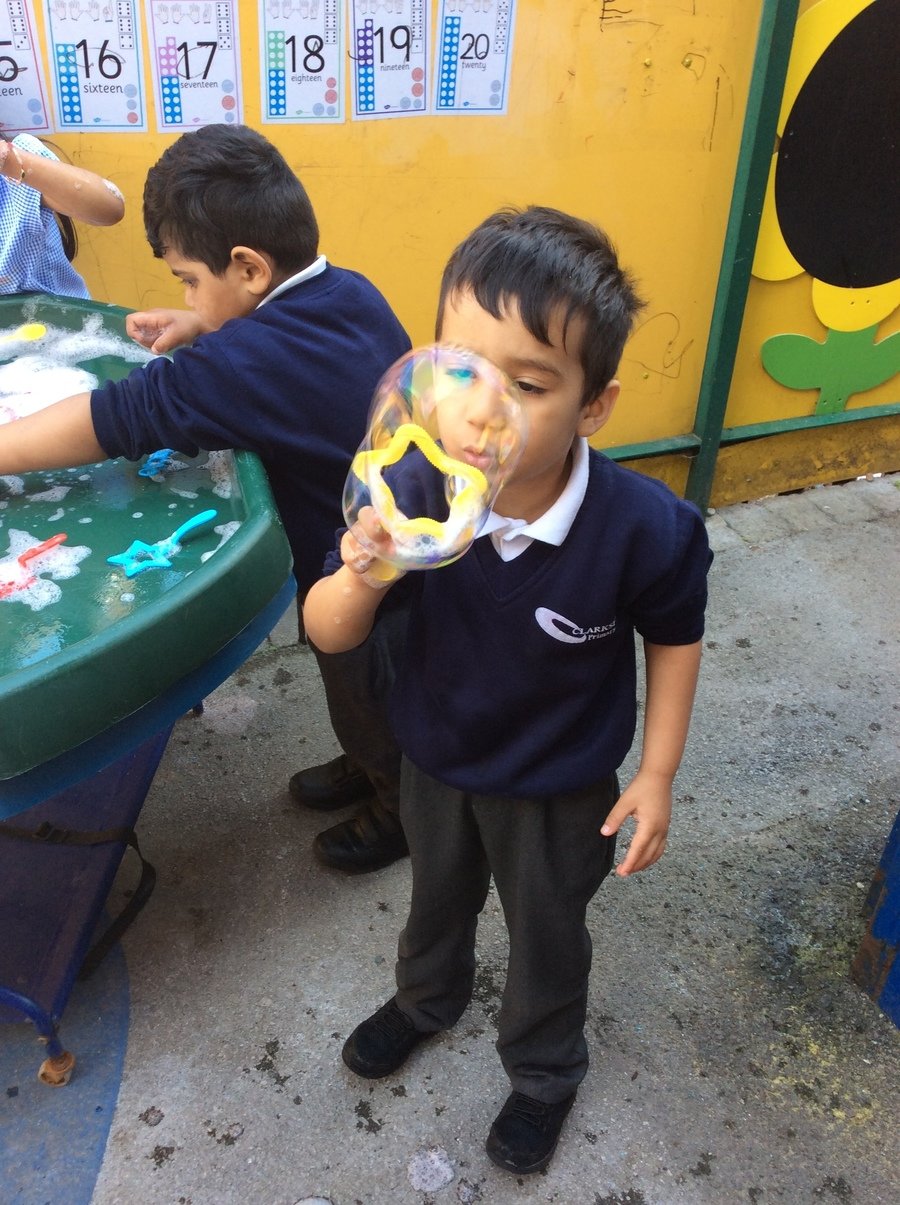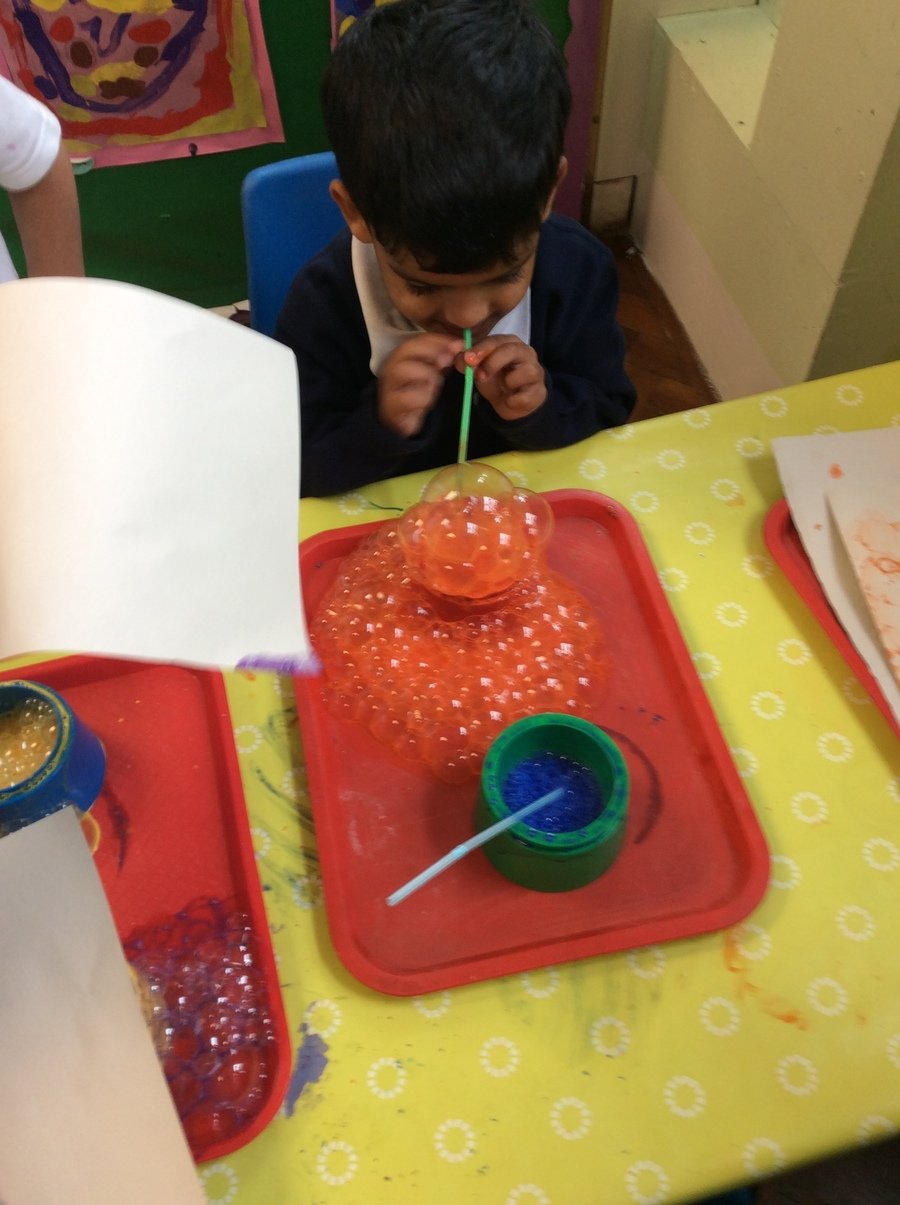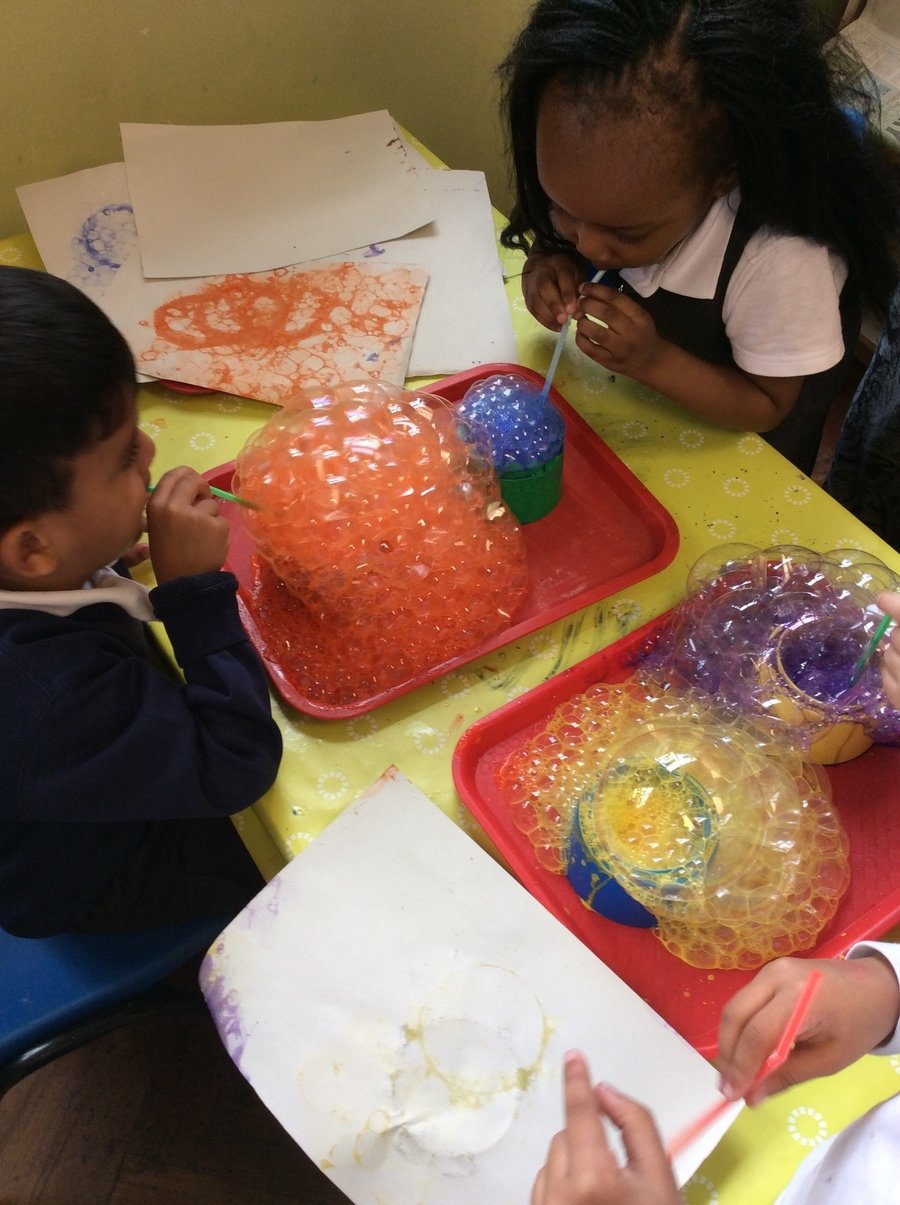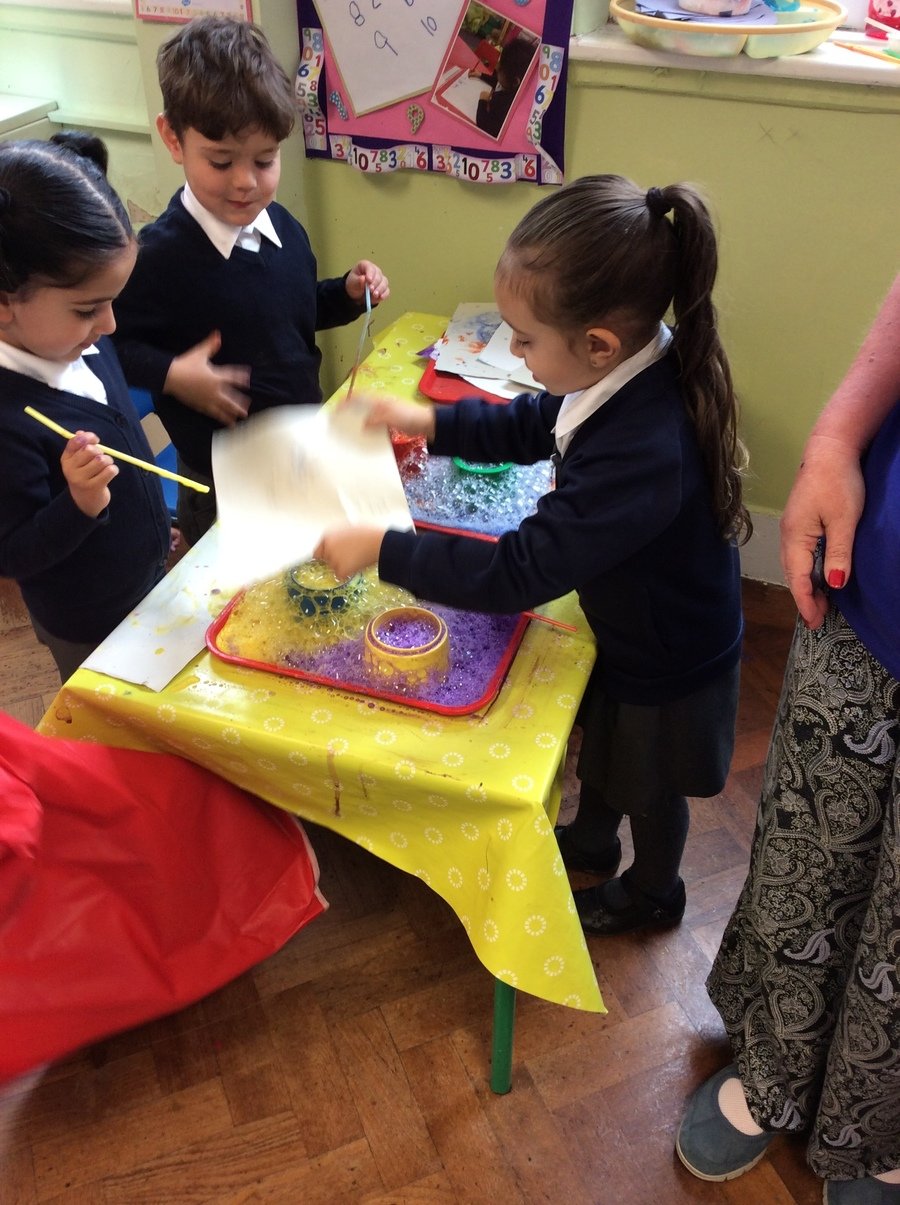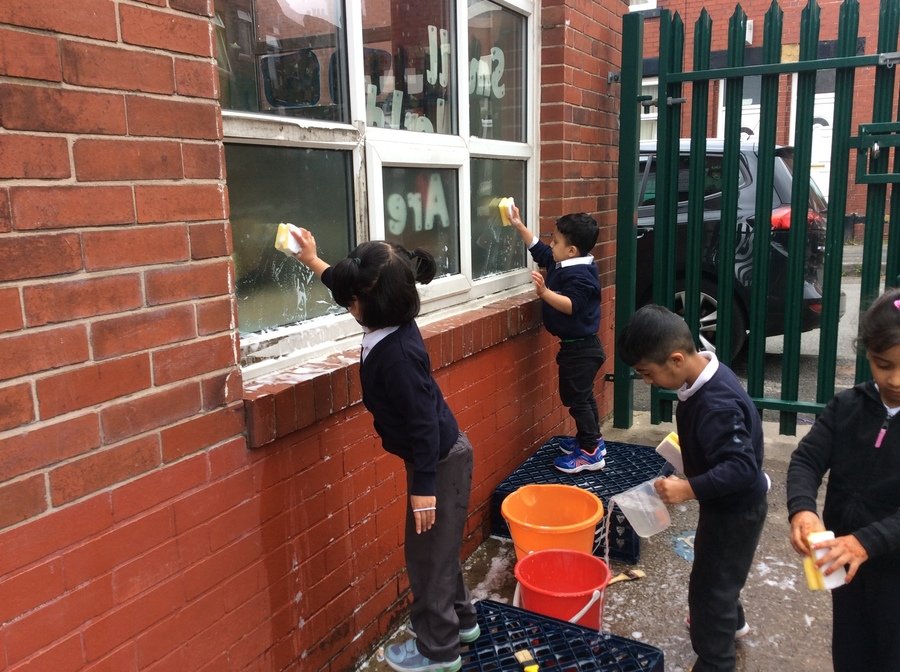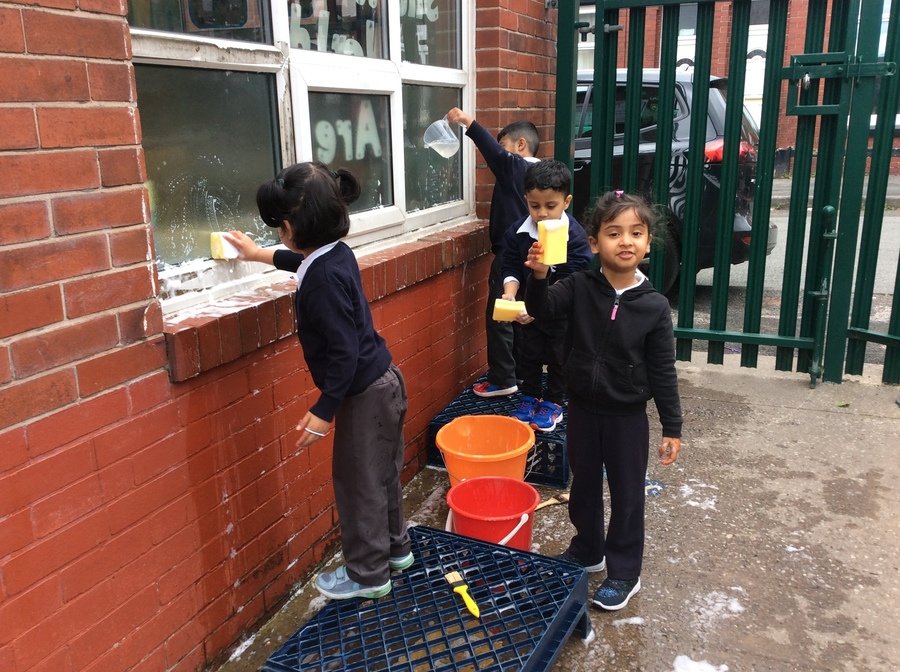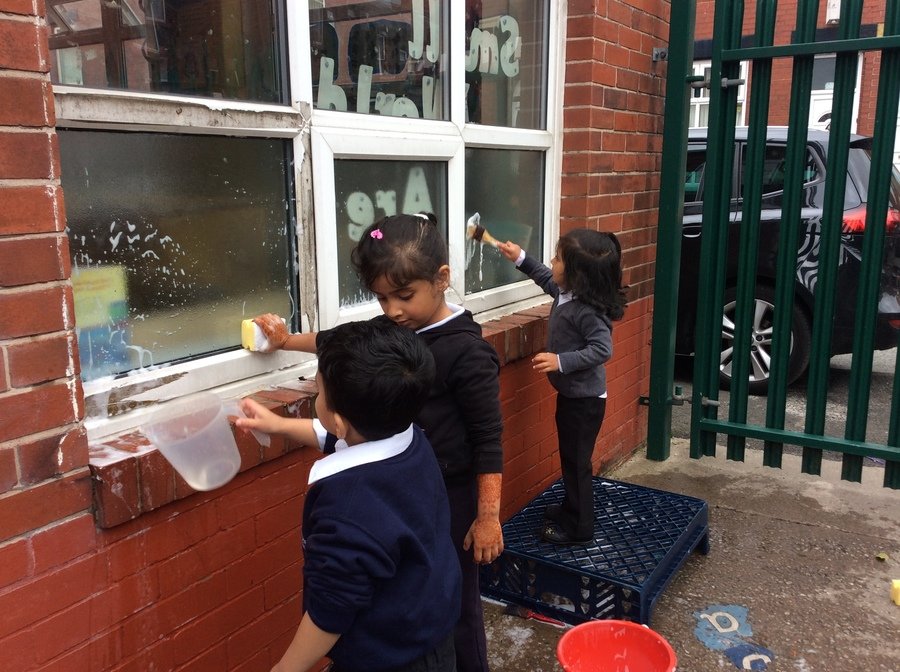 Our Eid Party
On Tuesday 19th June we celebrated Eid by having a party in Nursery. The children enjoyed showing their friends their new Eid clothes, playing party games such as pass the parcel, dancing to traditional music and enjoyed a feast of traditional and party food at snack time. The children also enjoyed discussing with the teachers and their friends how they celebrated Eid at home with their families. The children had a fun filled day.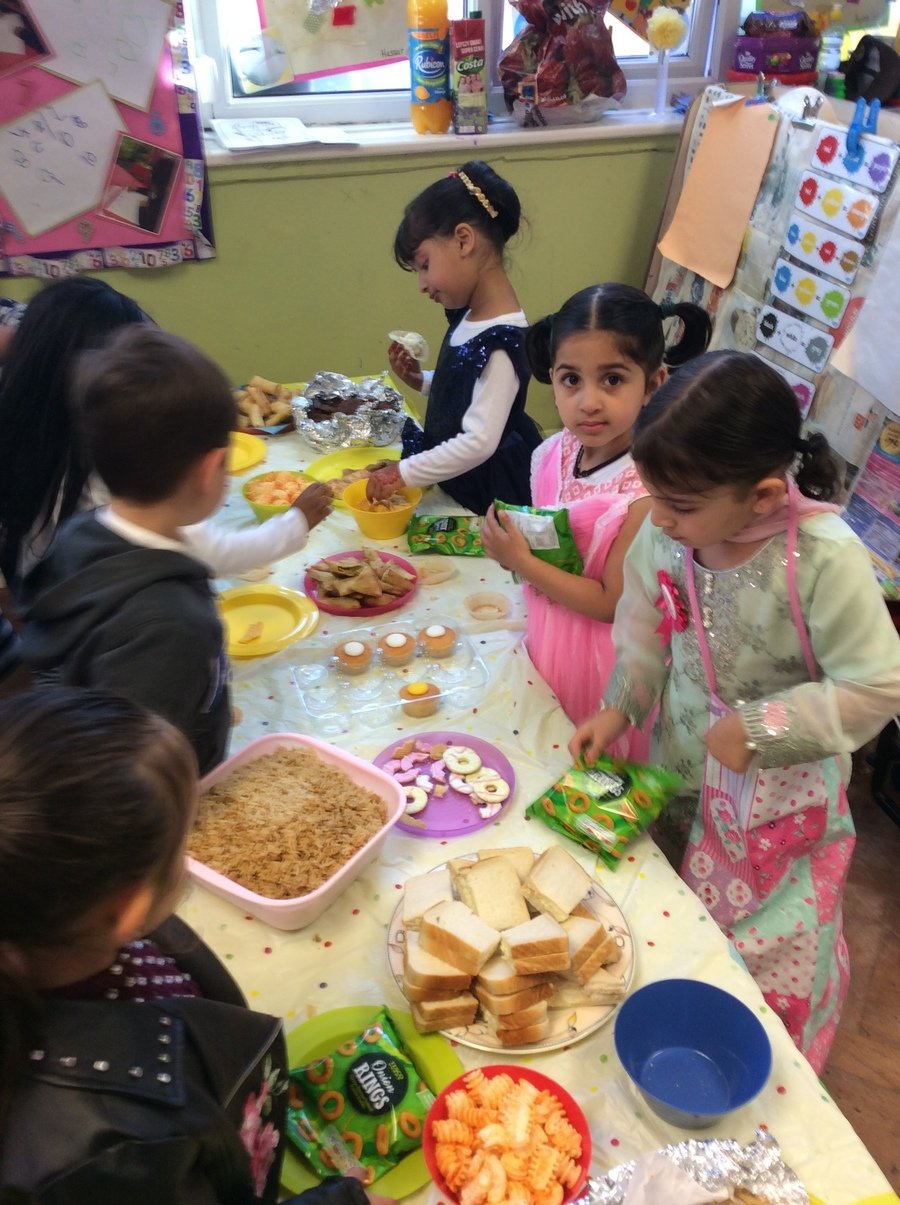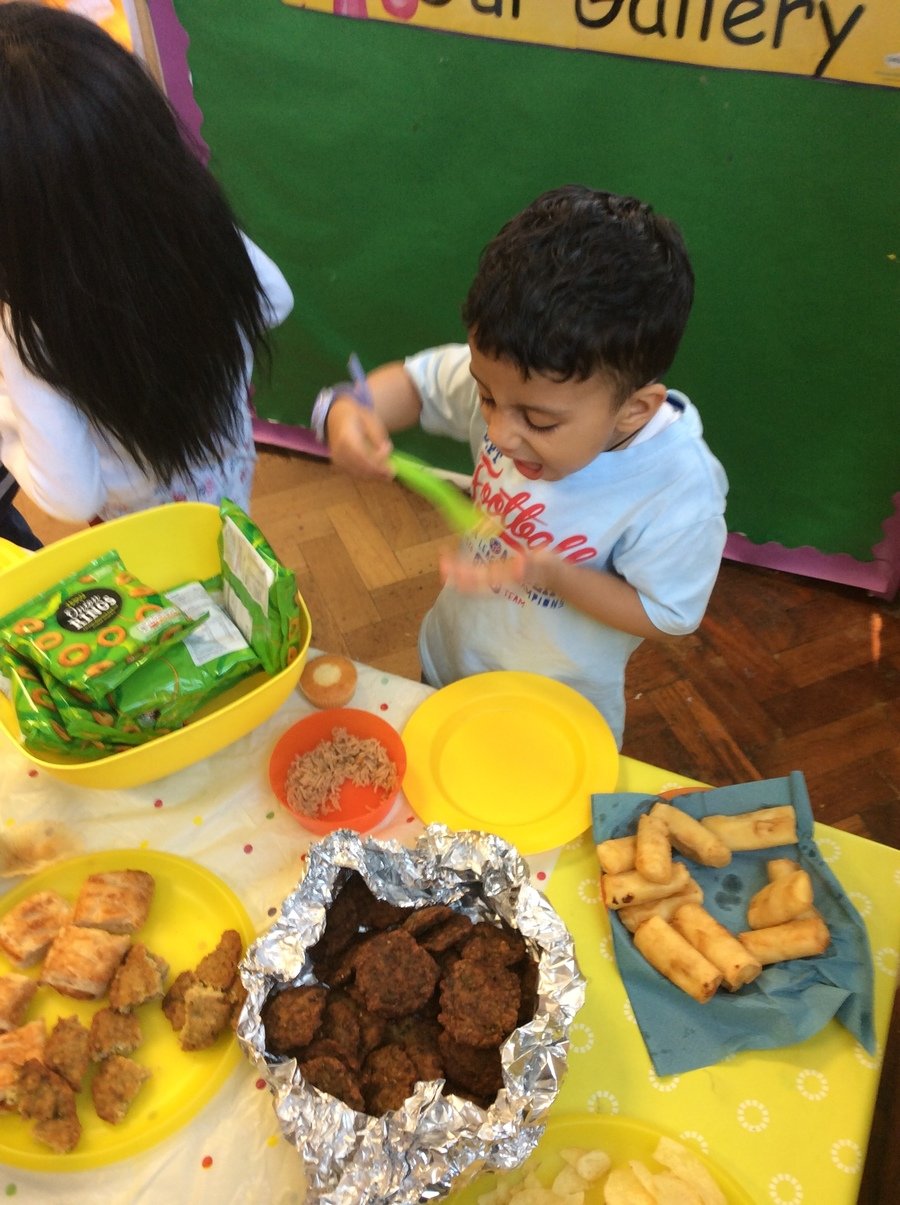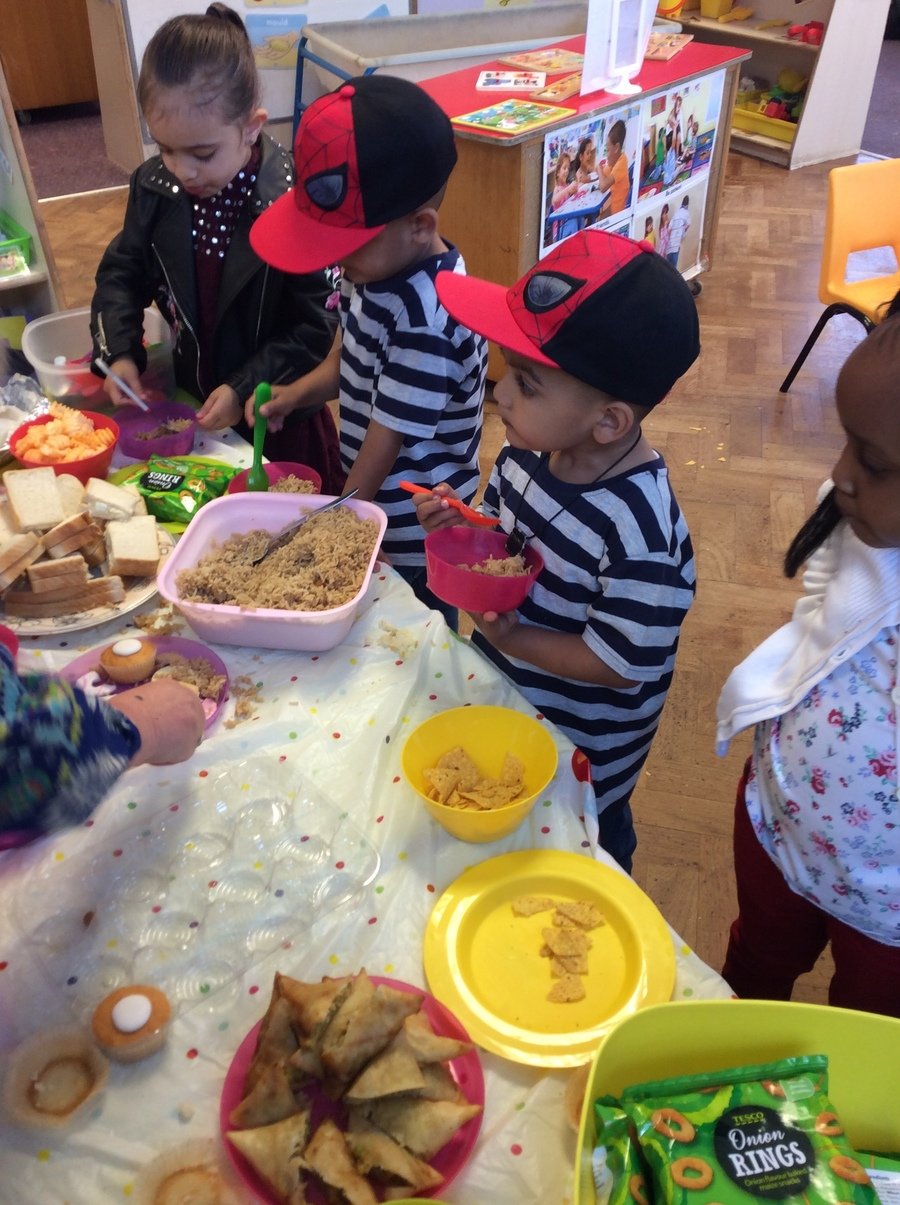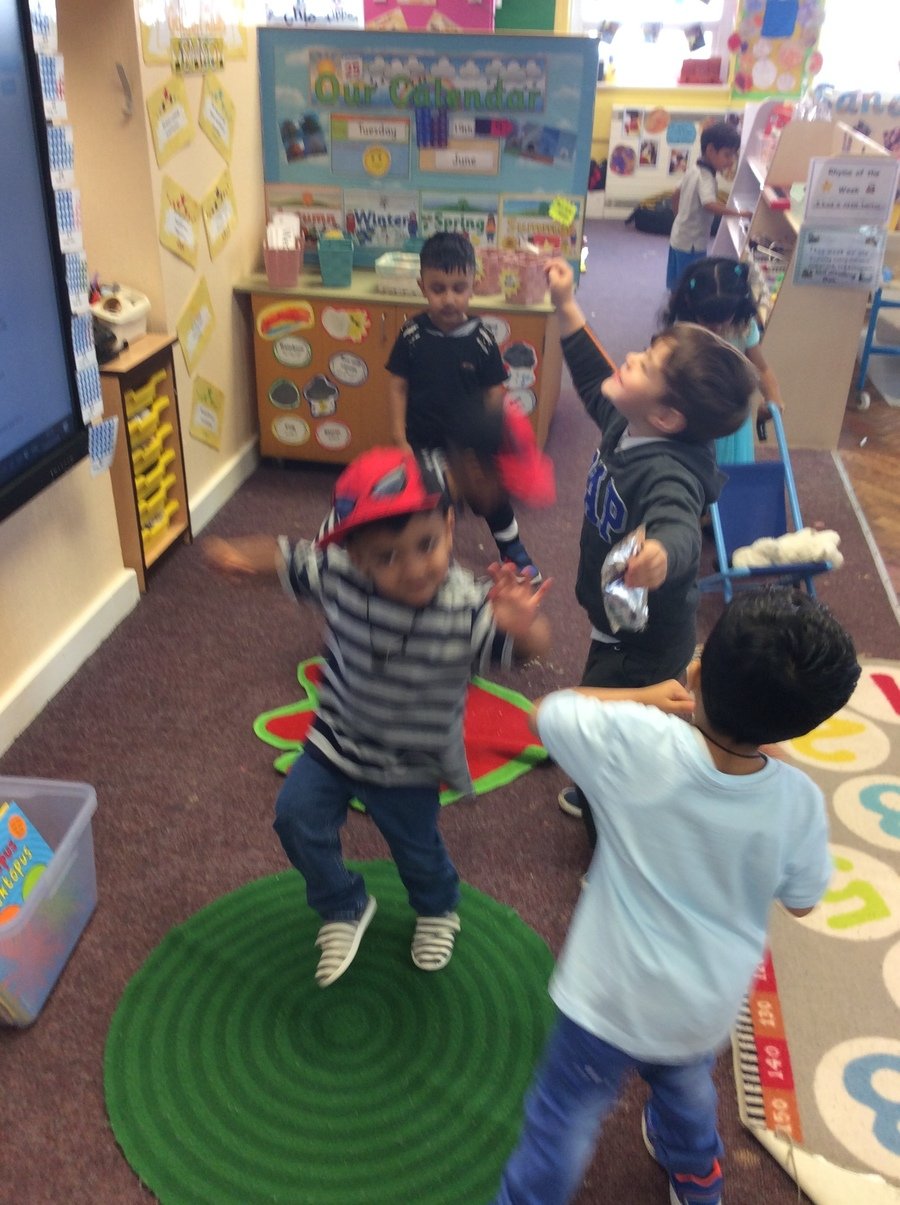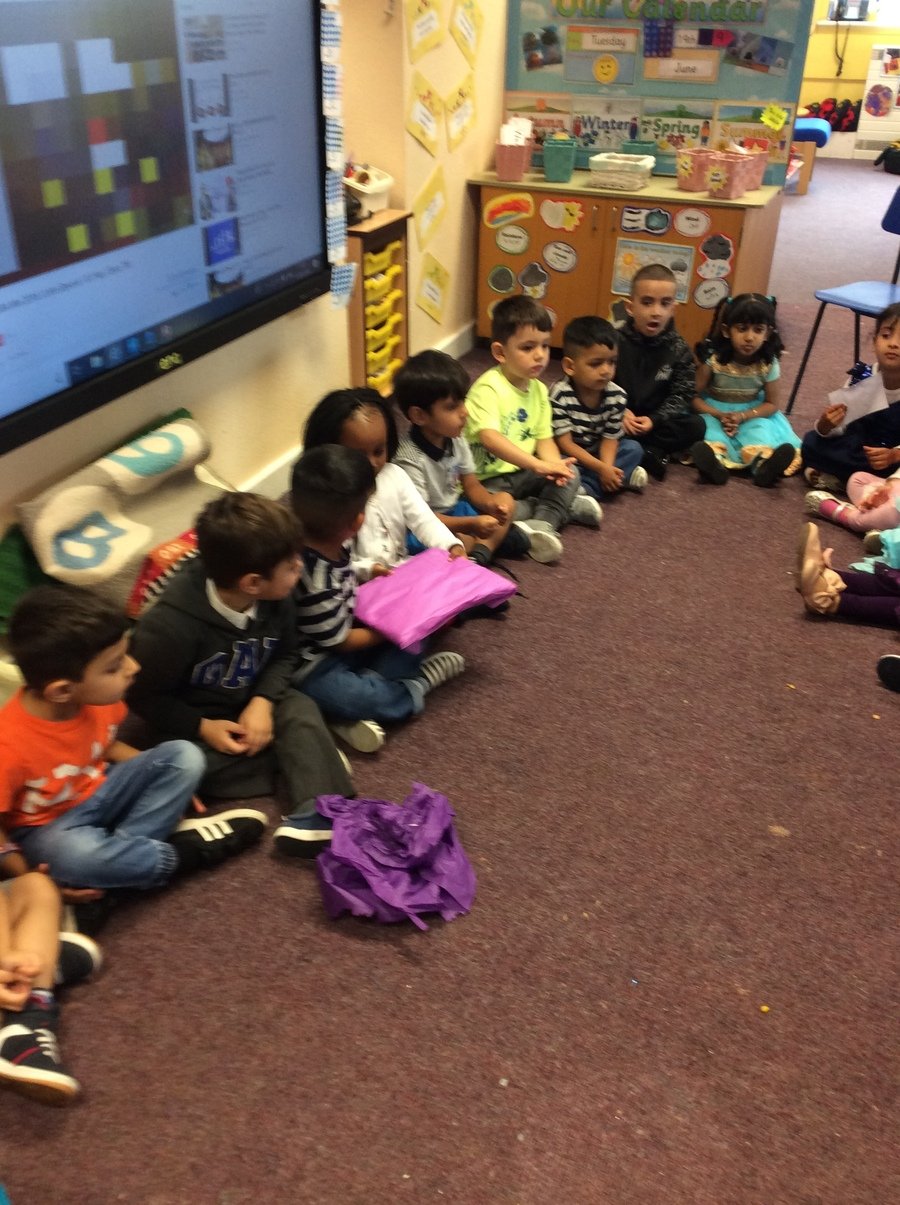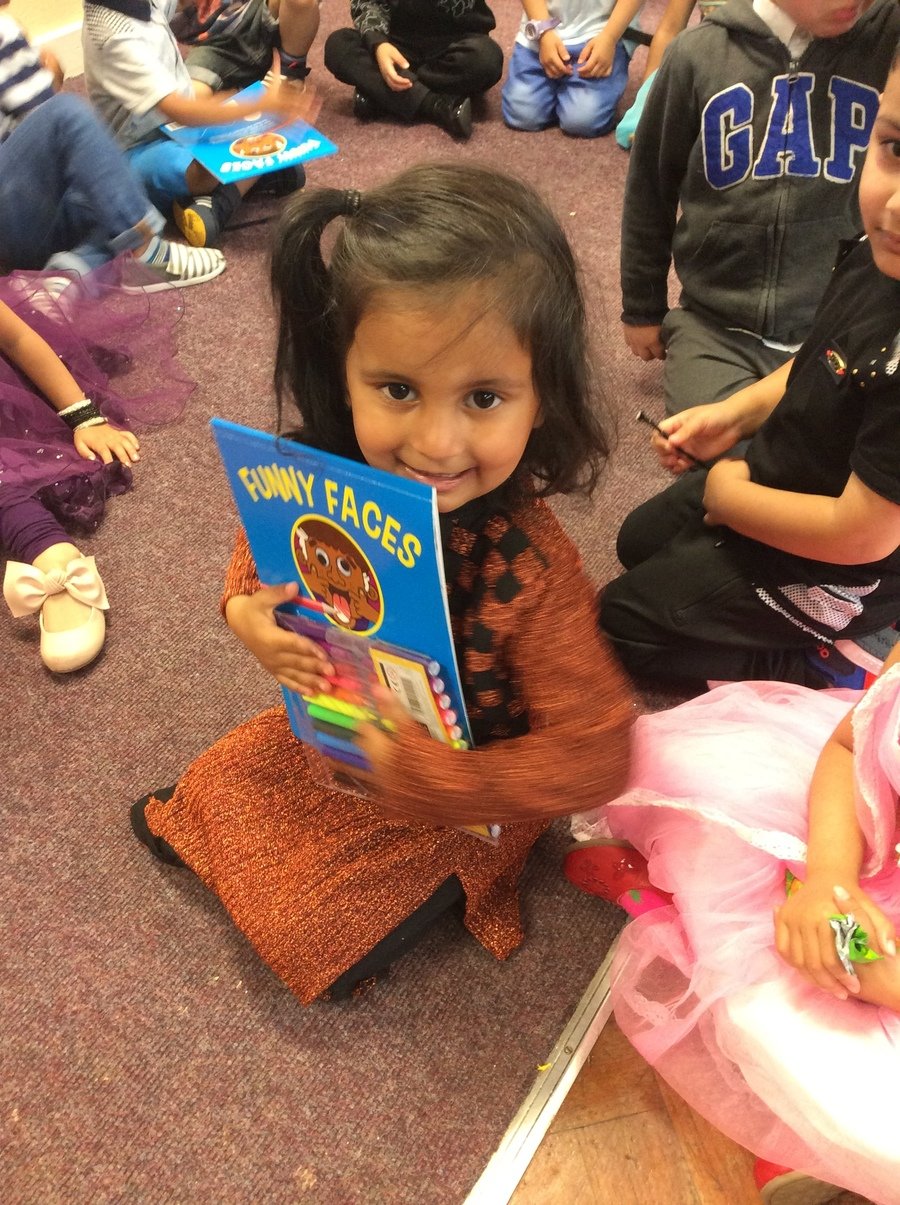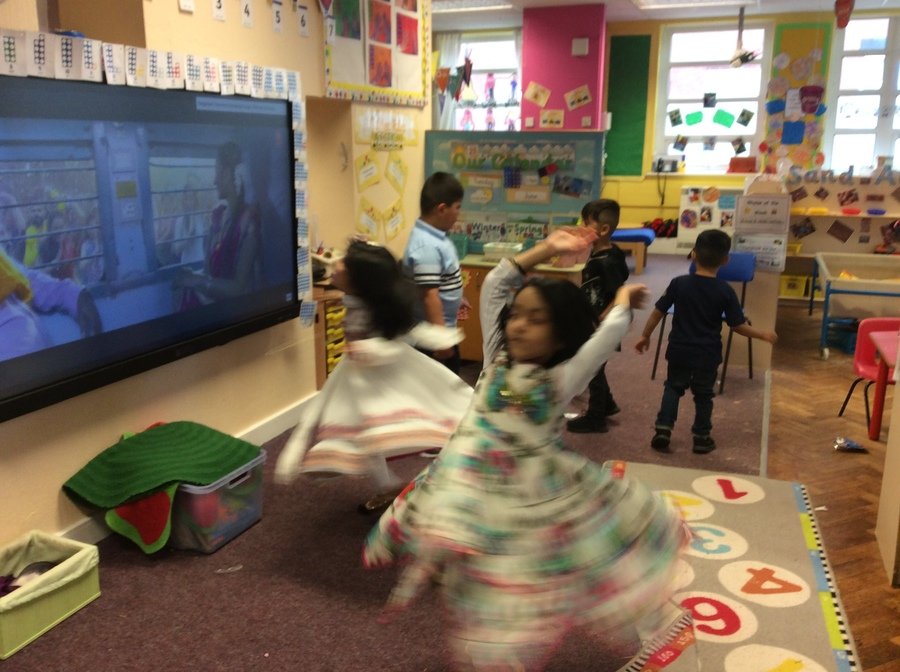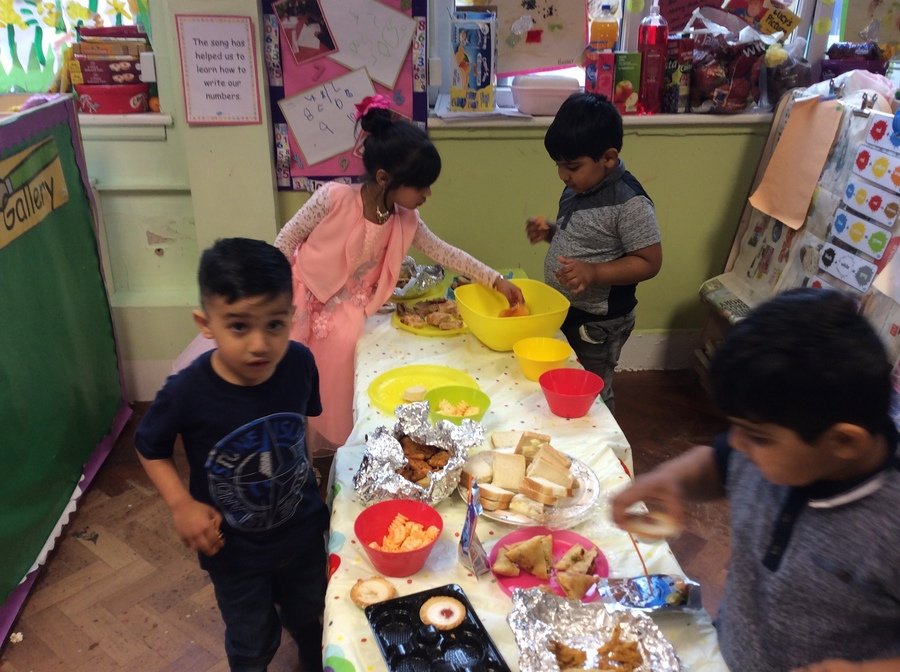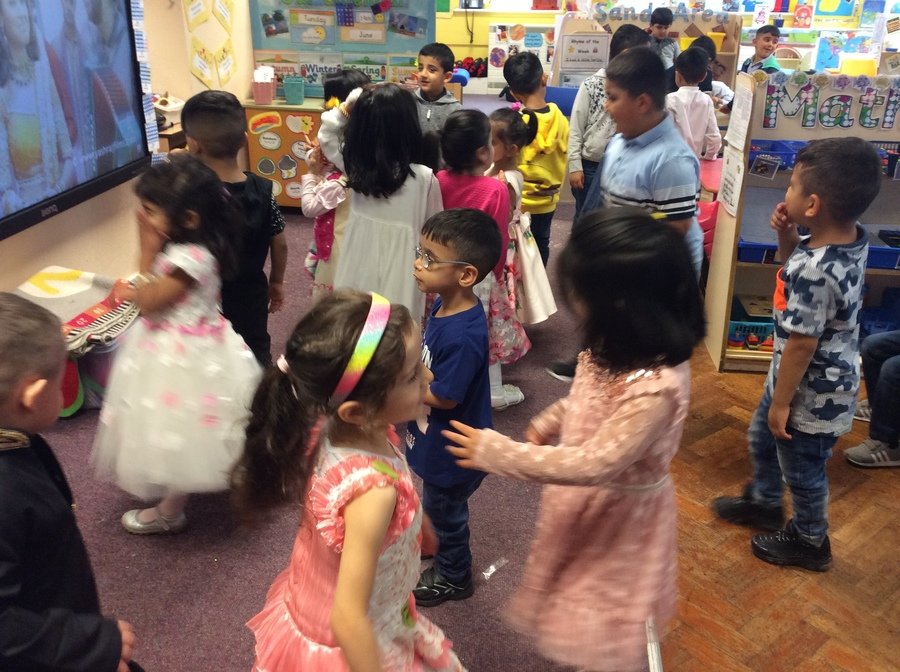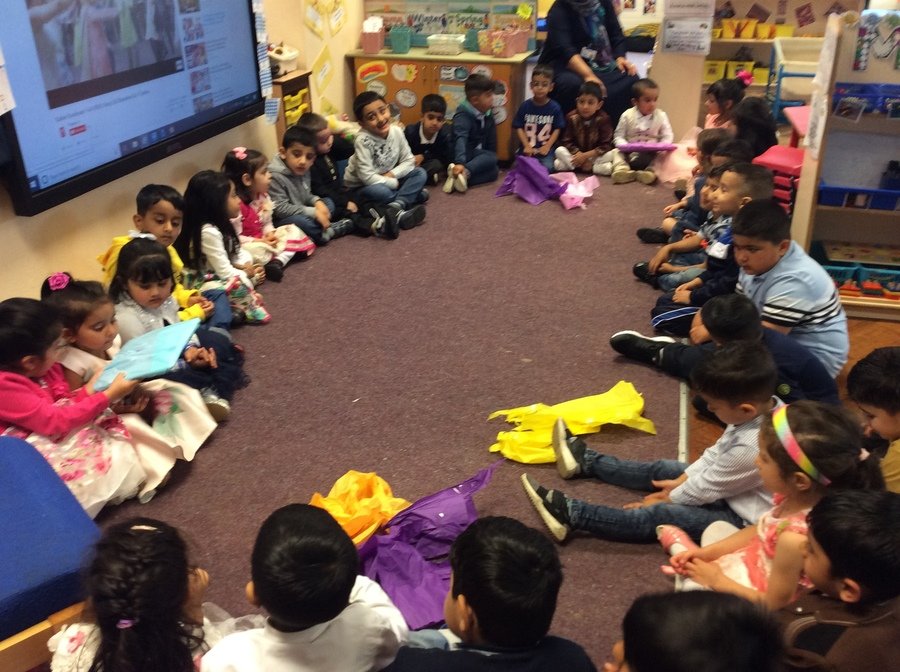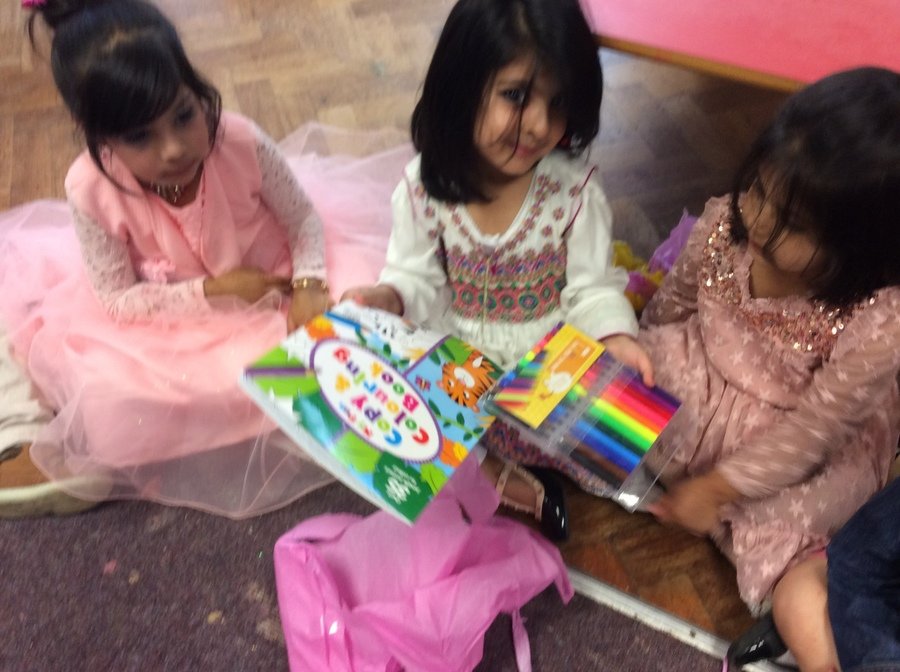 Sports Day 2018
On Friday 22nd June, we joined in with our whole school Sports Day. We joined in with lots of different races and enjoyed working as part of a team with our friends. We also enjoyed watching our parents participate in some of the races too. We all received a certificate and medal for our hard work and efforts.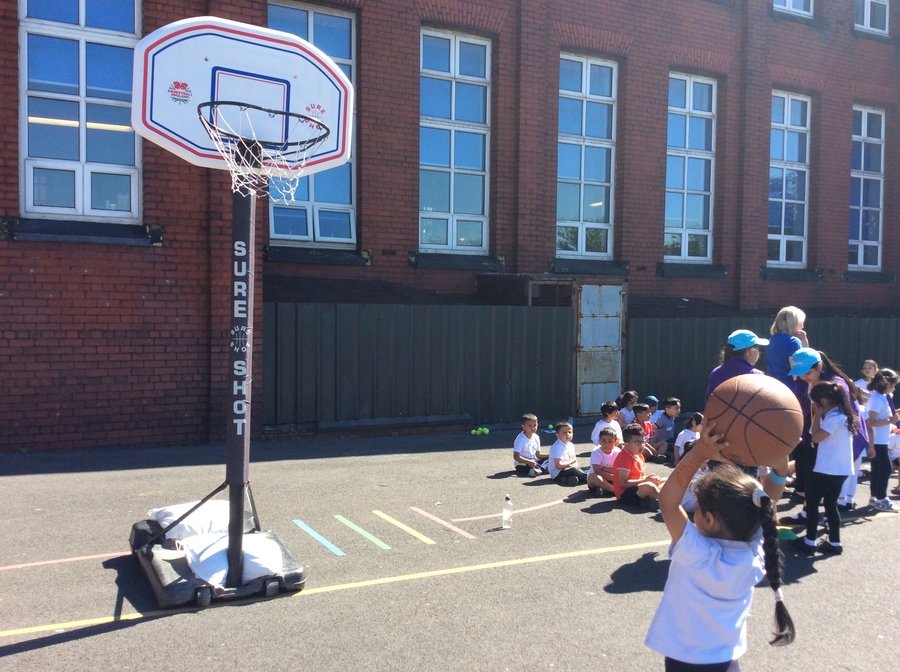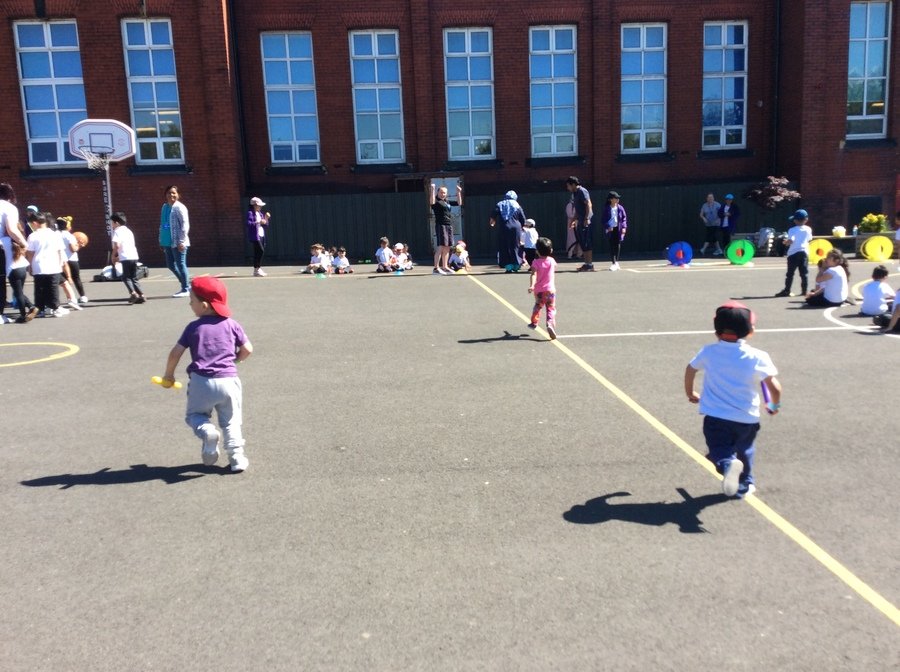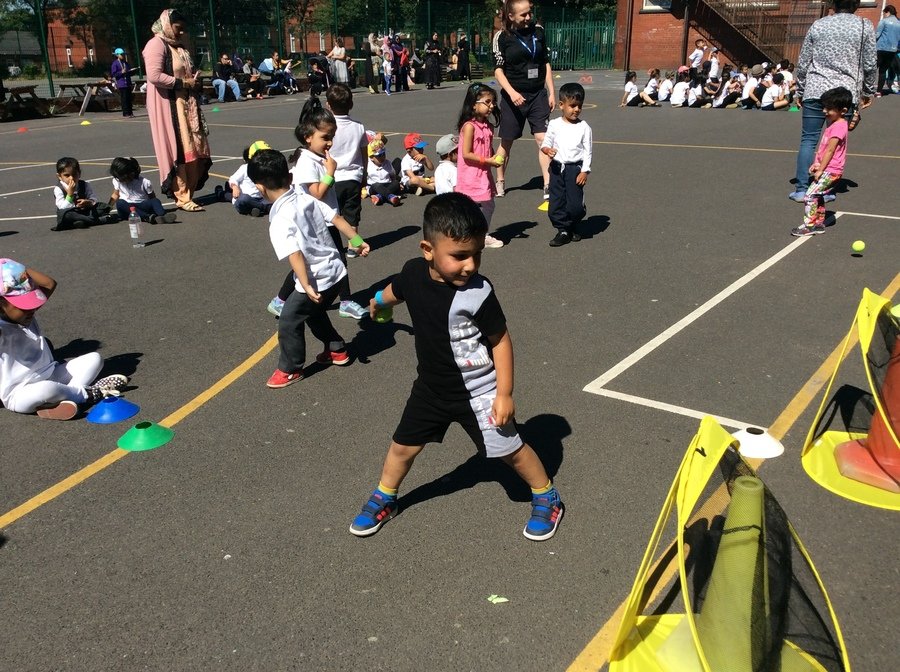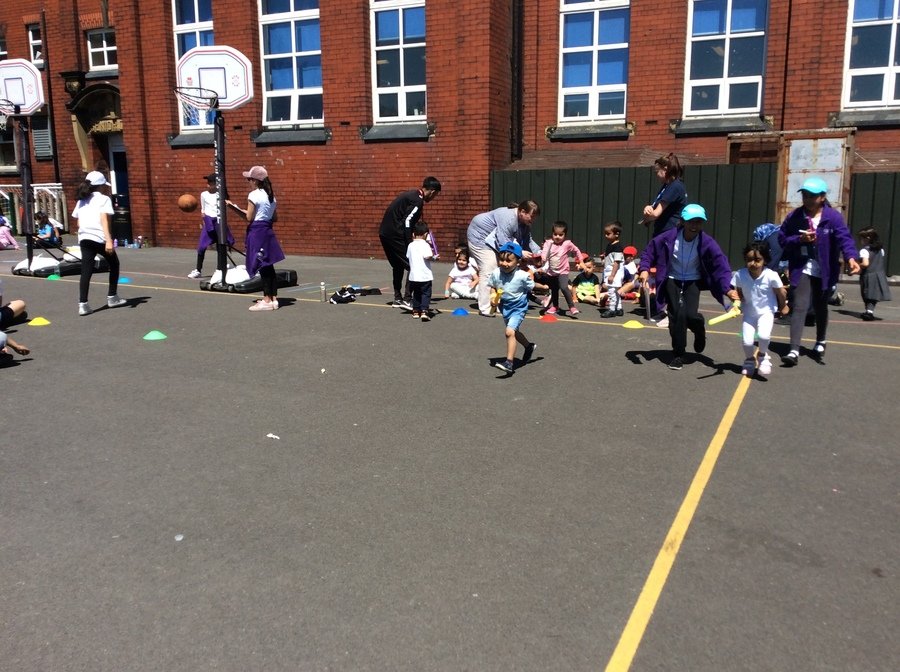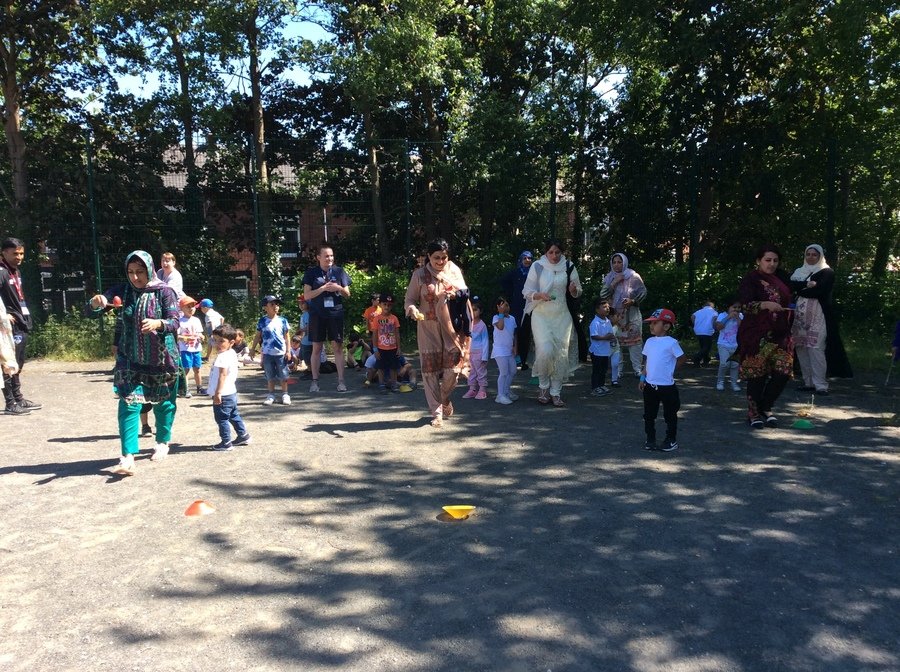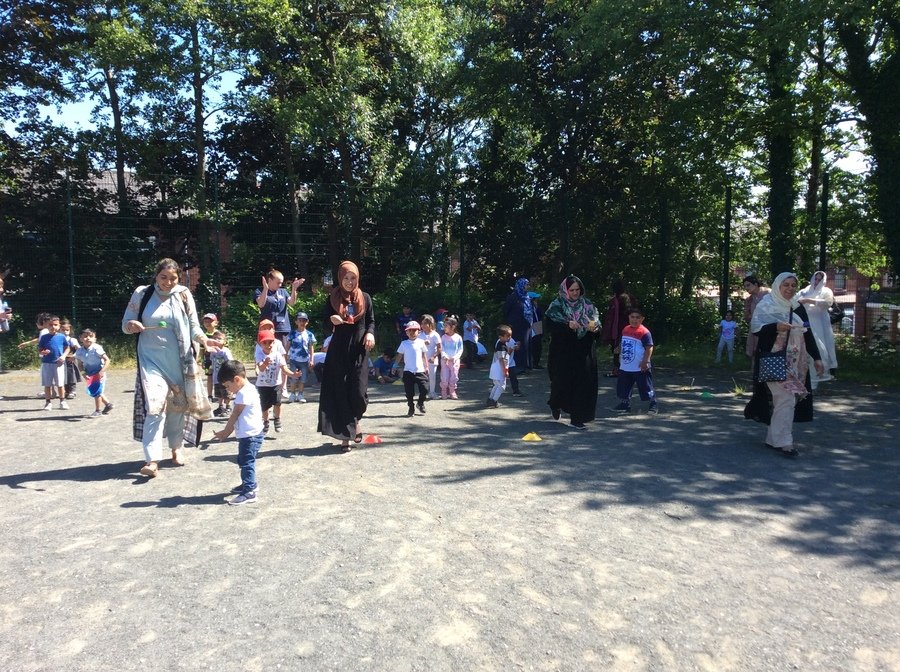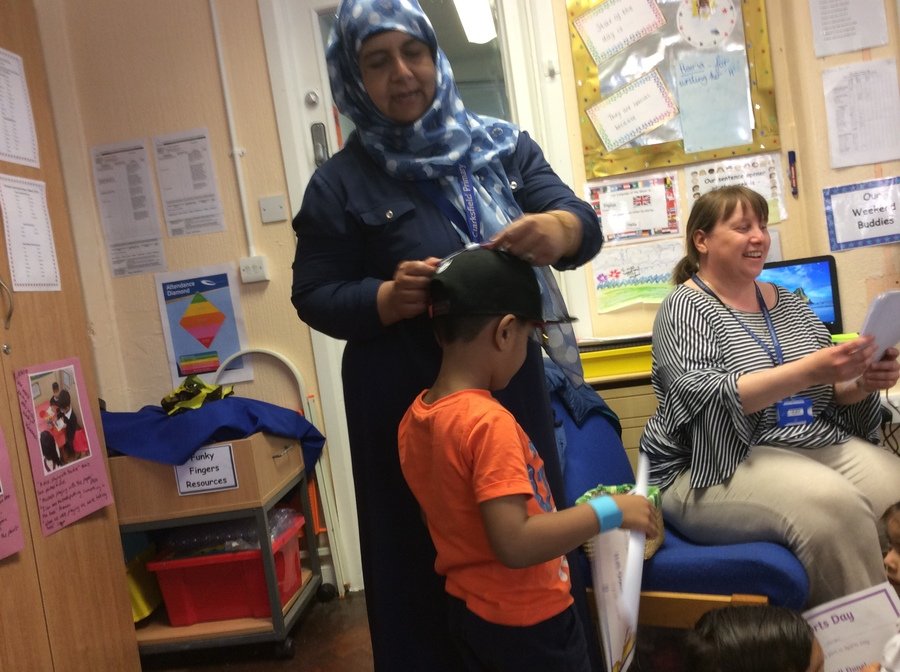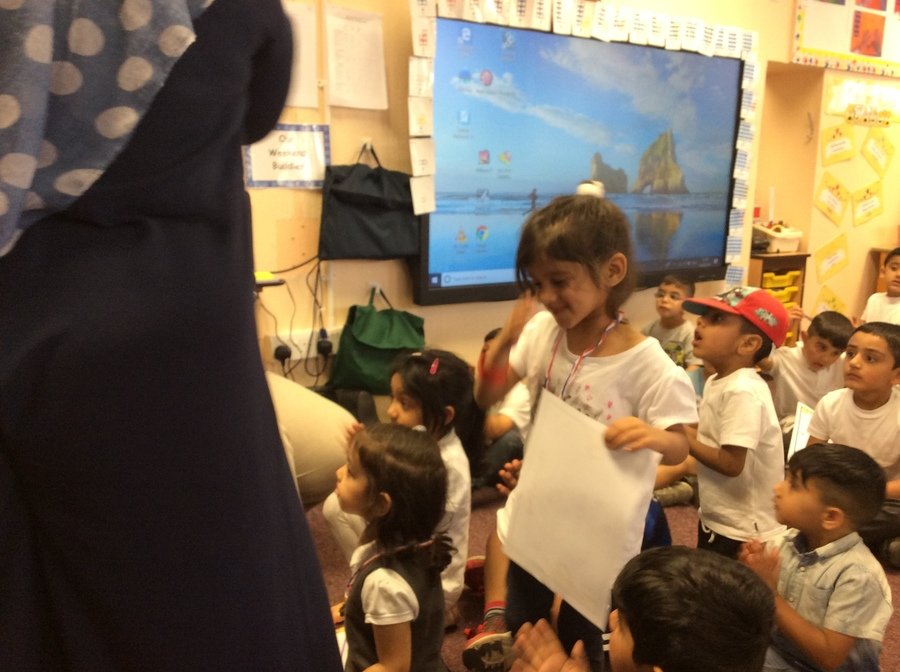 Ugly Bug Ball
On the 24th May, we participated in an Ugly Bug Ball/Minibeast Party themed day to celebrate the end of our Learning Challenge Curriculum topic. The children dressed up as their favourite minibeasts wearing hats that they had made in school and bright, patterned clothes. They enjoyed making and eating spider and ladybird biscuits, played pass the parcel and won minibeast themed prizes, and enjoyed dancing and moving their bodies in different ways like the minibeasts they have been learning about.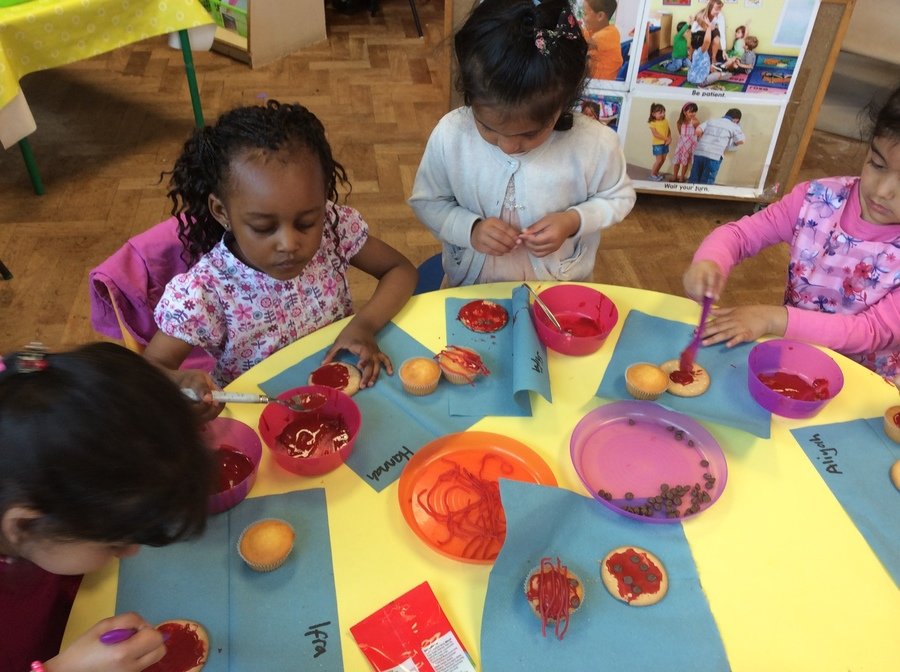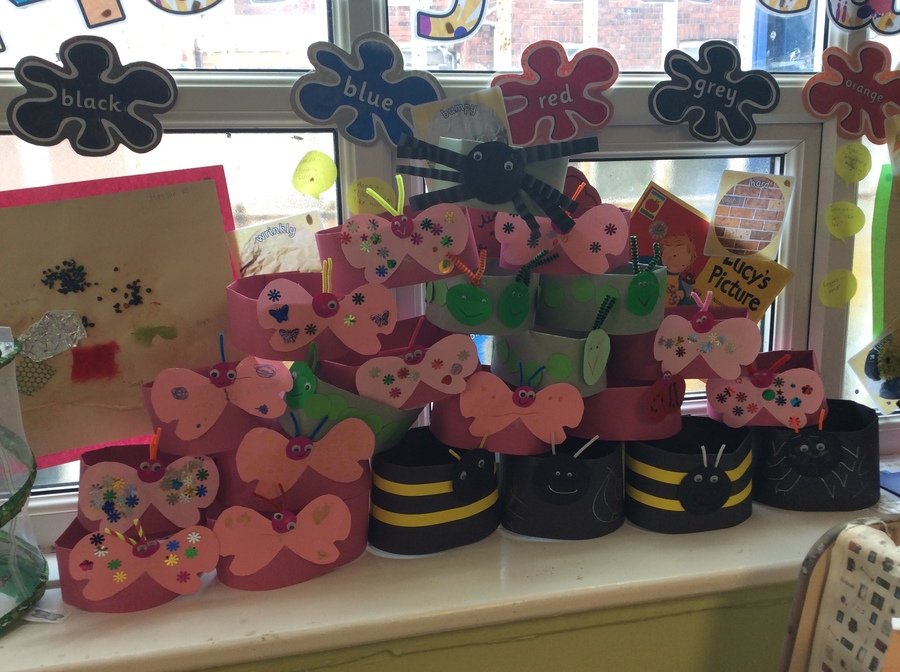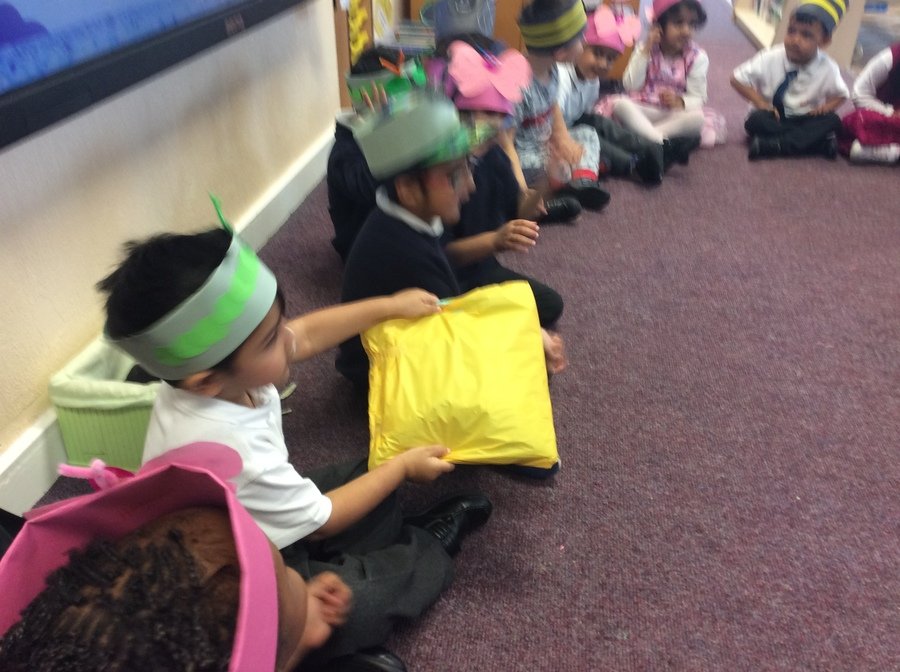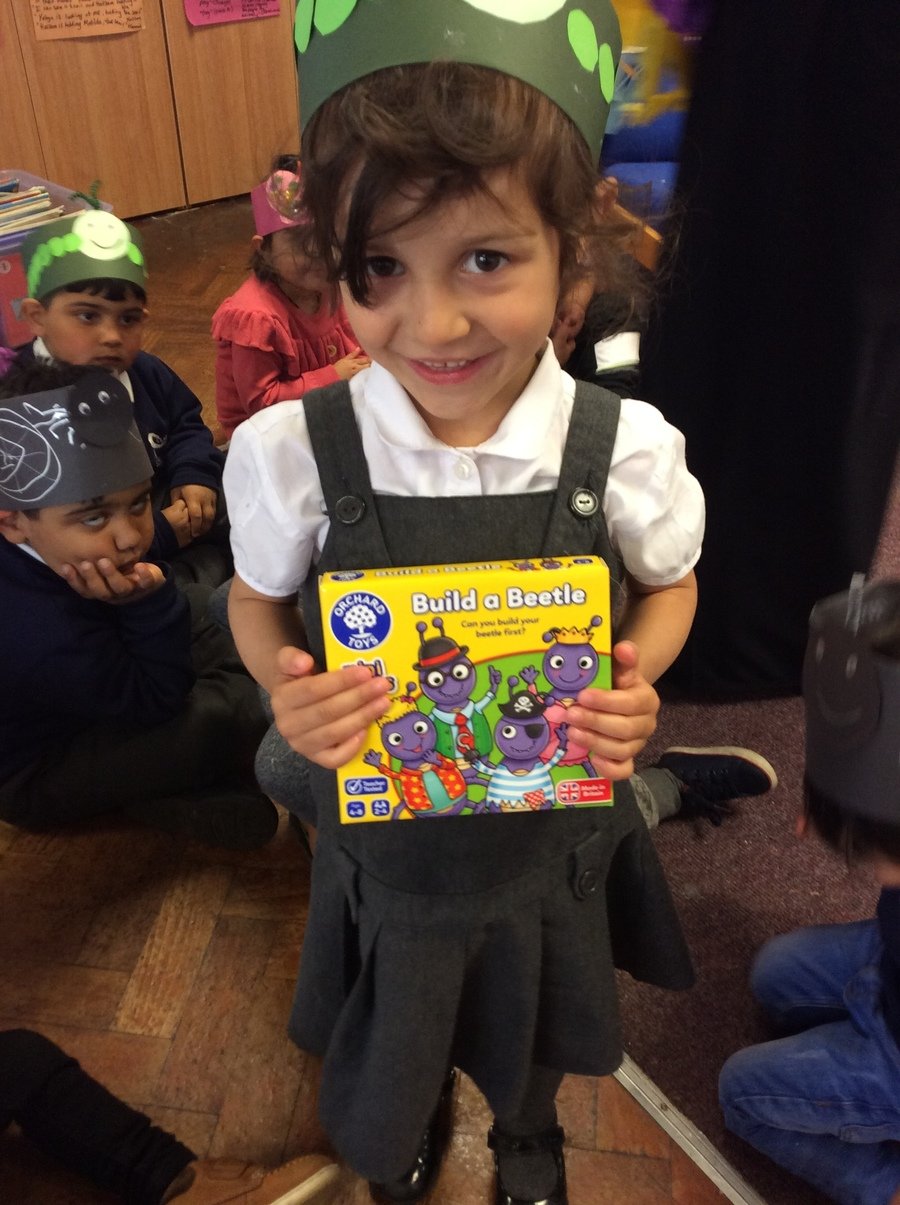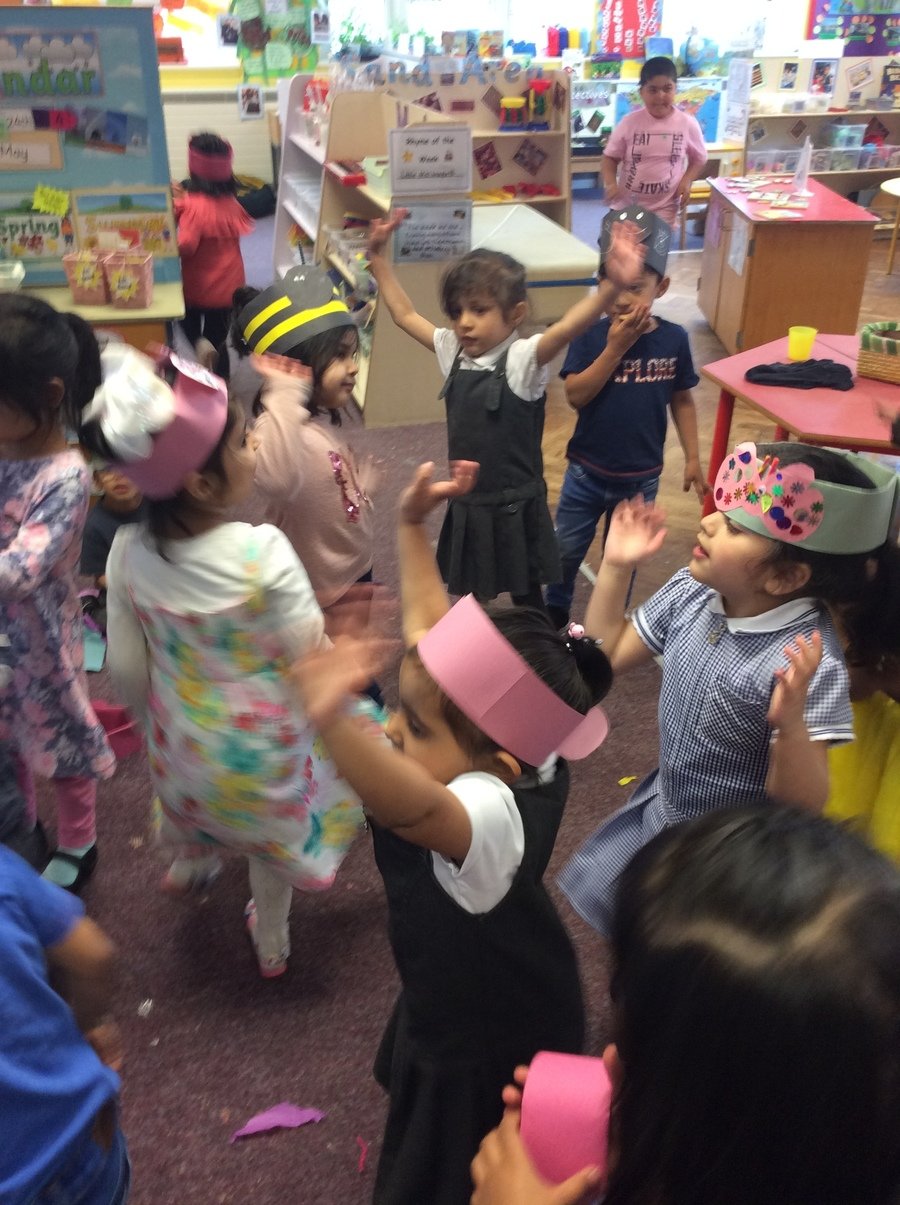 The Royal Wedding
On the 18th May, we celebrated the Royal Wedding. We enjoyed dancing to wedding themed music, making and decorating crowns to wear, colouring in wedding themed pictures, developed our cutting skills to cut out and stick wedding themed pictures onto a card and walked down the aisle with our friends.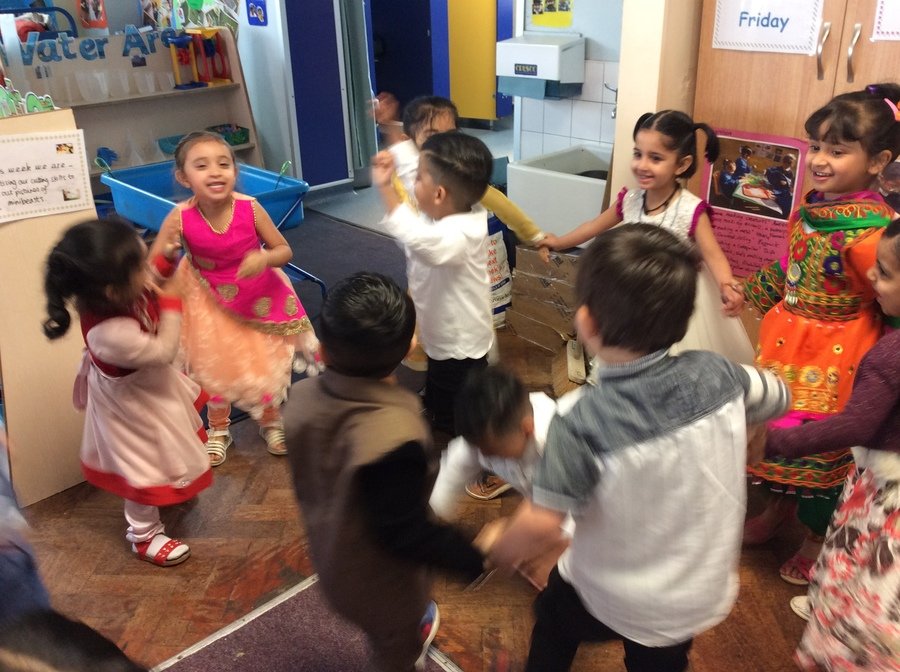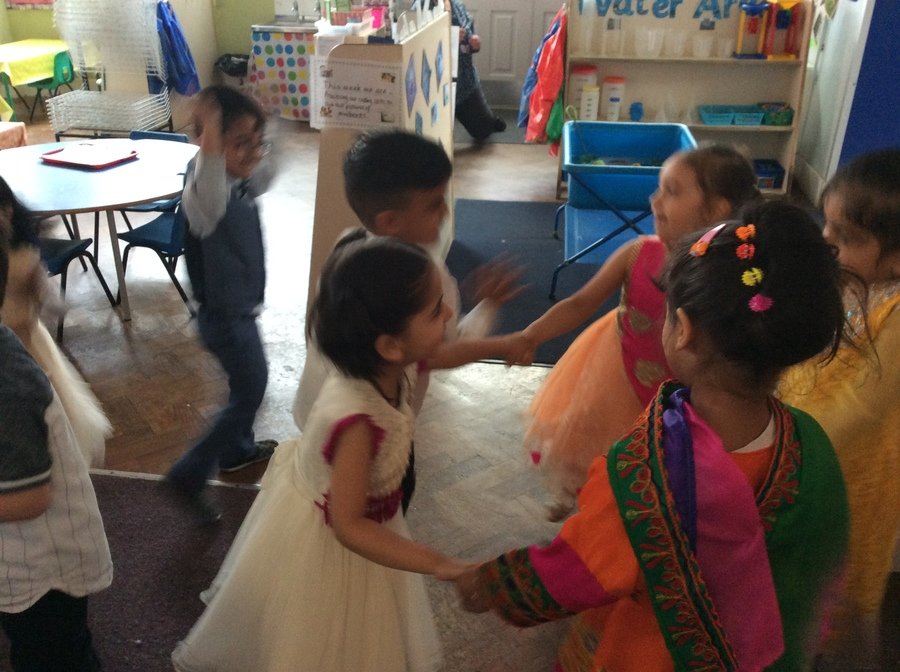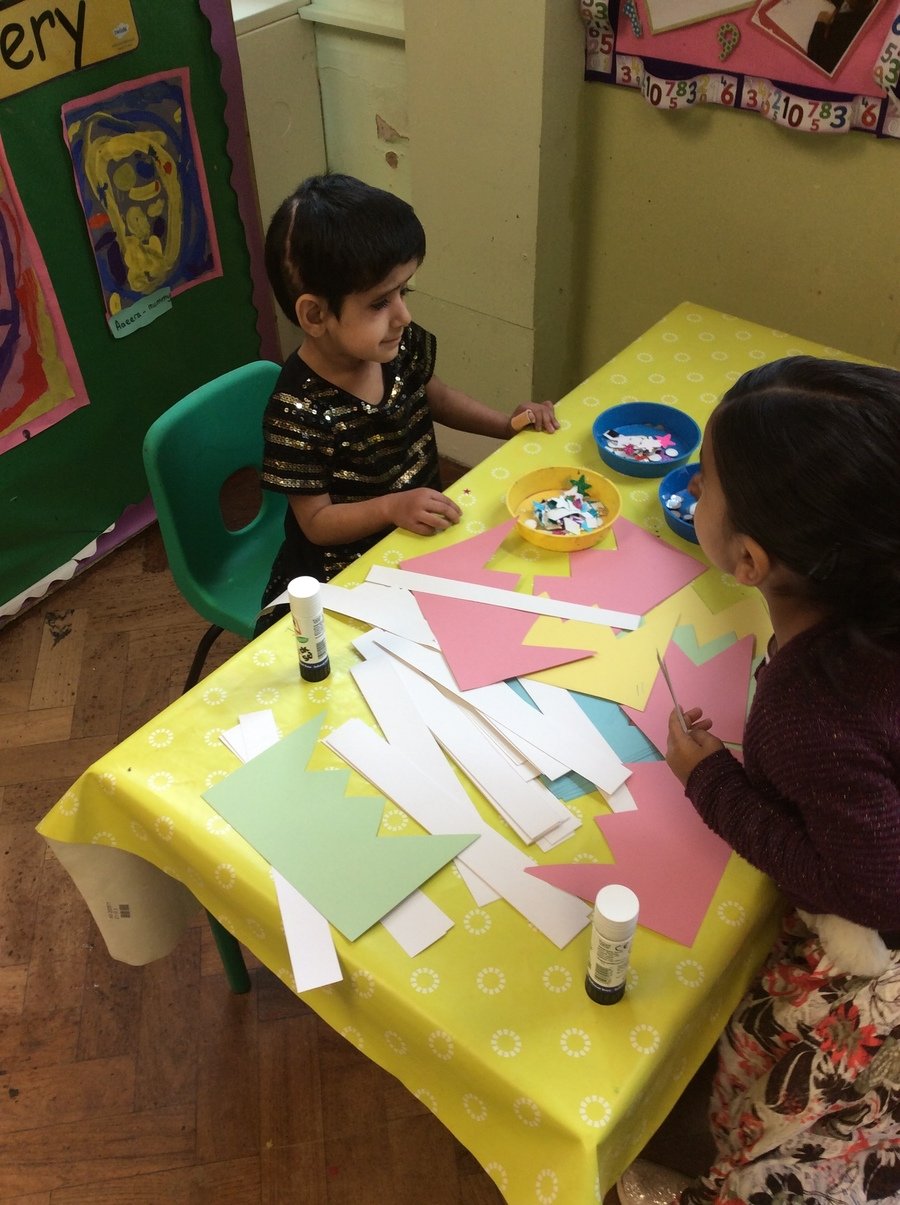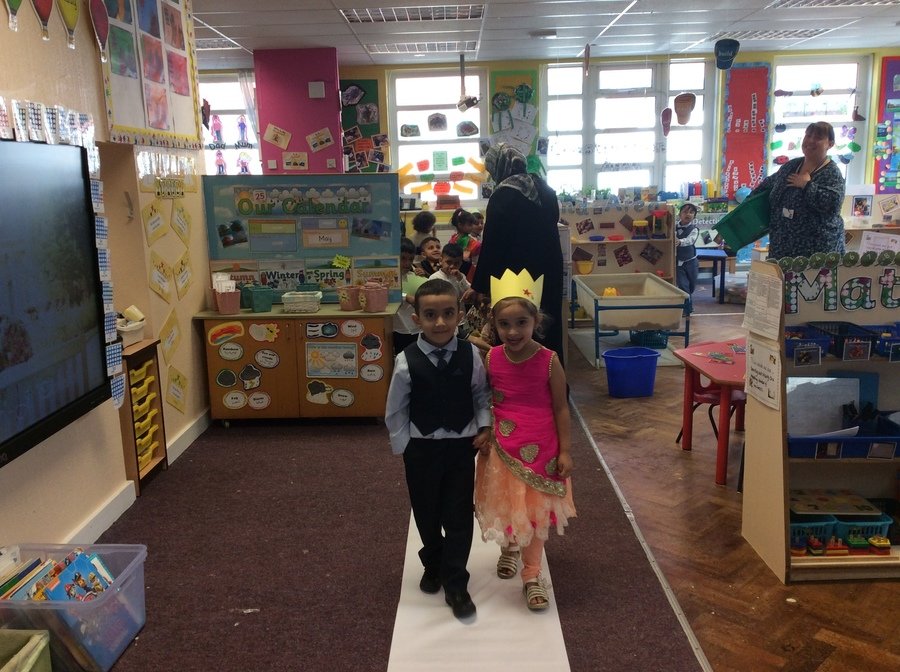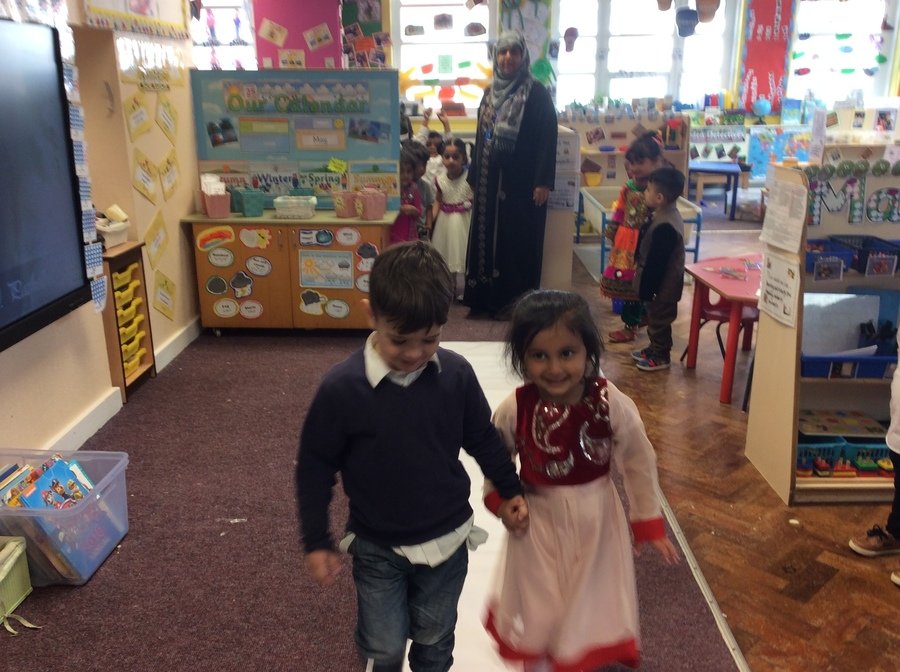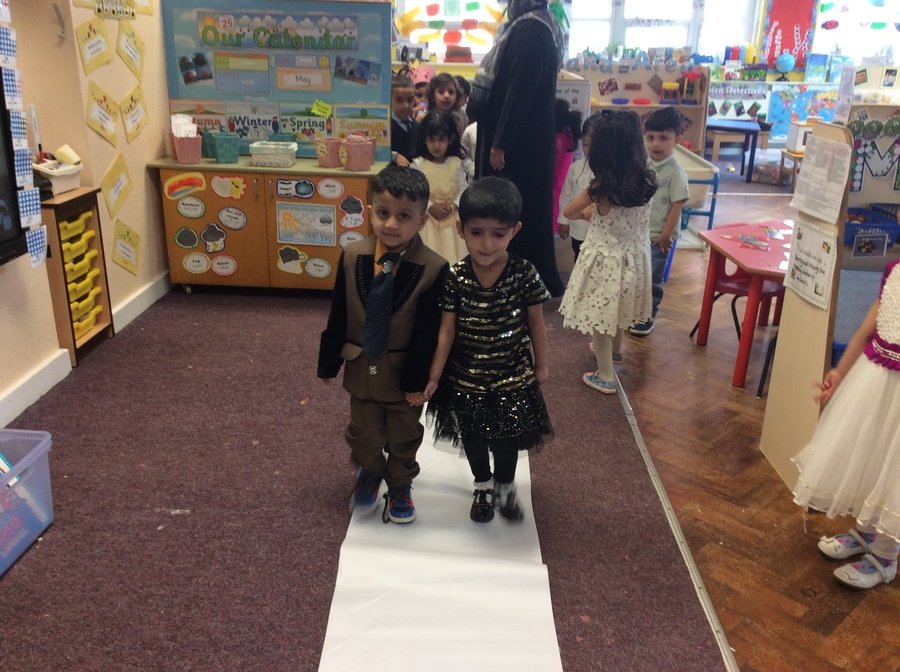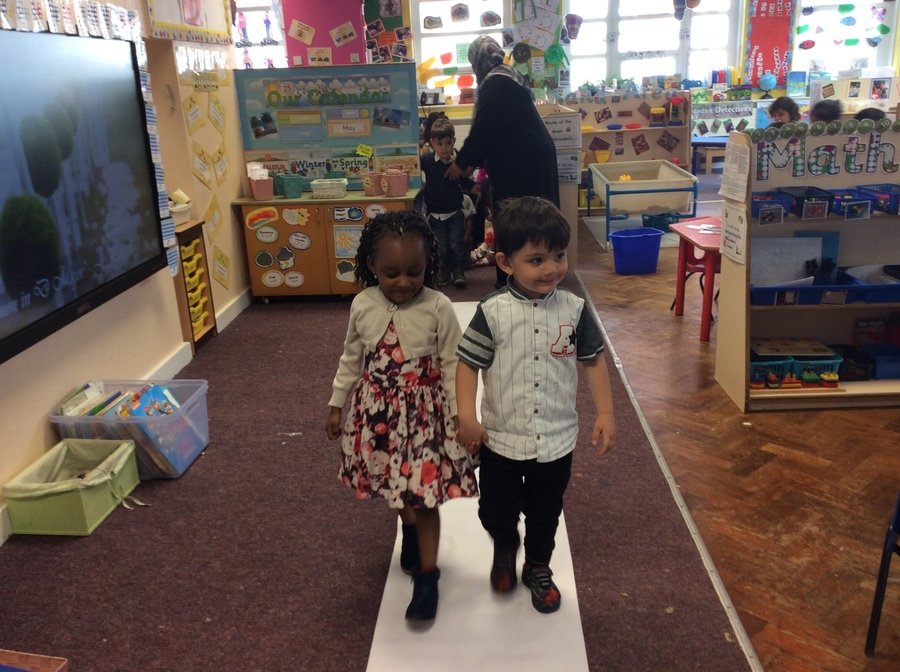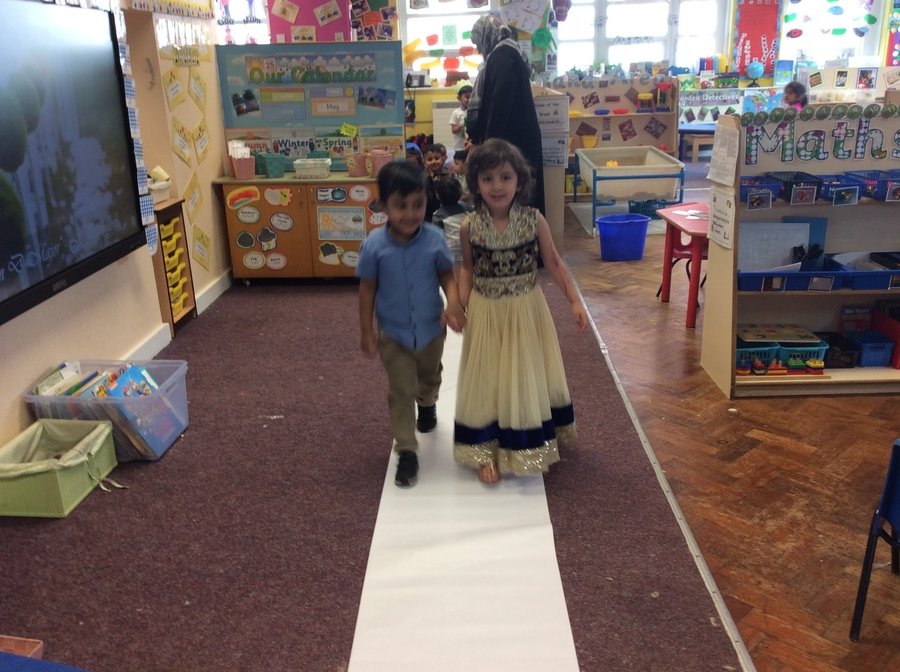 Stay and Play
On the 15th May, our parents attended our stay and play session in Nursery.Our focus of learning was knowledge and understanding of the world with a 'mini-beasts' theme.The children enjoyed engaging with their grown-ups in lots of activities including observing the real tadpoles, worms and caterpillars in our classroom and talking about the changes that we had seen over the past few weeks; colouring pictures of mini-beasts, making models of mini-beasts using the playdough and tools and painting pictures of our favourite mini-beasts. We also showed our grown-ups photographs of when the Bug Man visited school and talked about what we saw and learnt during the visit.We also had lots of fun playing outside in the sun with our parents.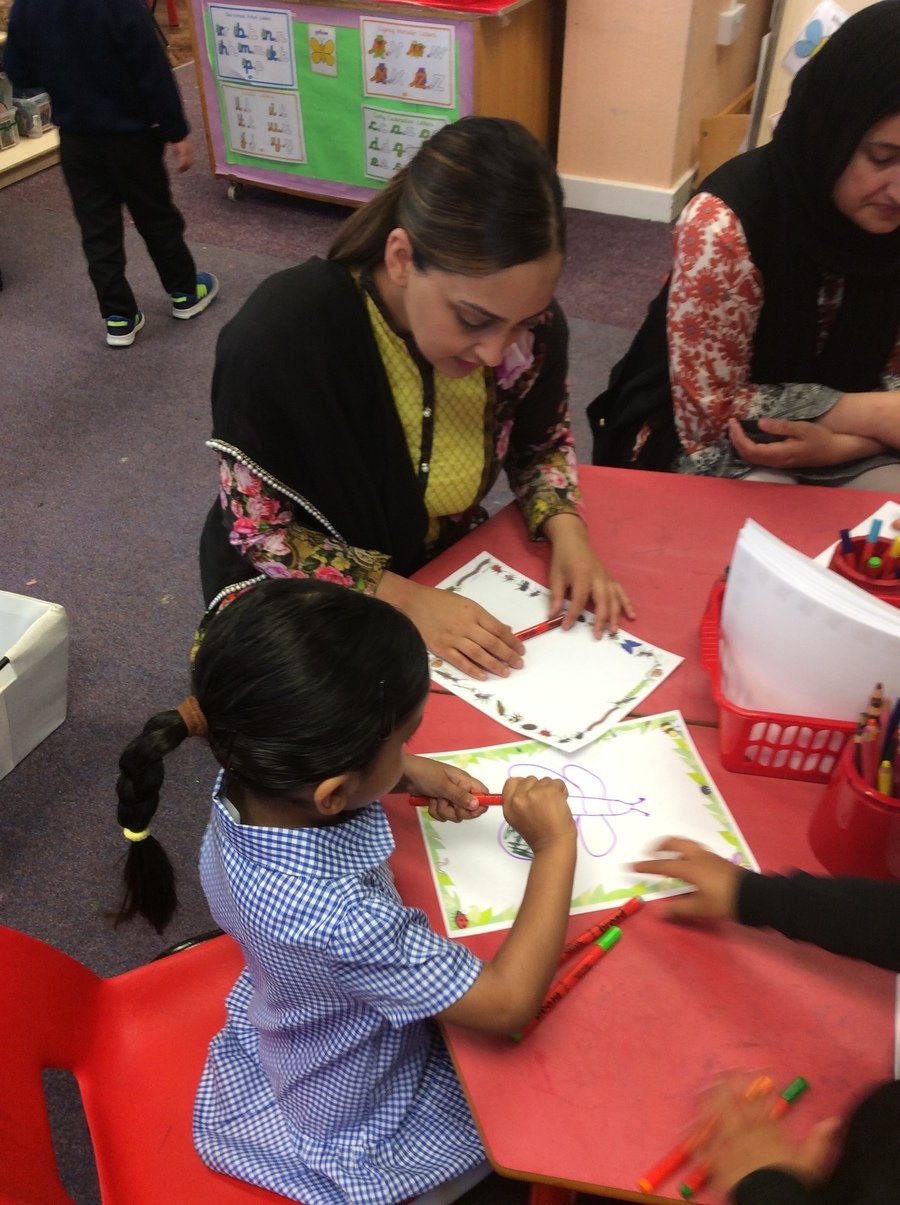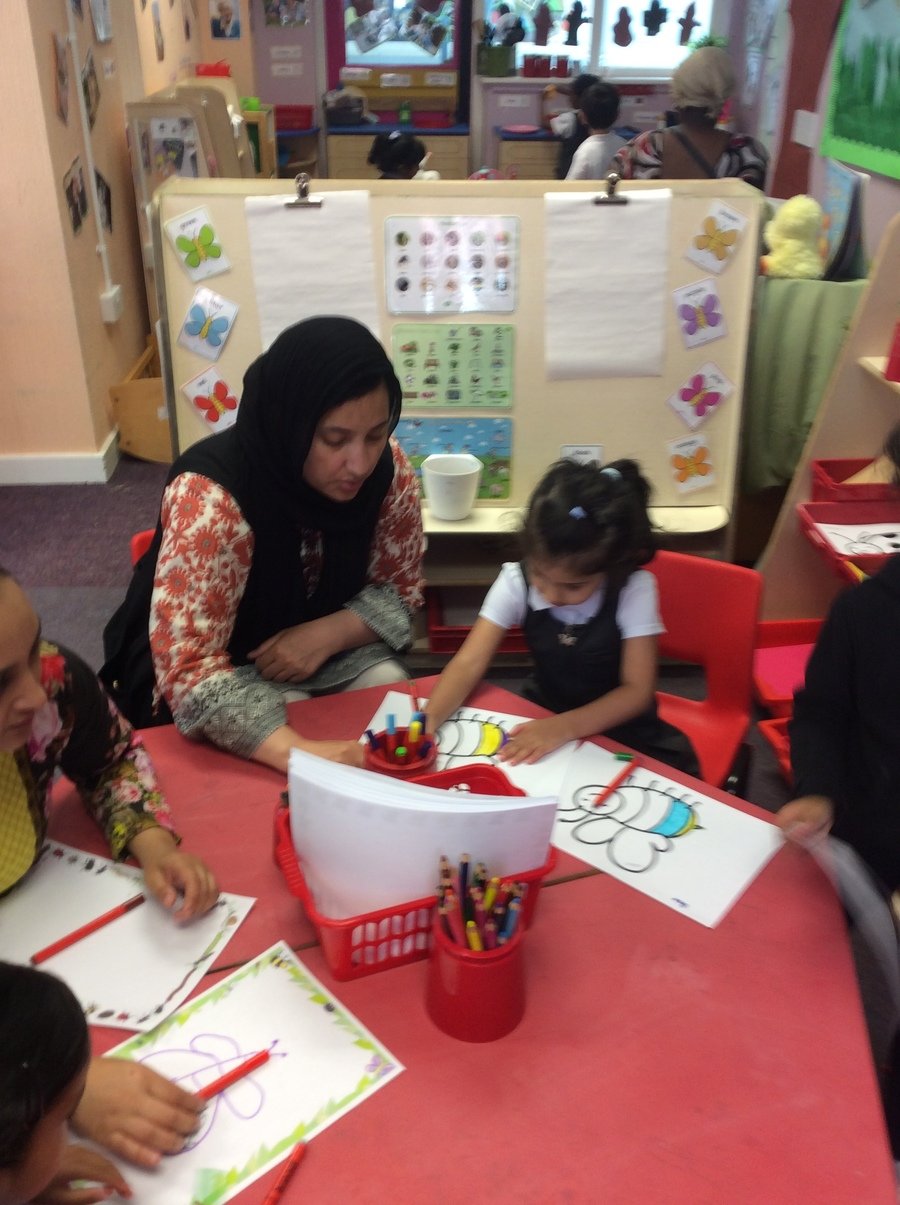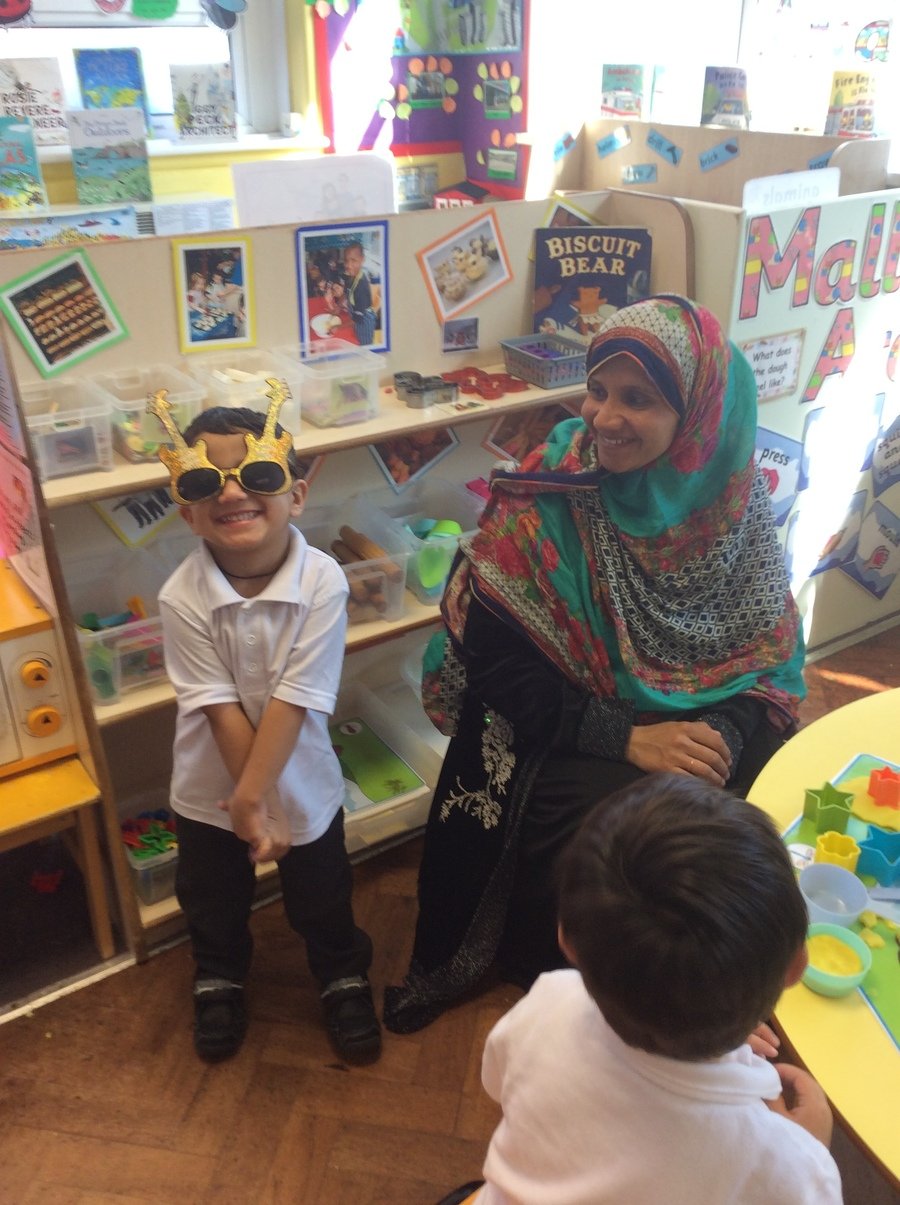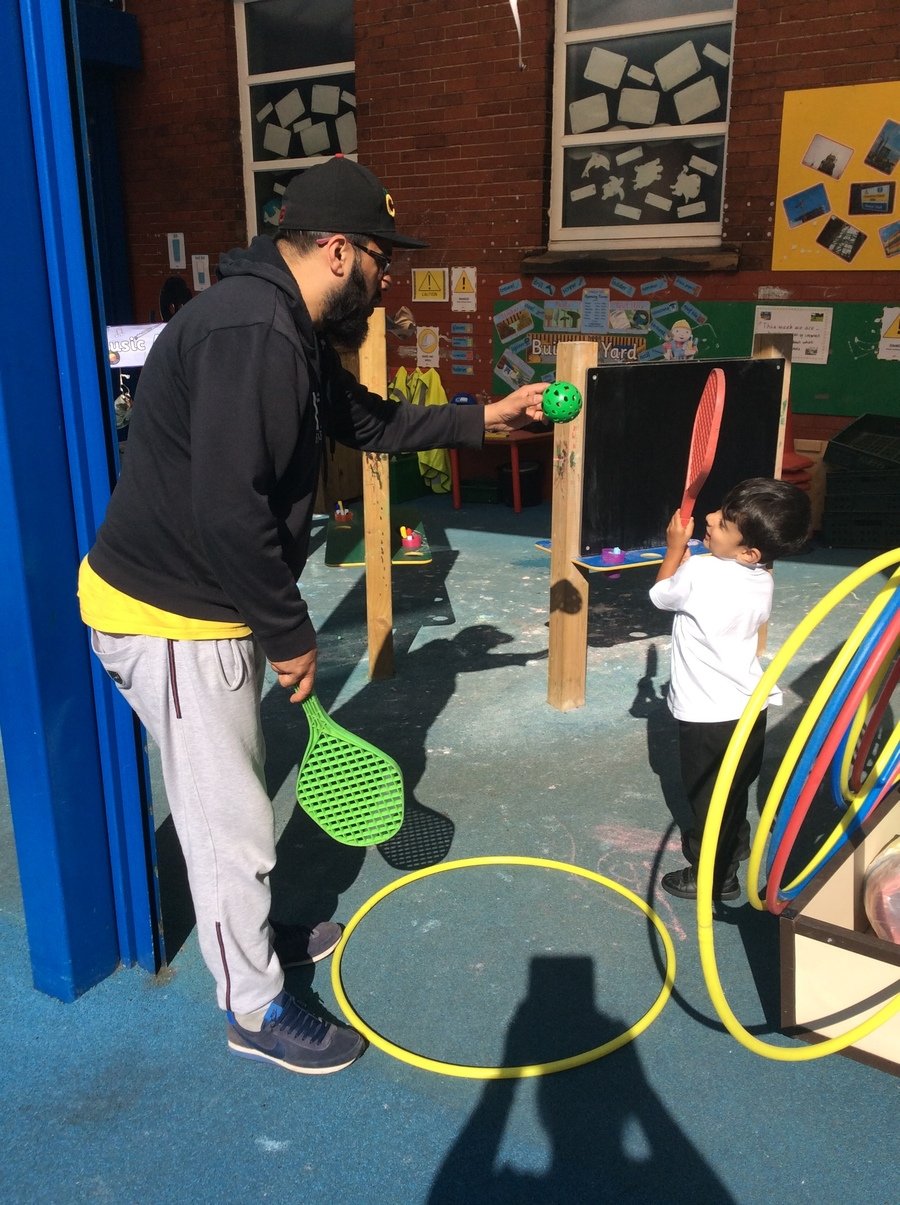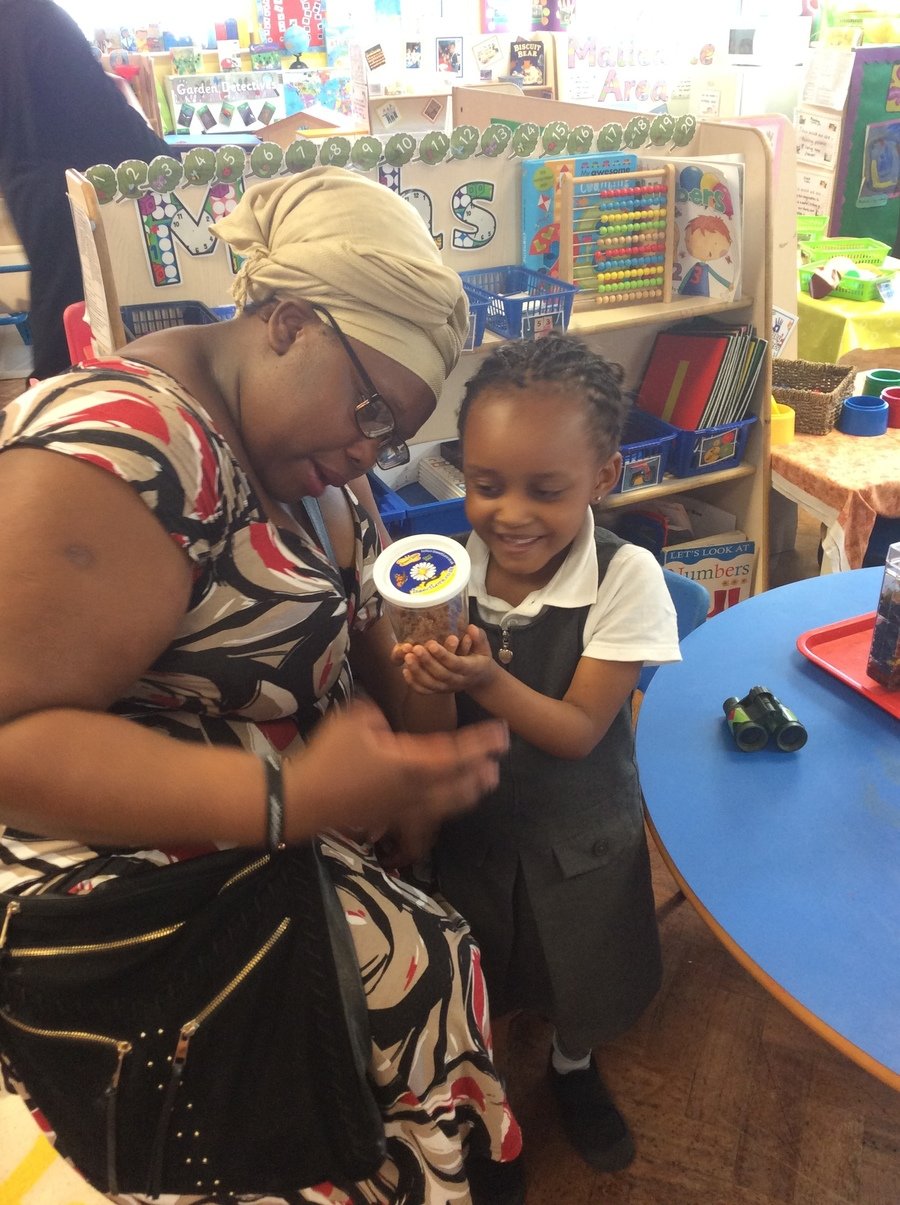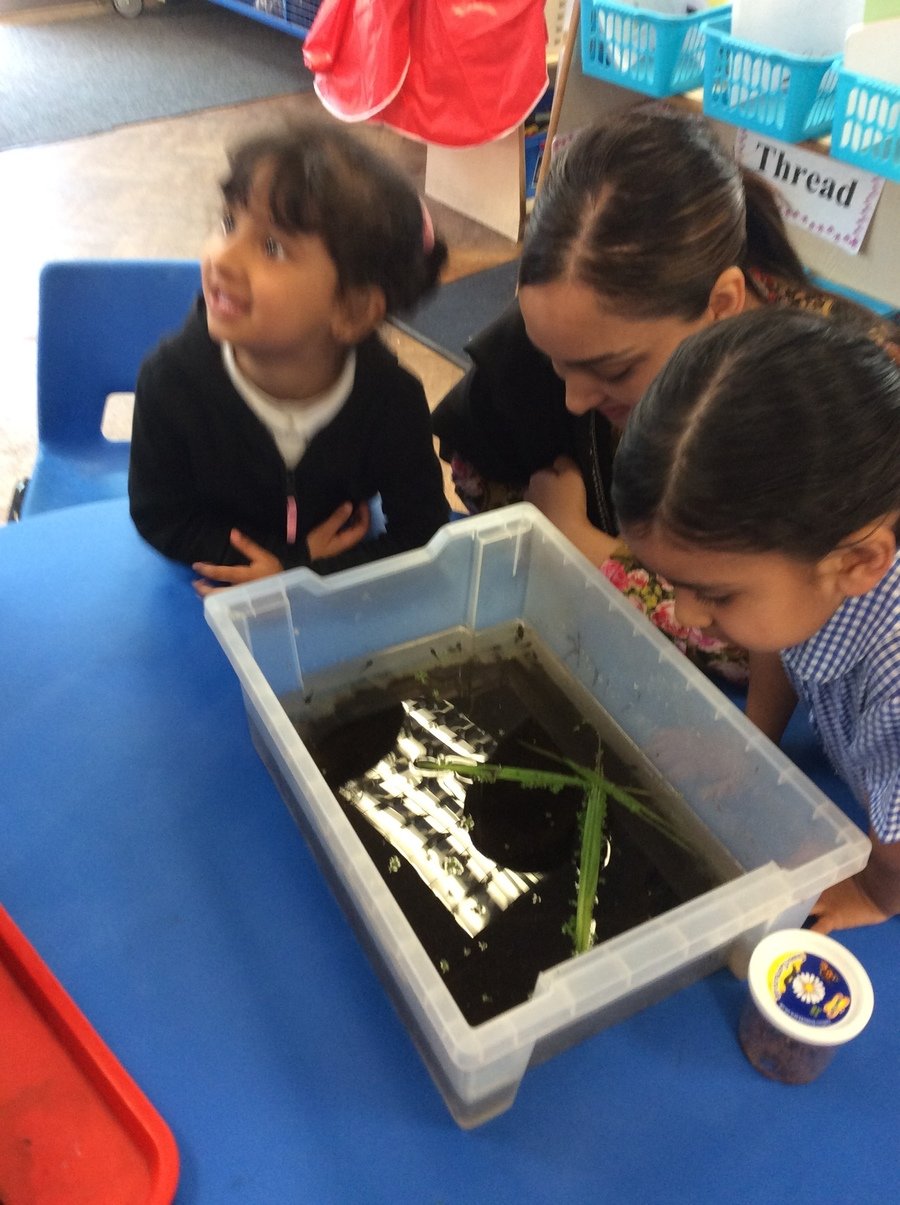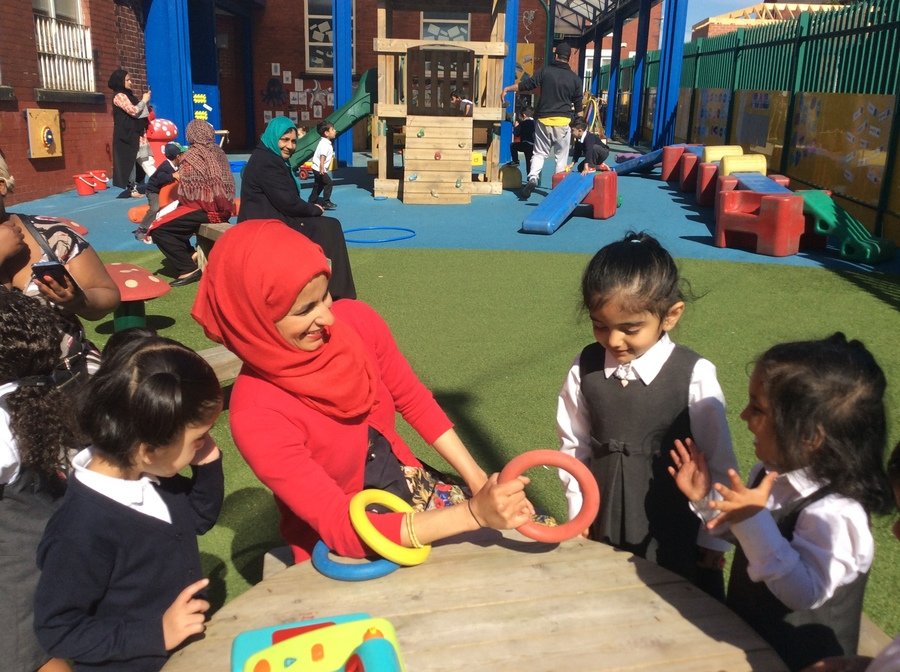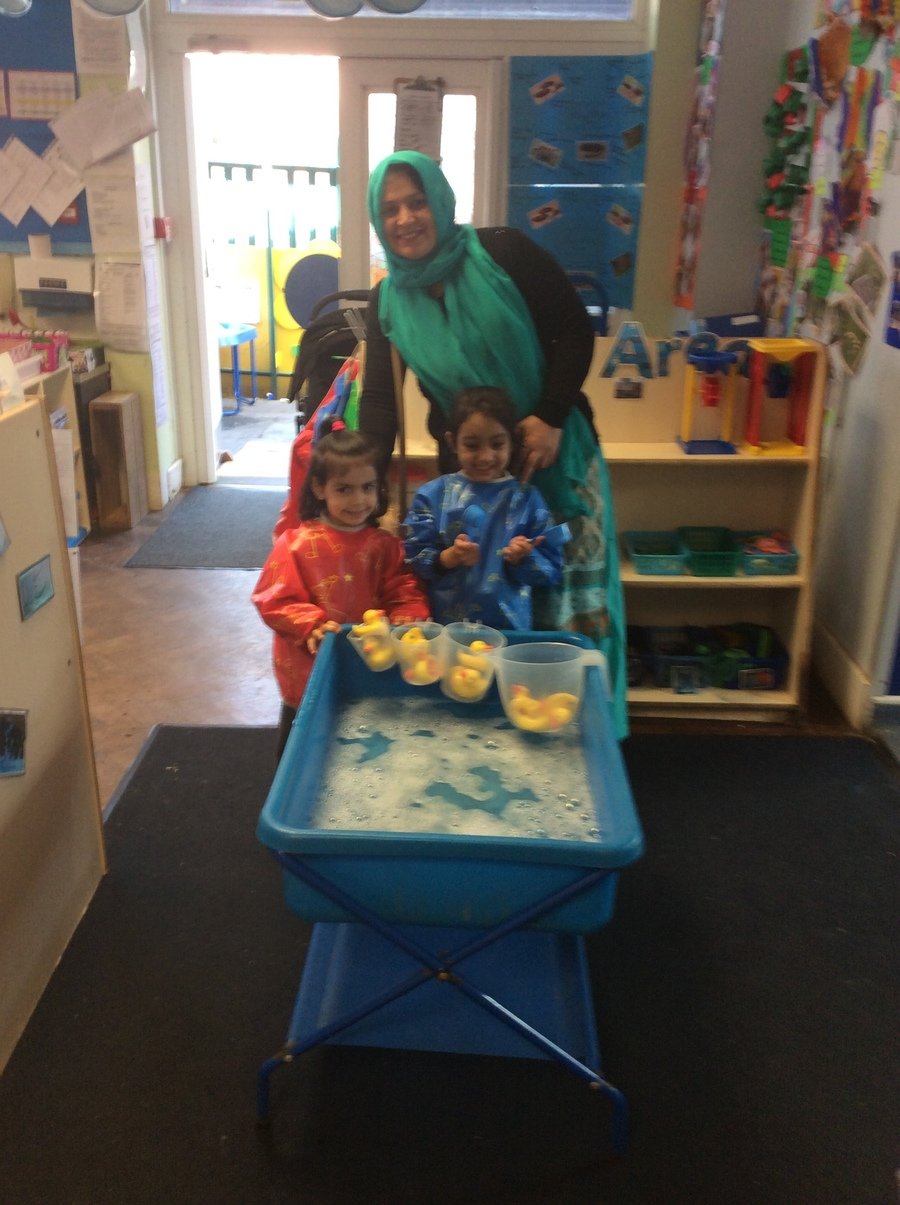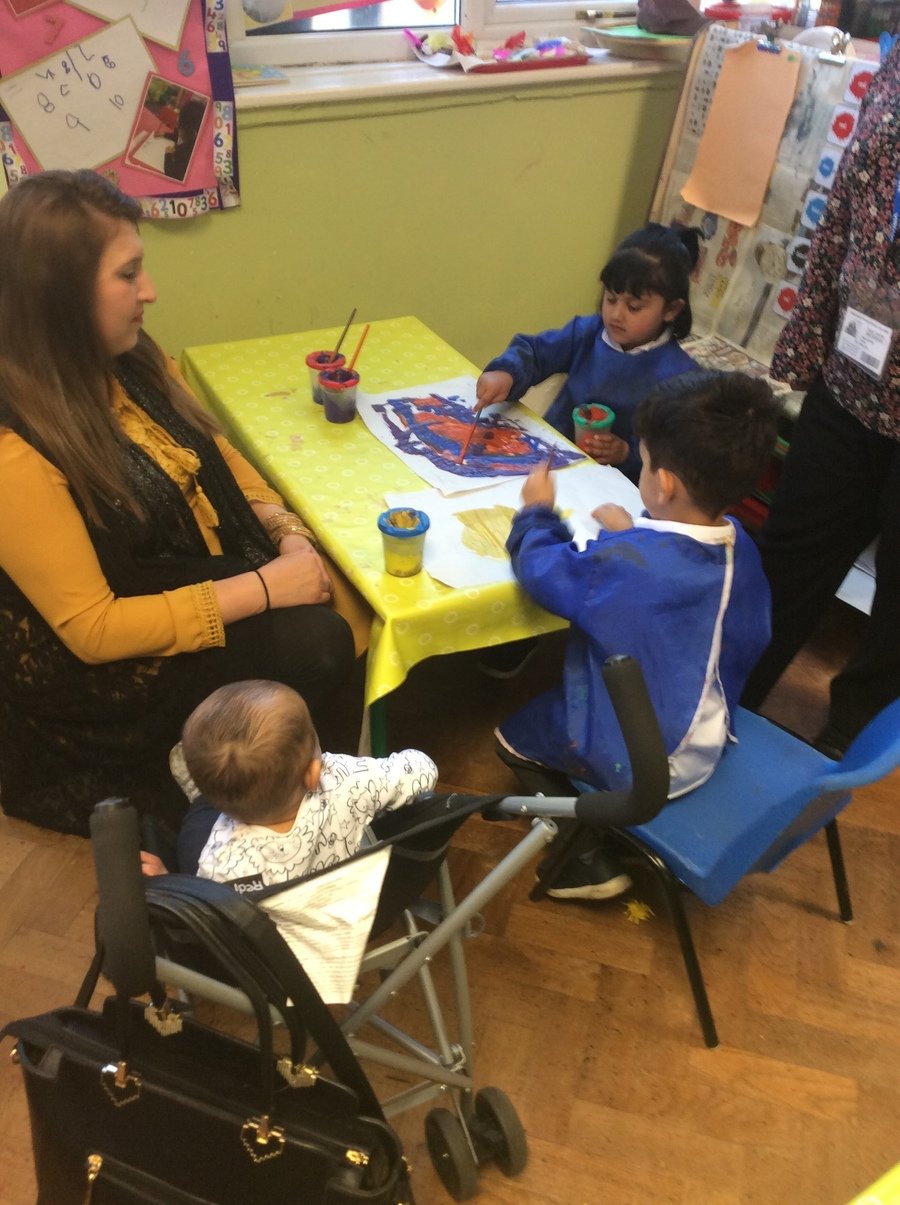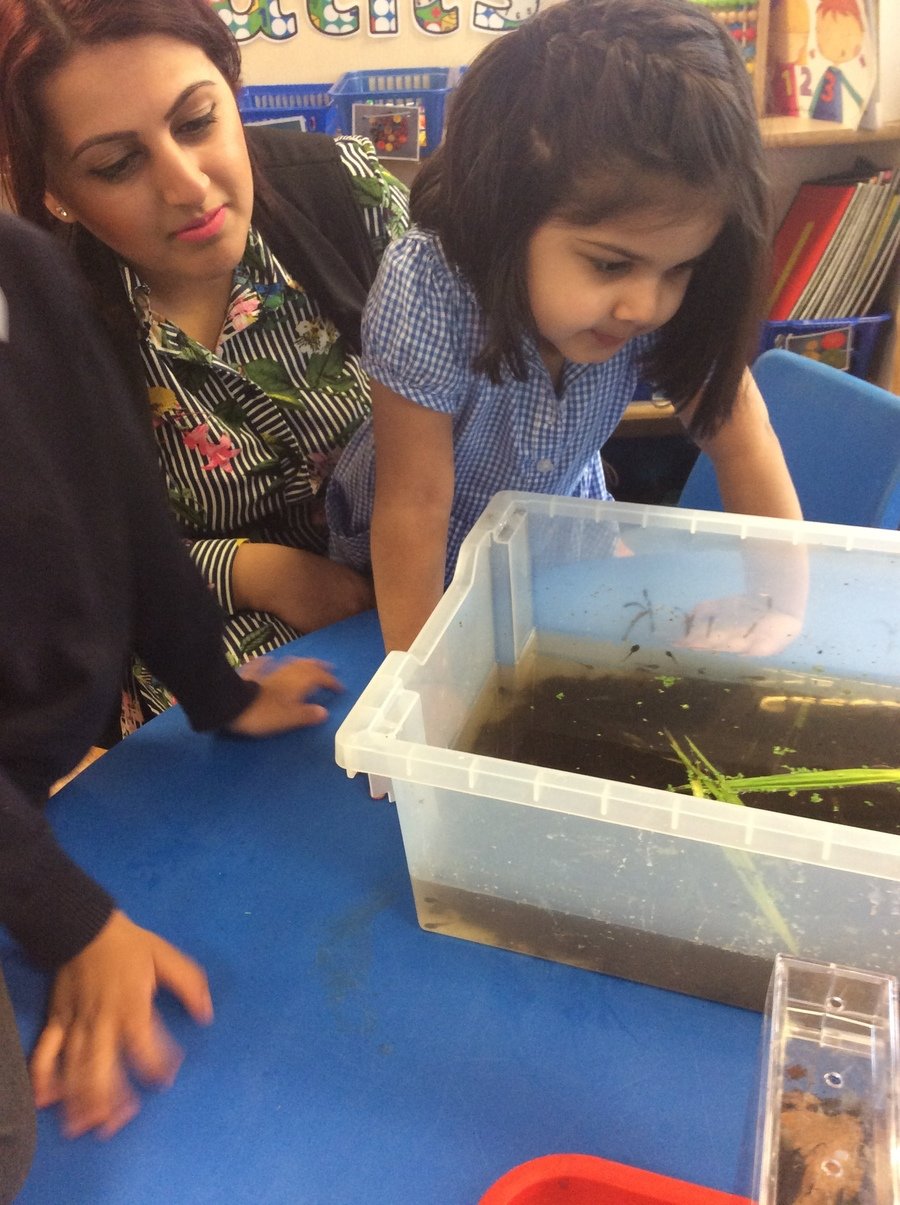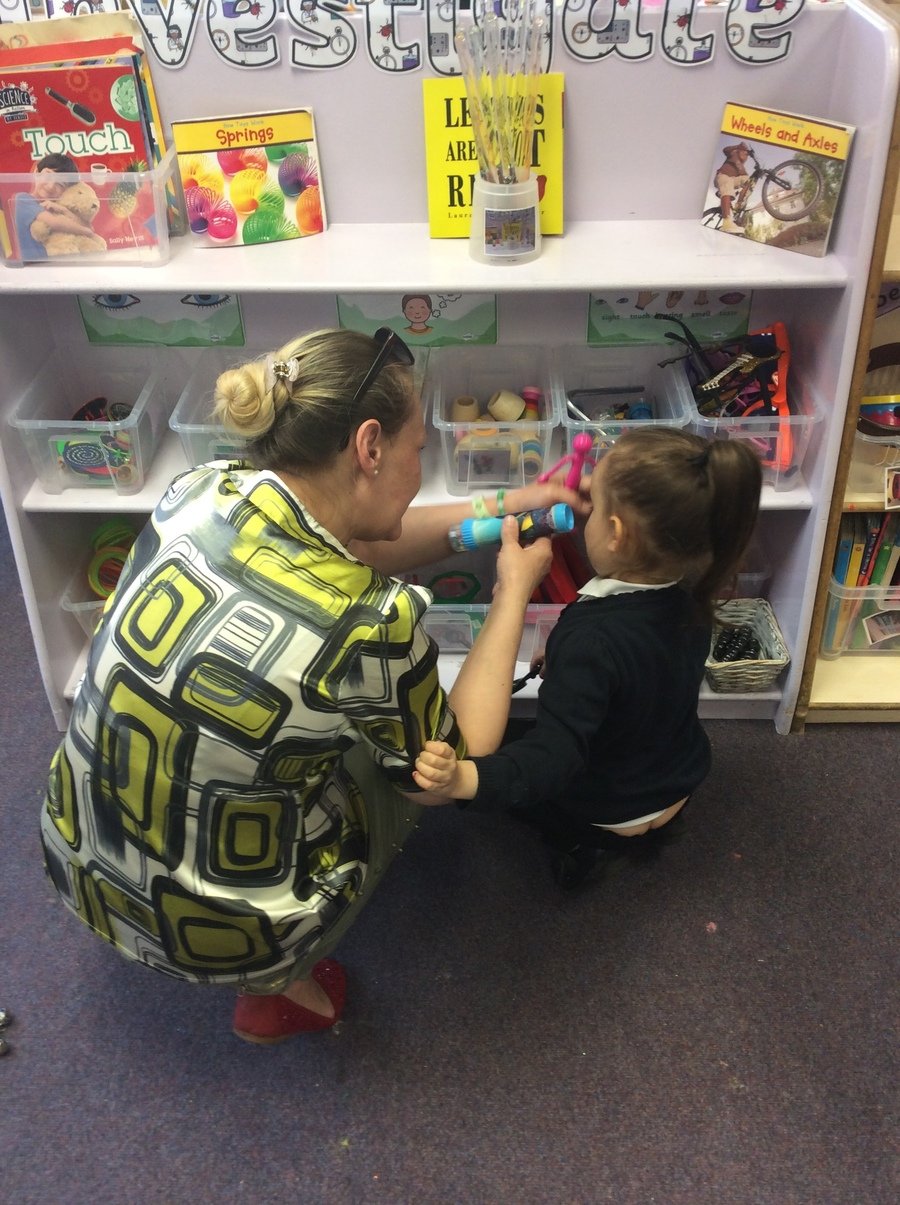 Bug Man Visit
On the 9th May, the Bug Man visited Nursery as part of our learning about minibeasts. He brought lots of minibeasts into school for us to observe first hand, touch and feel including a frog, spider, millipede, cockroach and snail.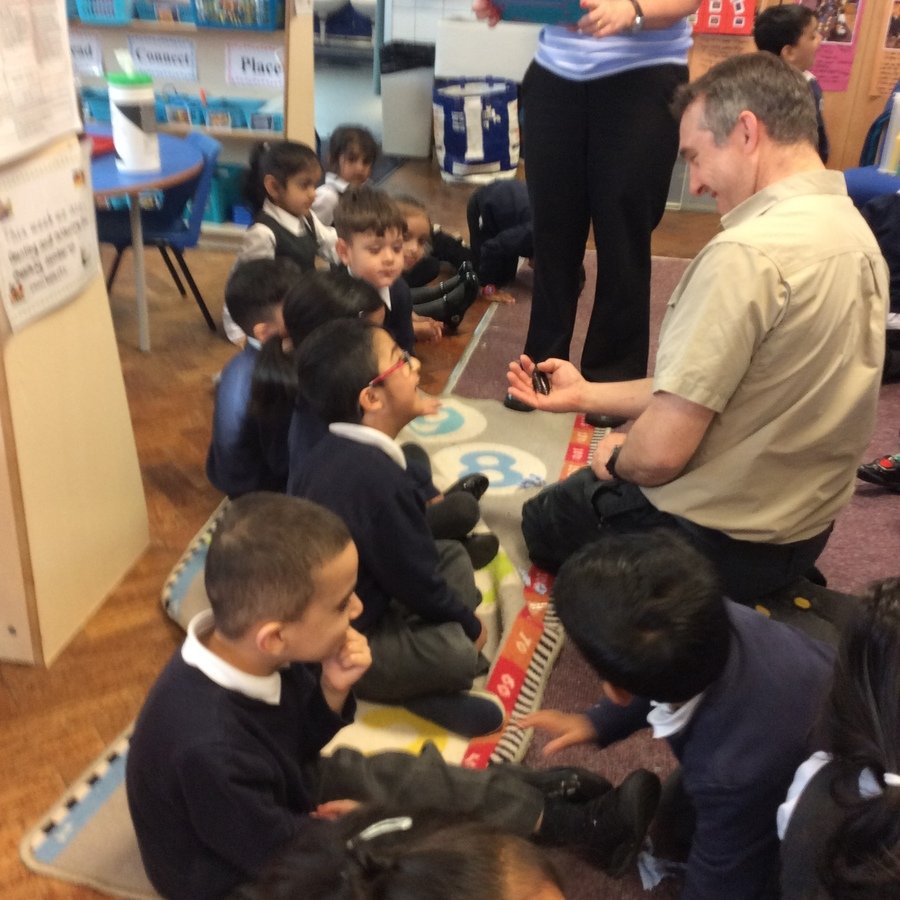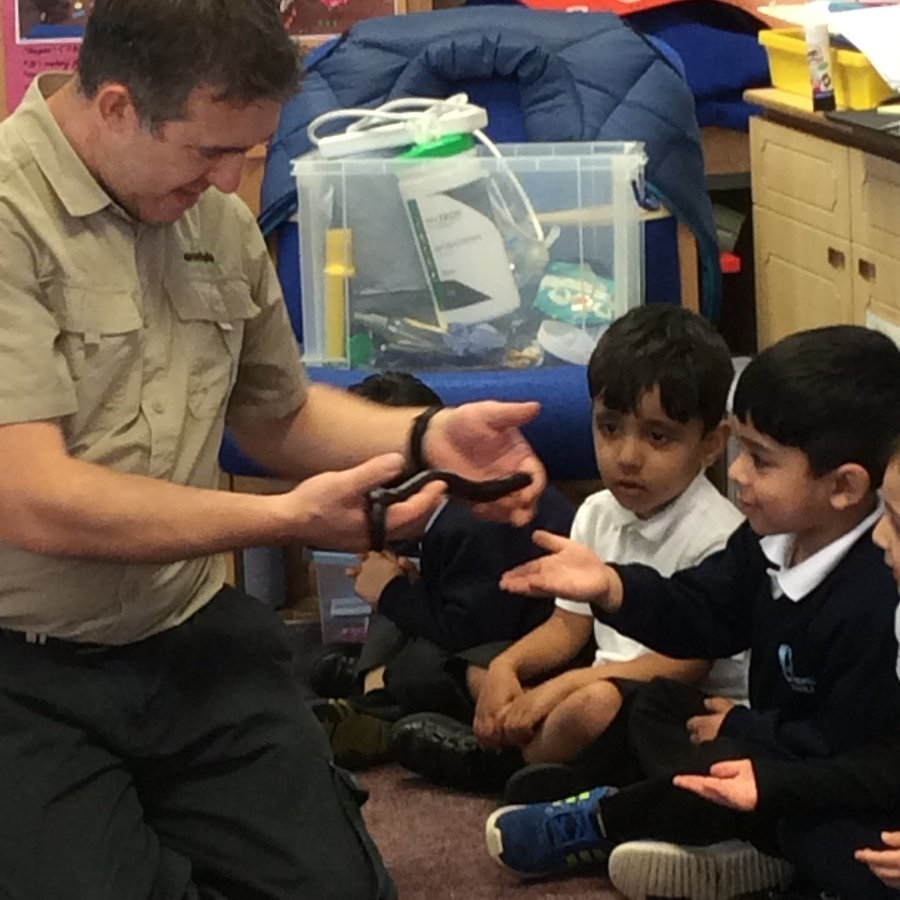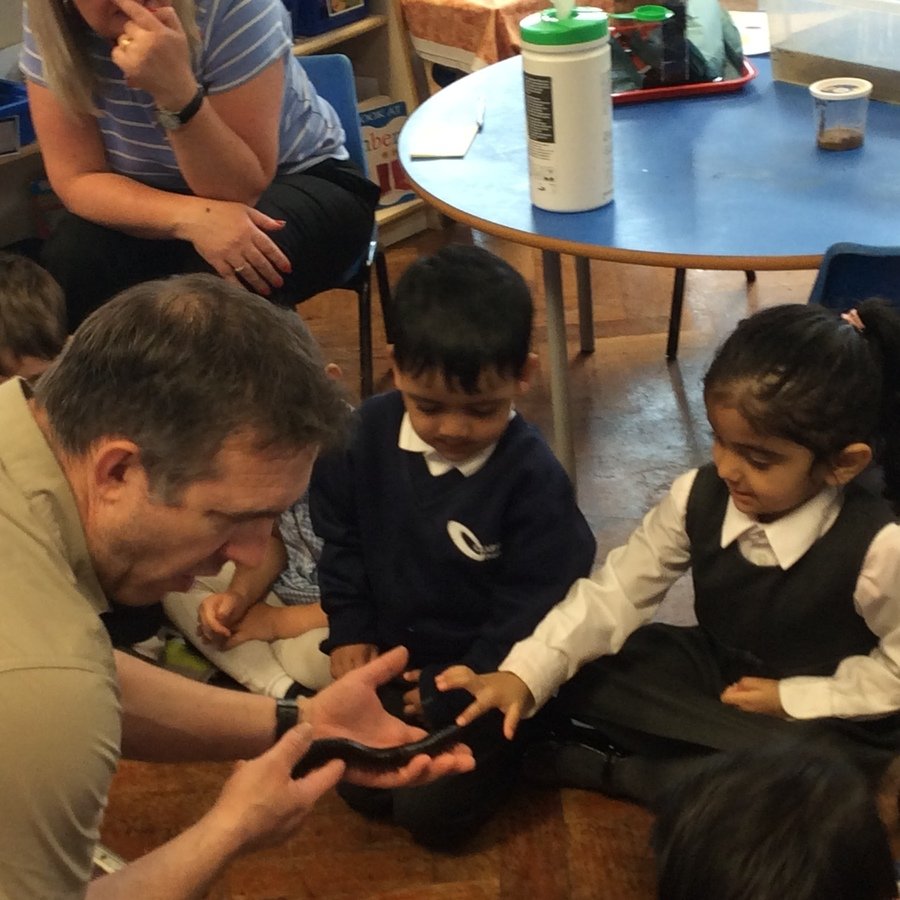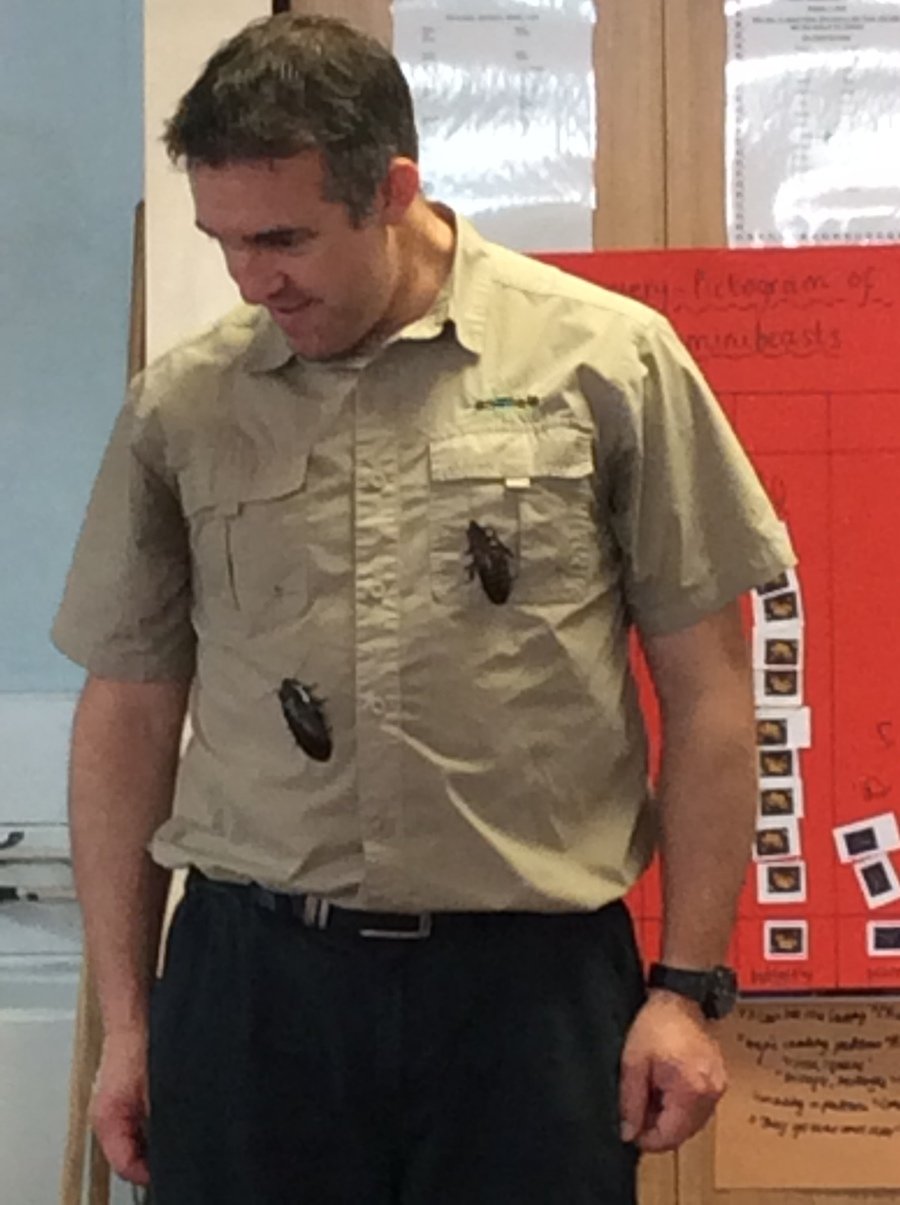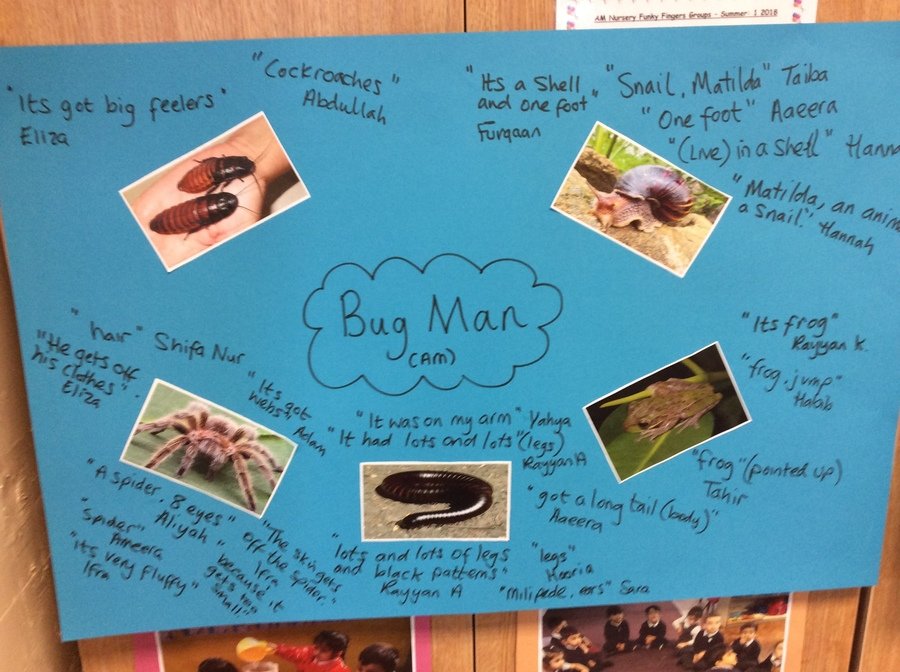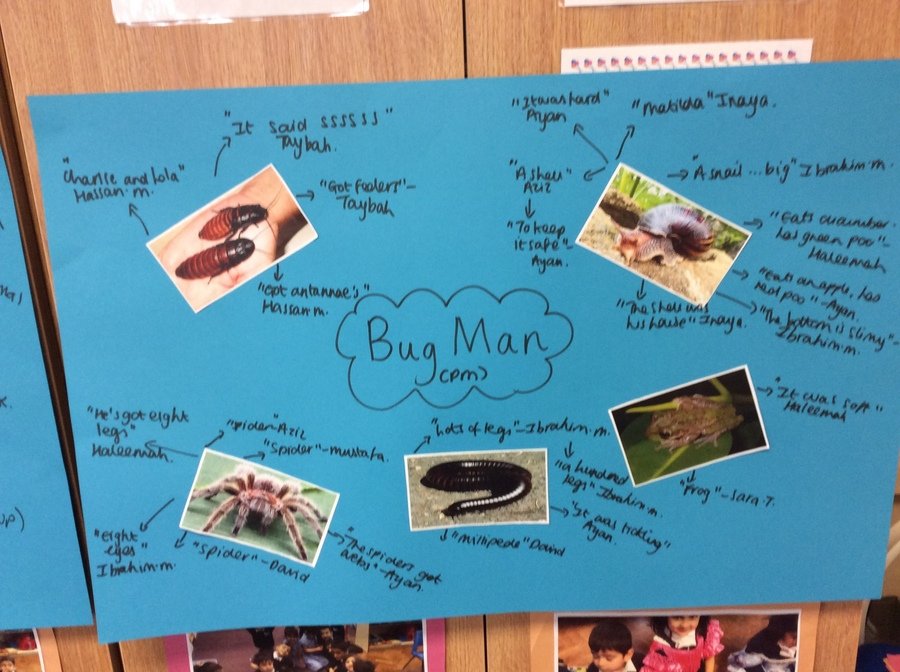 Easter Fun Day
On Wednesday 21st March, Nursery and Reception children enjoyed participating in an Easter Fun Day to consolidate their learning about the Easter time. The children joined in with a range of traditional customs such as having their faces painted like the Easter bunny, making chocolate Easter nest cakes, eating hot cross buns at snack time, joining in with an Easter egg and spoon race, making Easter bonnets and going on an Easter egg hunt. They also enjoyed listening to lots of Easter themed stories and singing Easter themed songs. The children had lots of fun.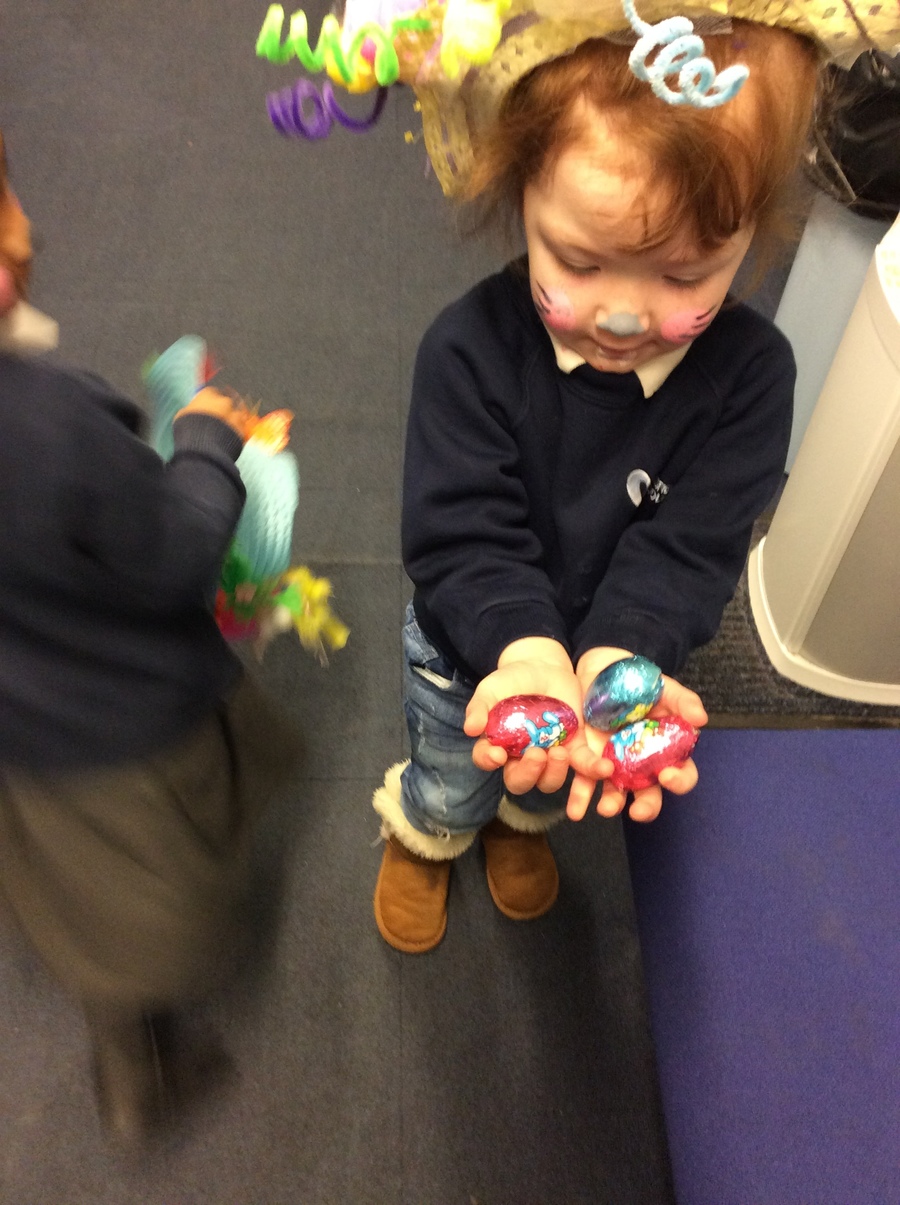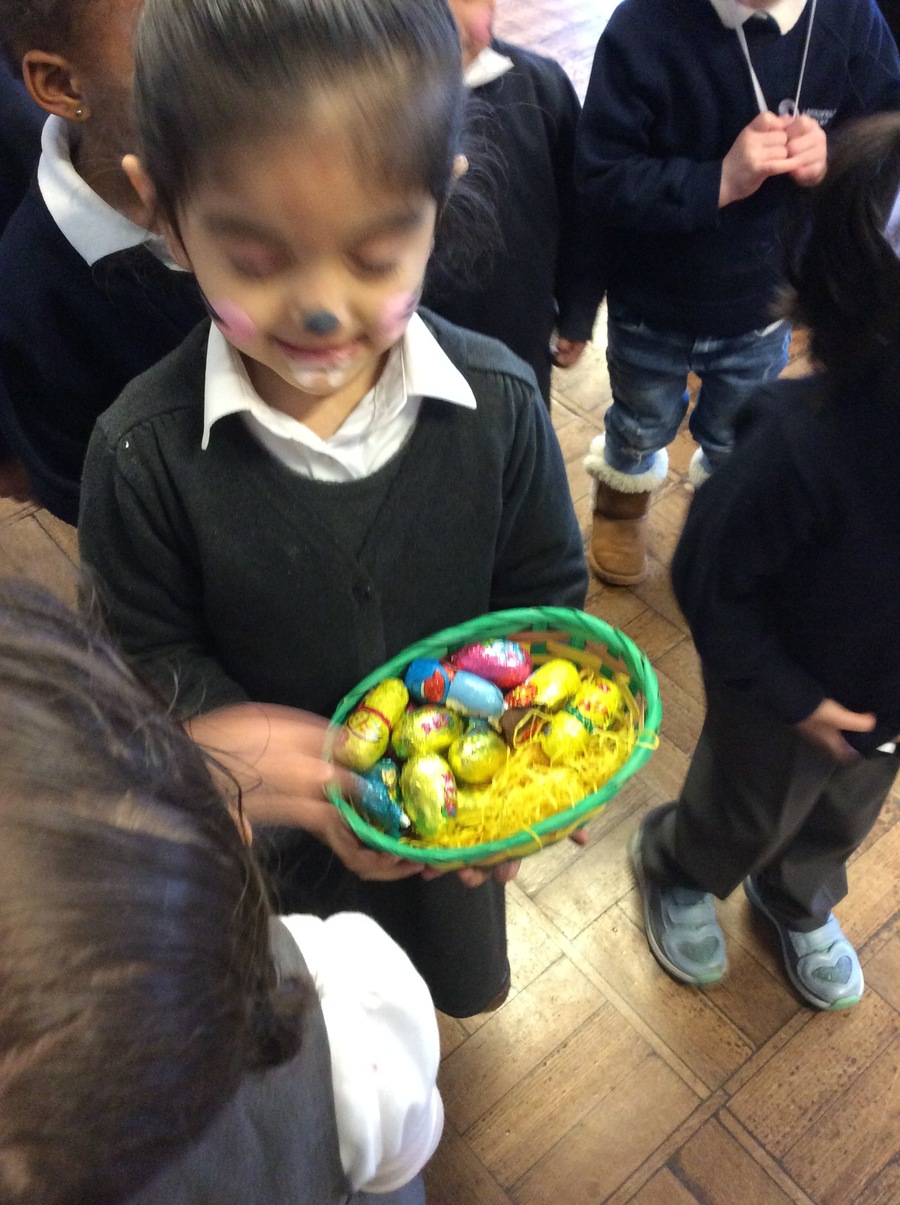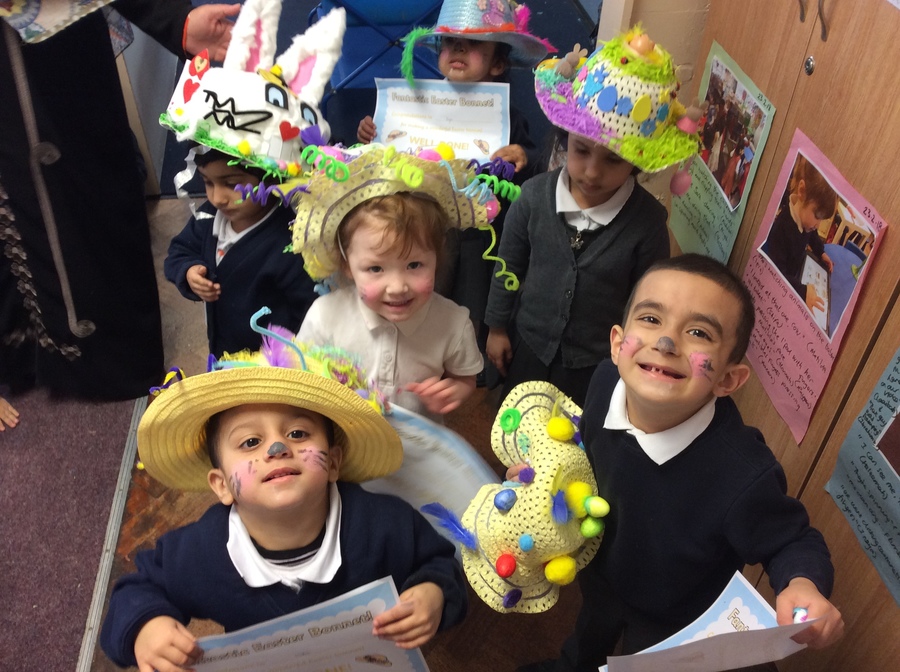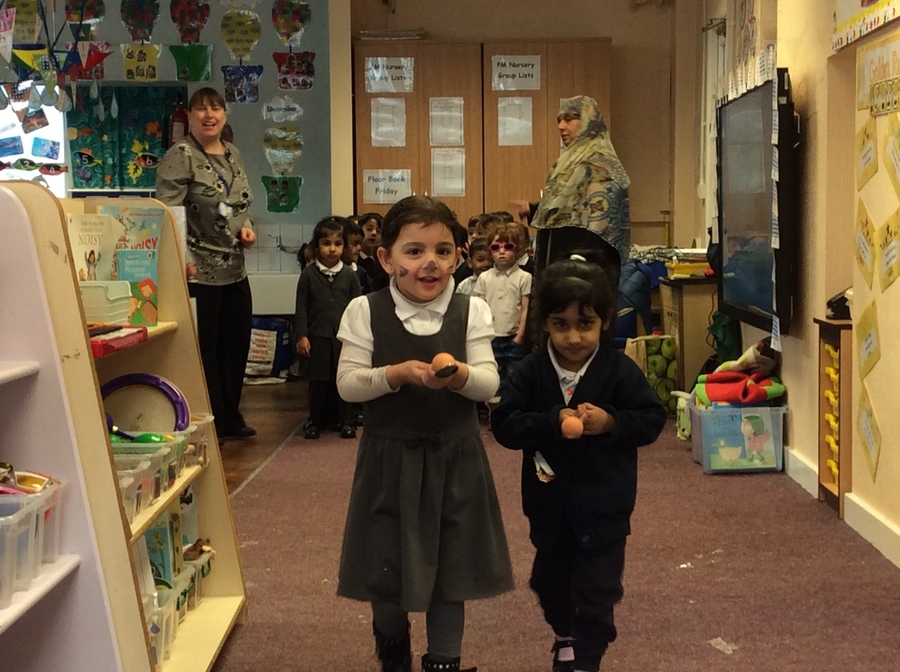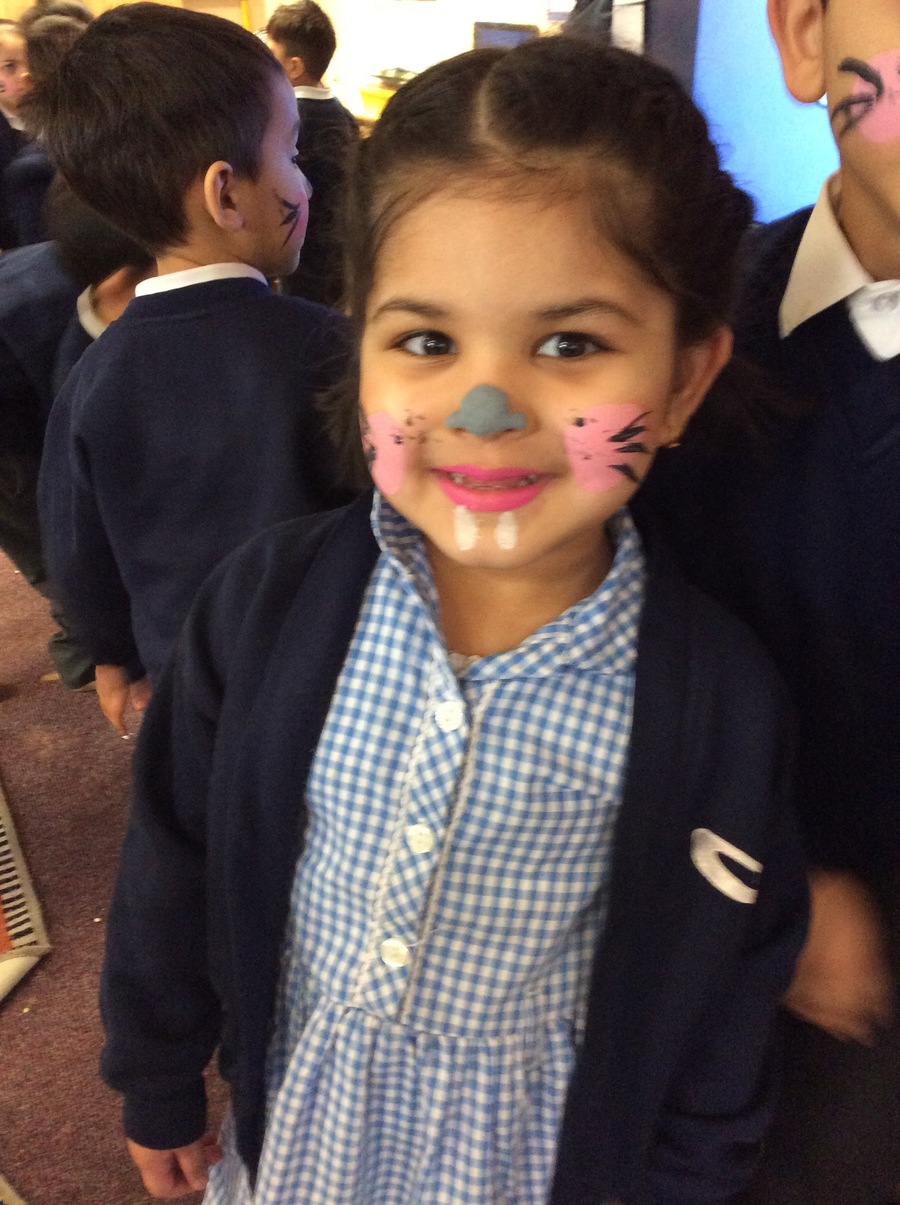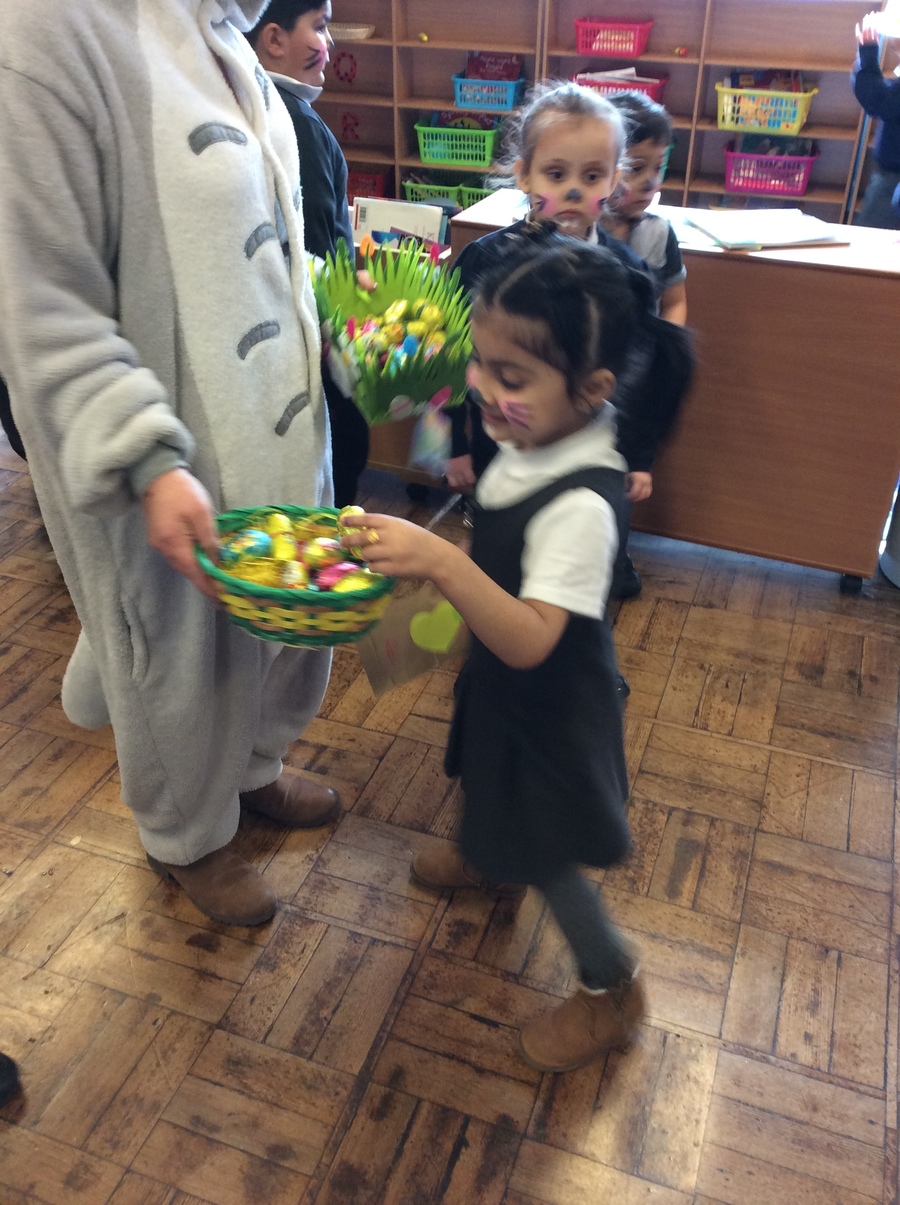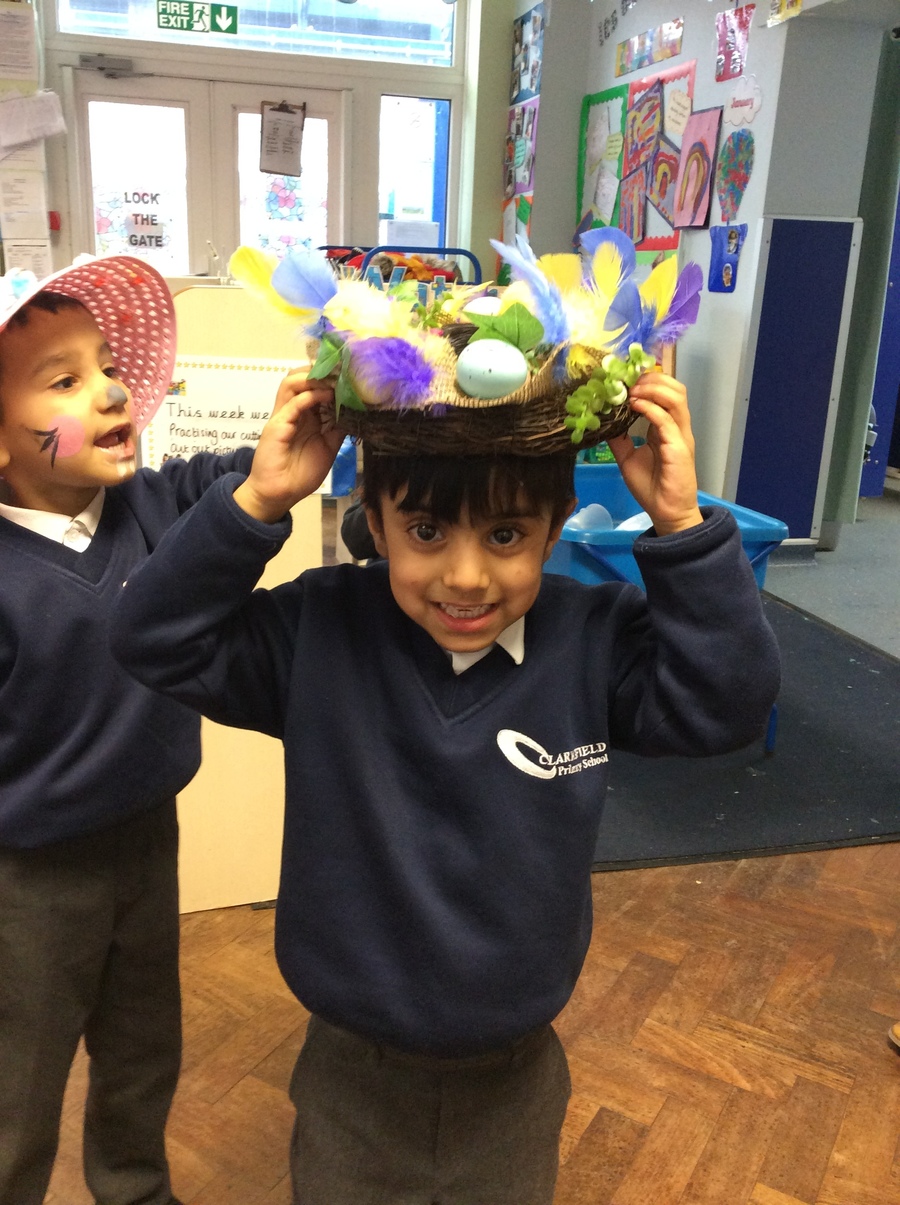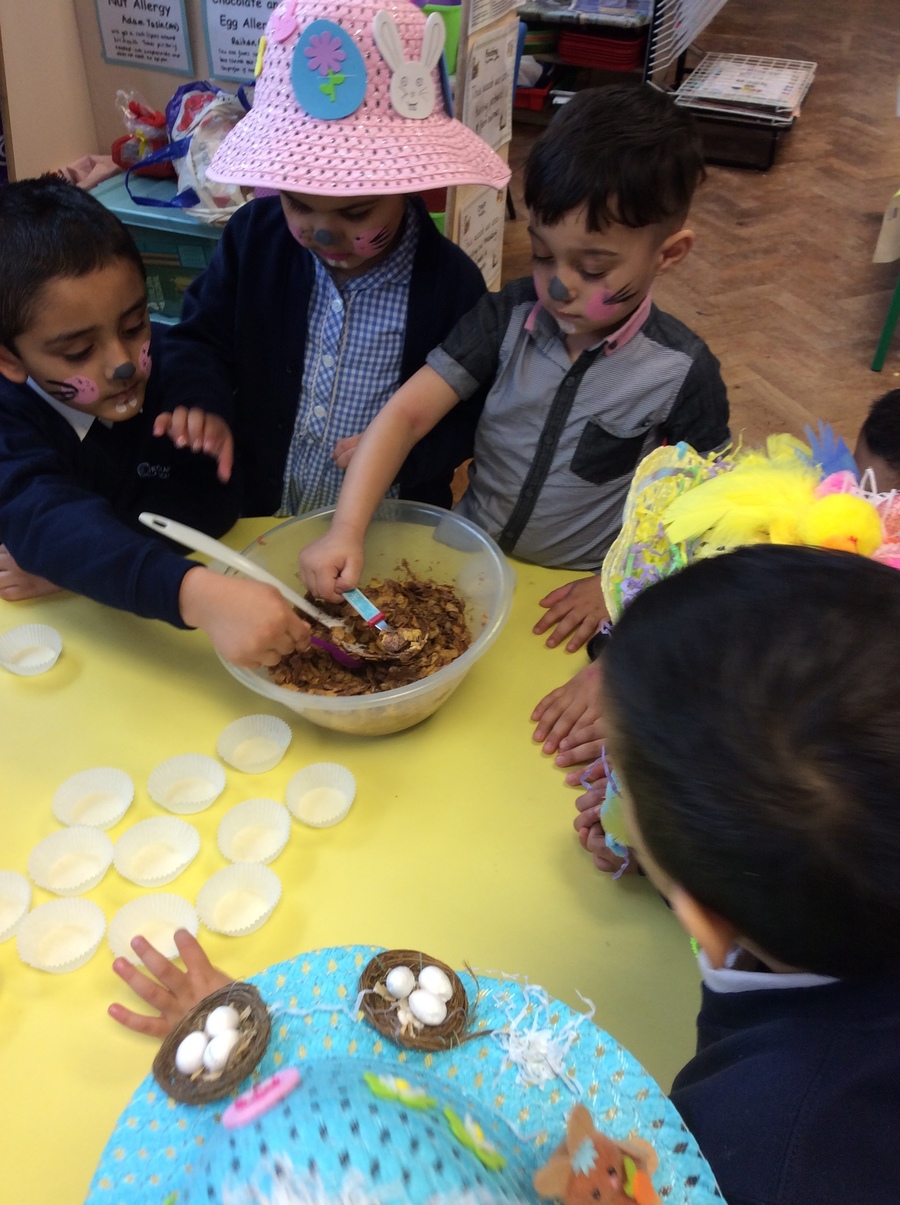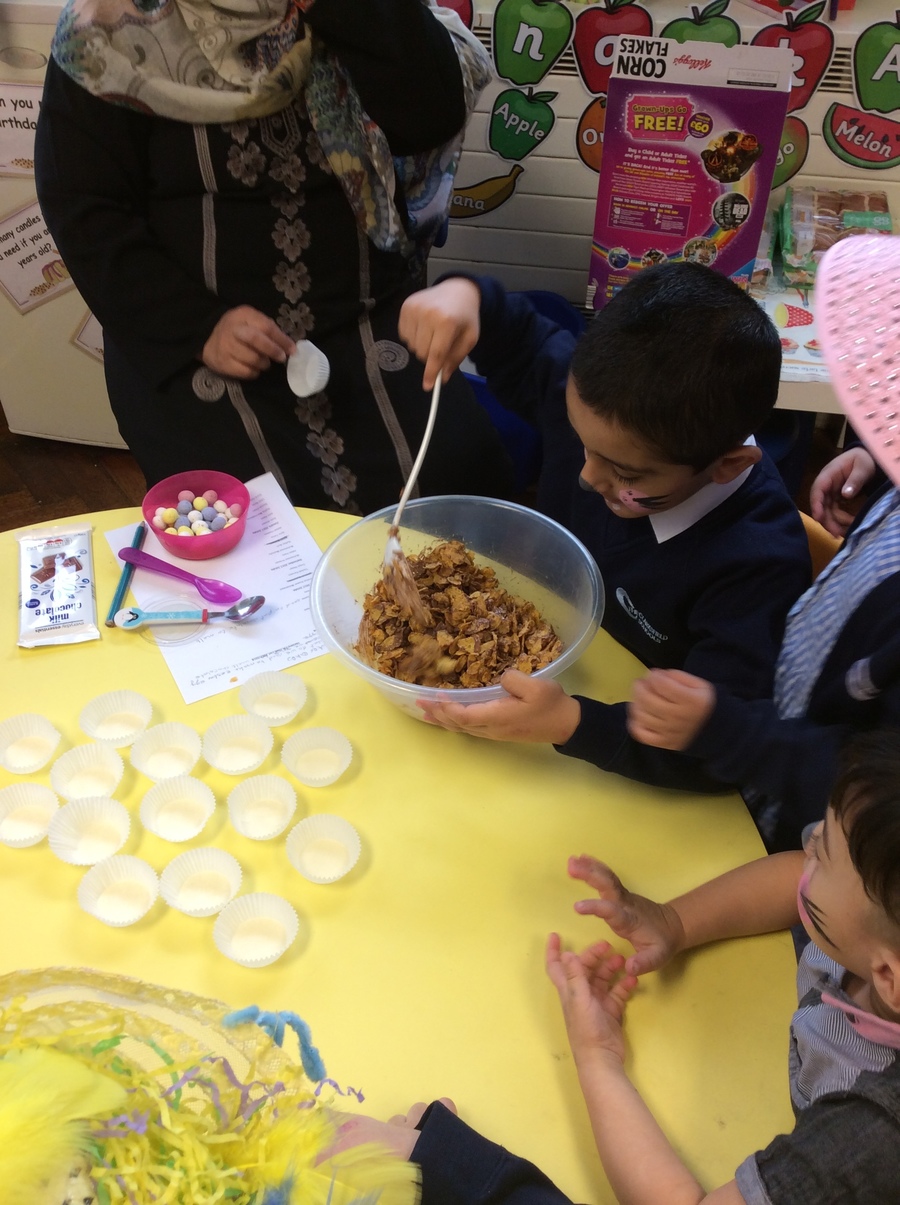 Stay and Play
On Tuesday 13th March, we invited our grown ups into school to see some of the things we have recently been learning about linked to our topic 'What would you find on the farm?'. We focused on the subject areas 'understanding the world' and 'expressive arts and design'. We showed our grown ups the chicks we had visiting our classroom this week and explained the life cycle of the chick, we created observational paintings of the chicks, we made chick biscuits and enjoyed listening to the 'Chicken Licken' story.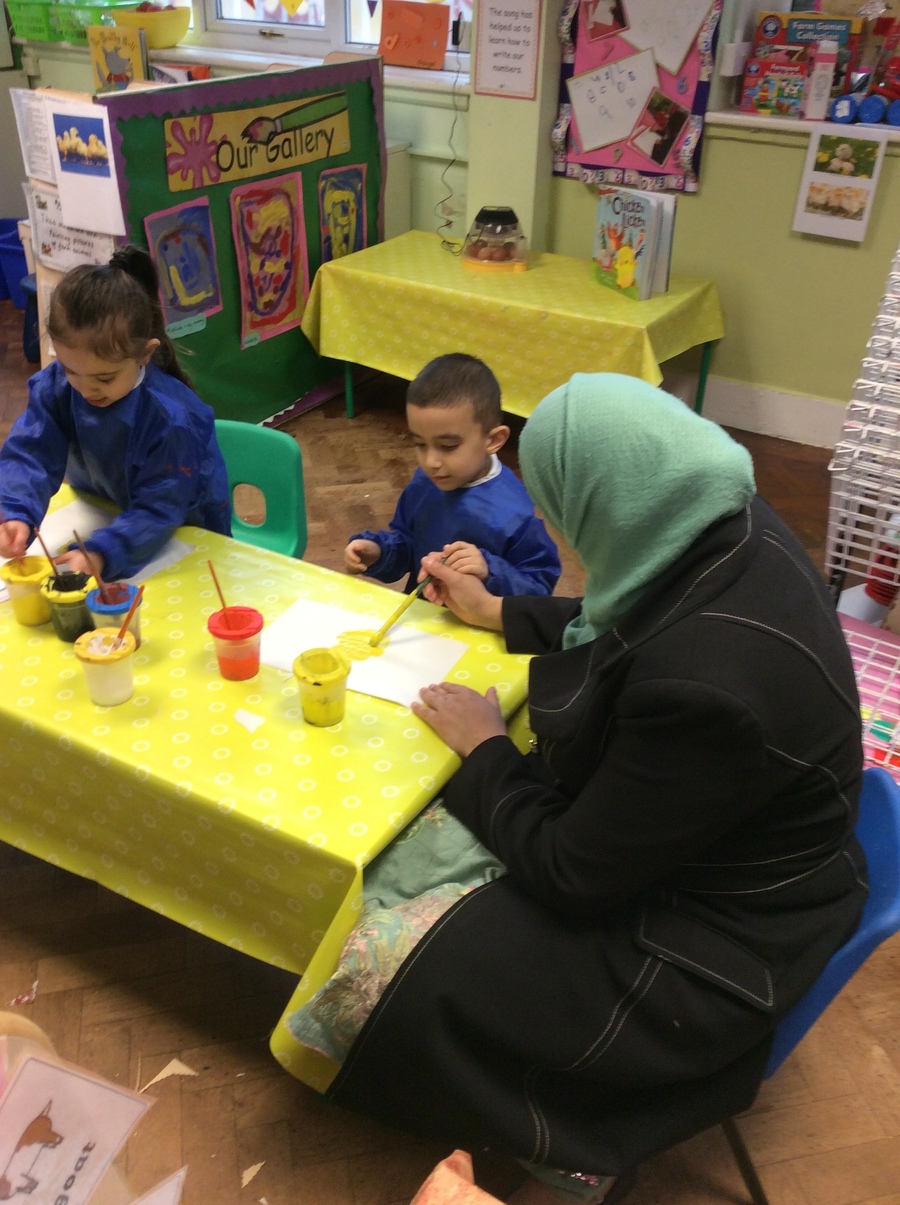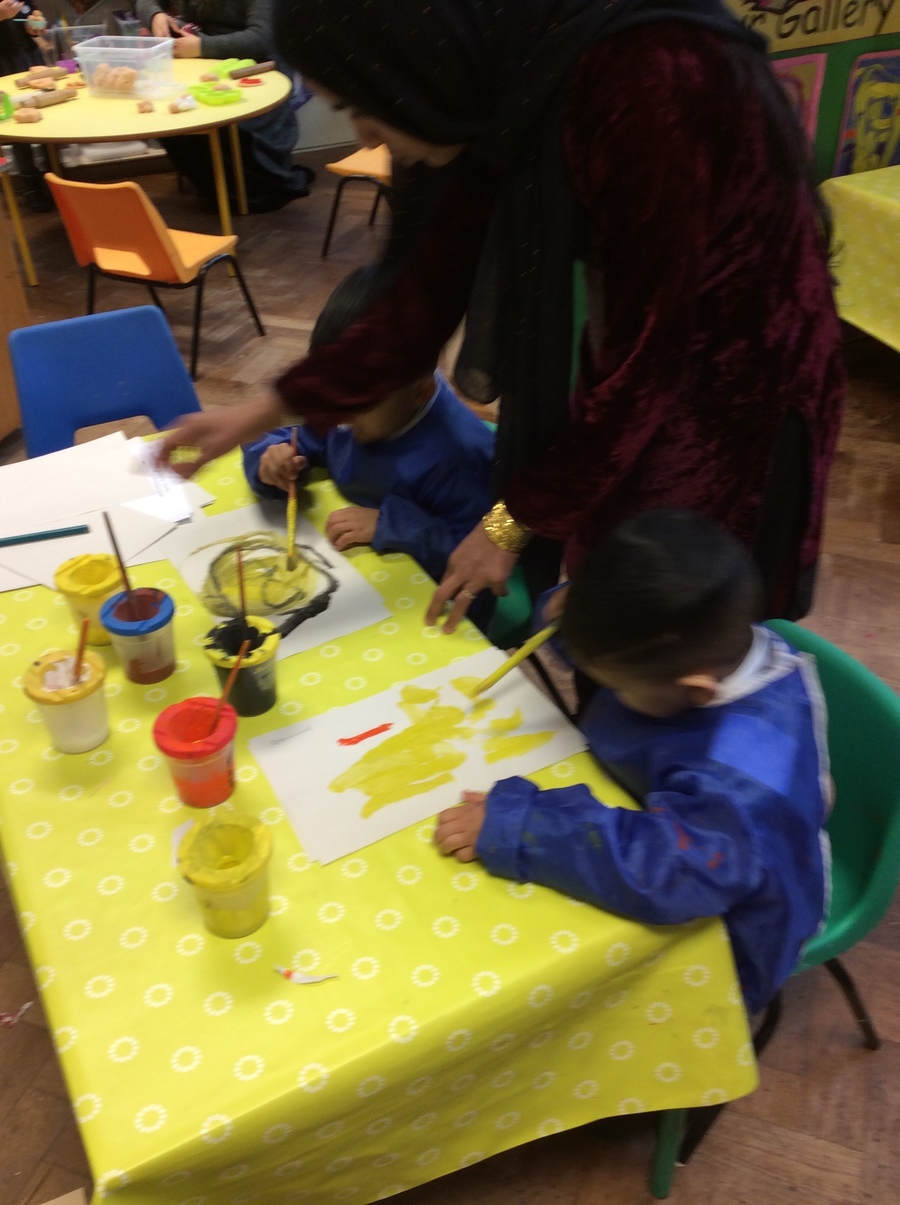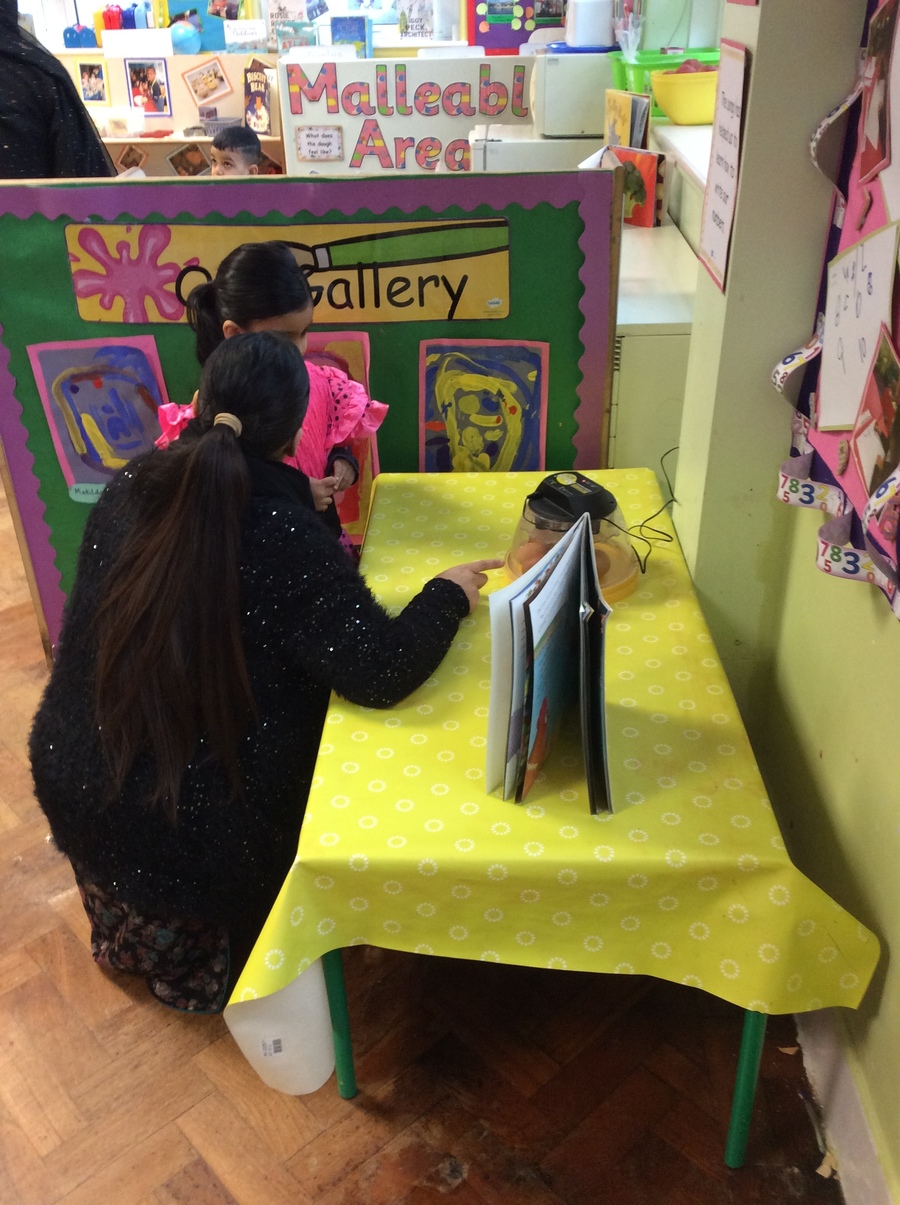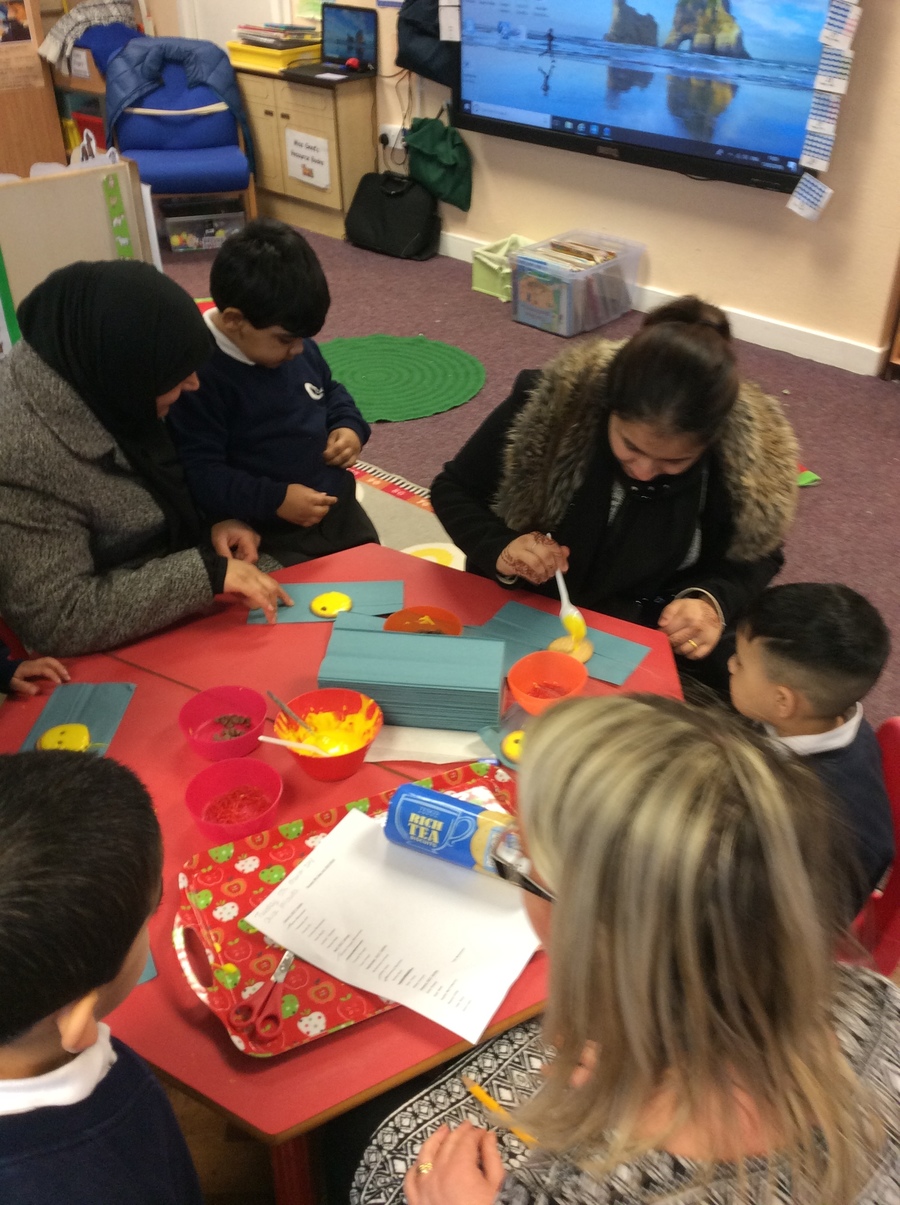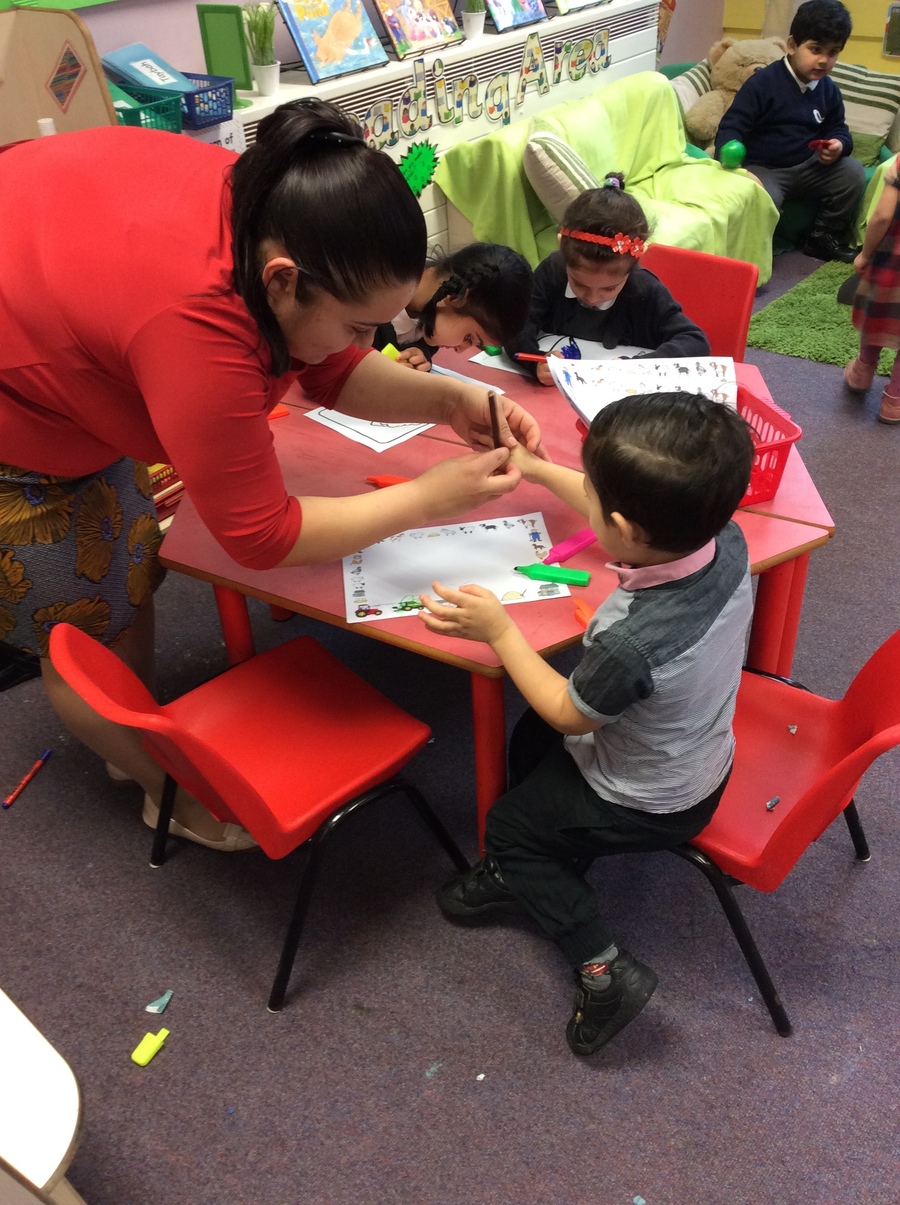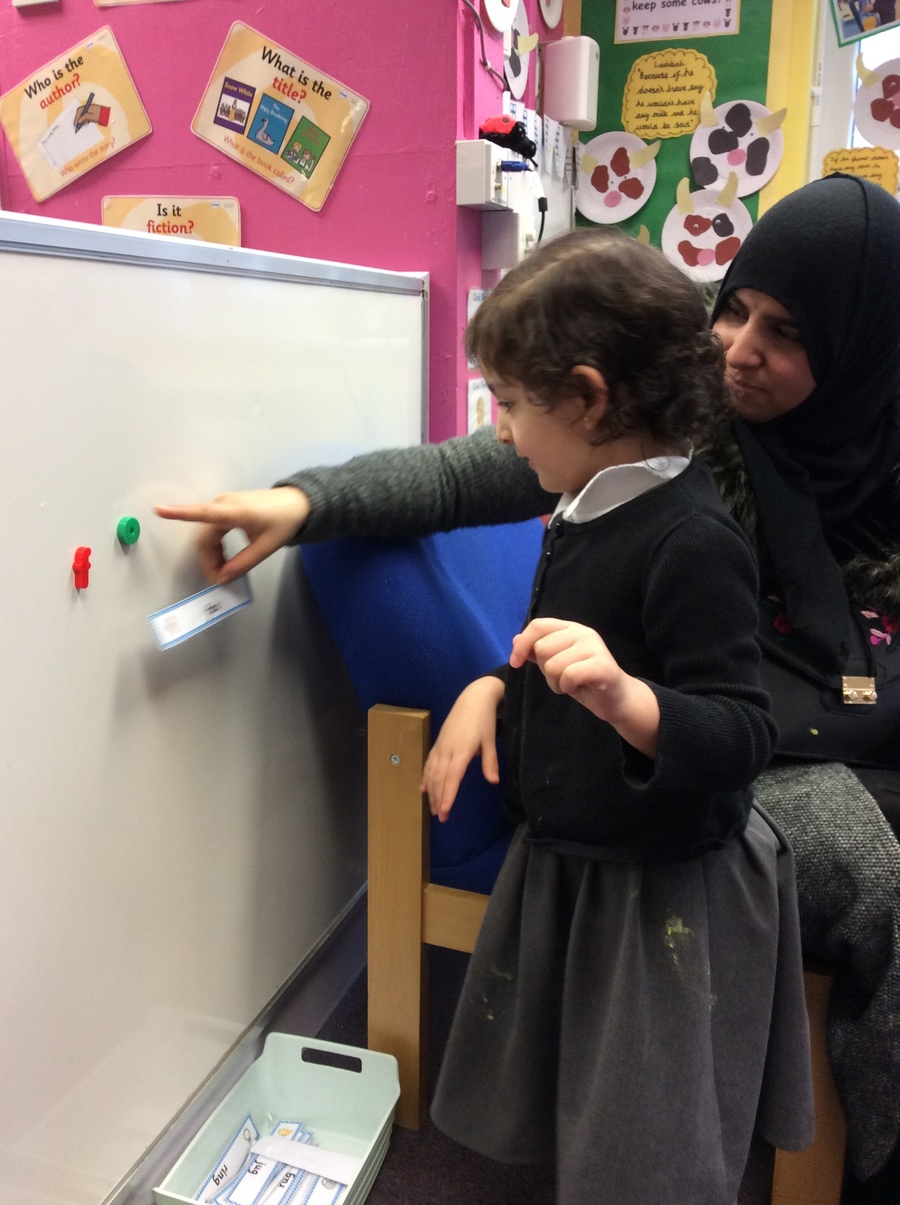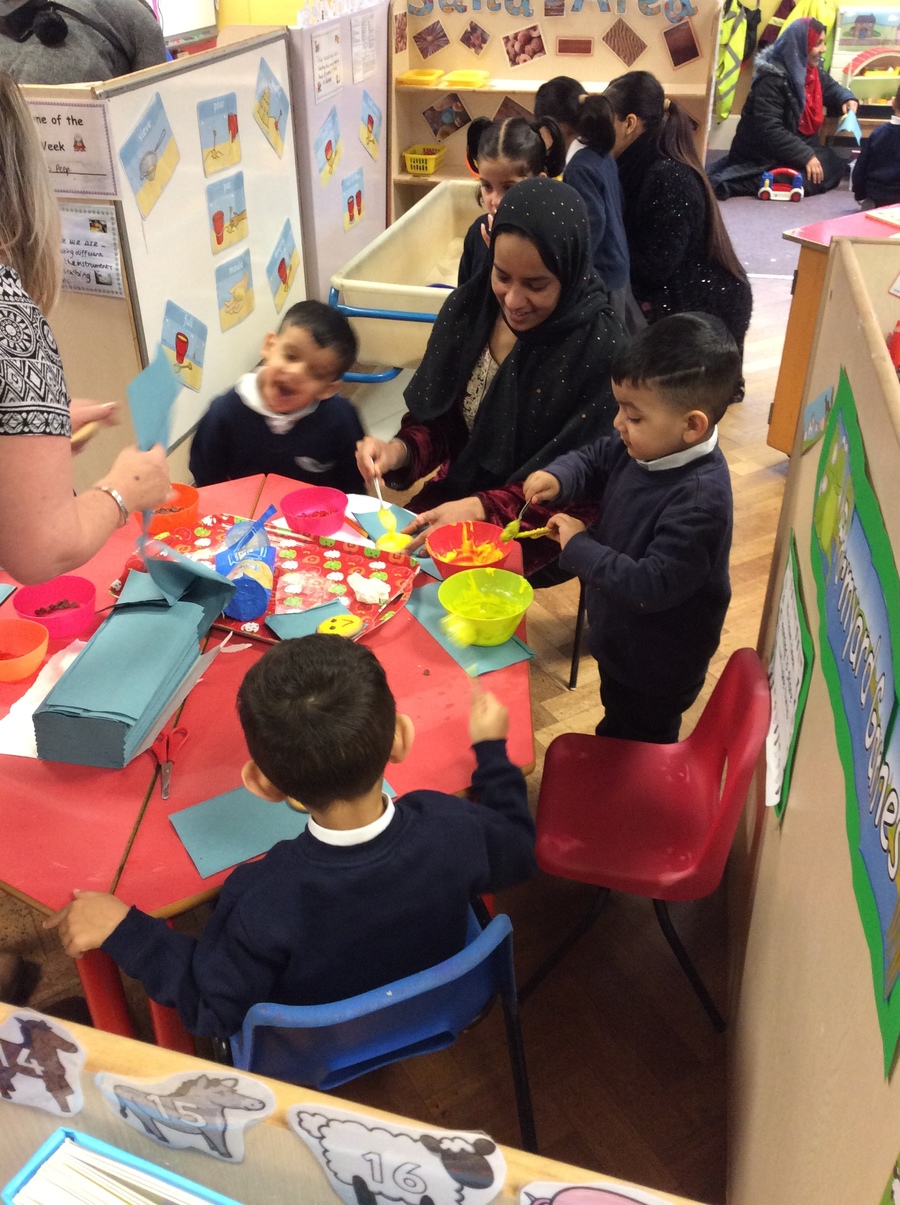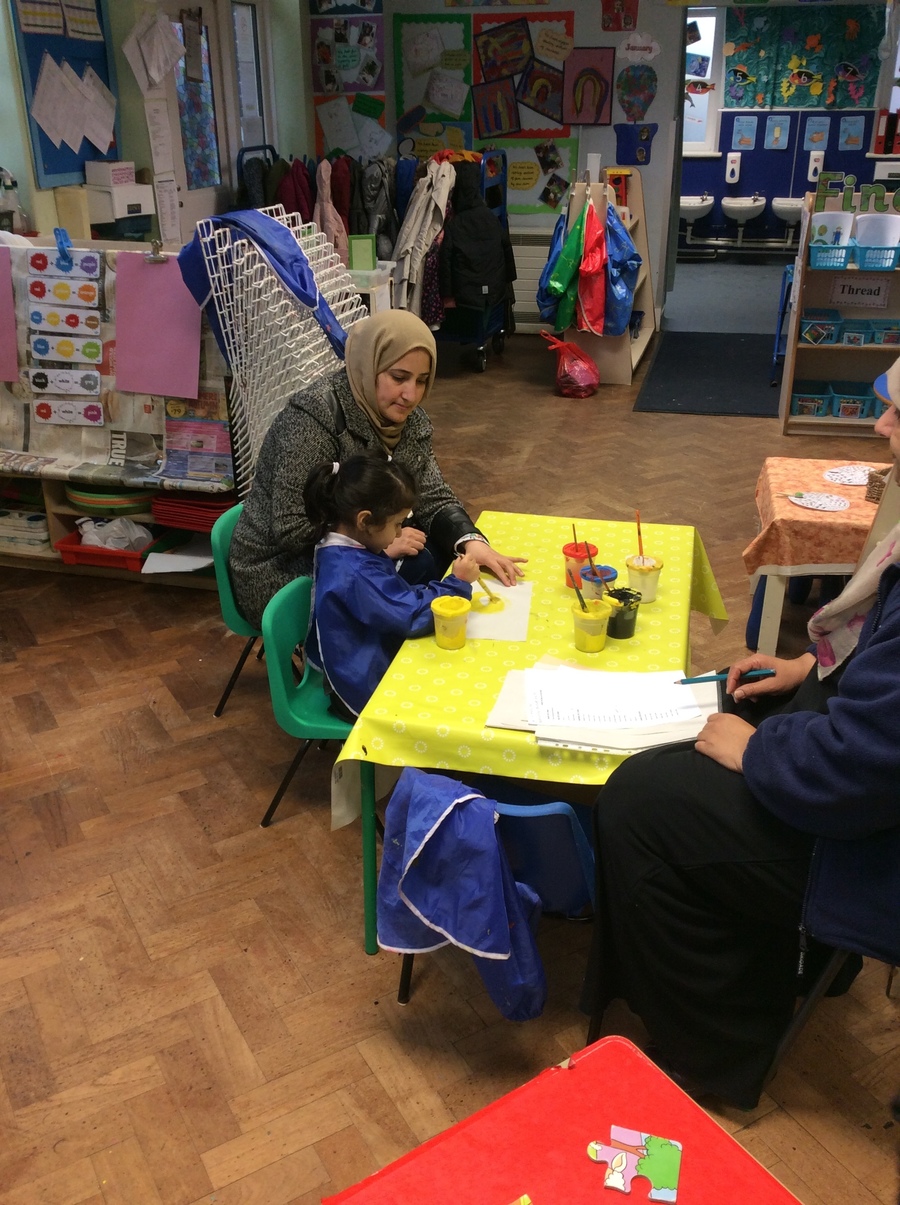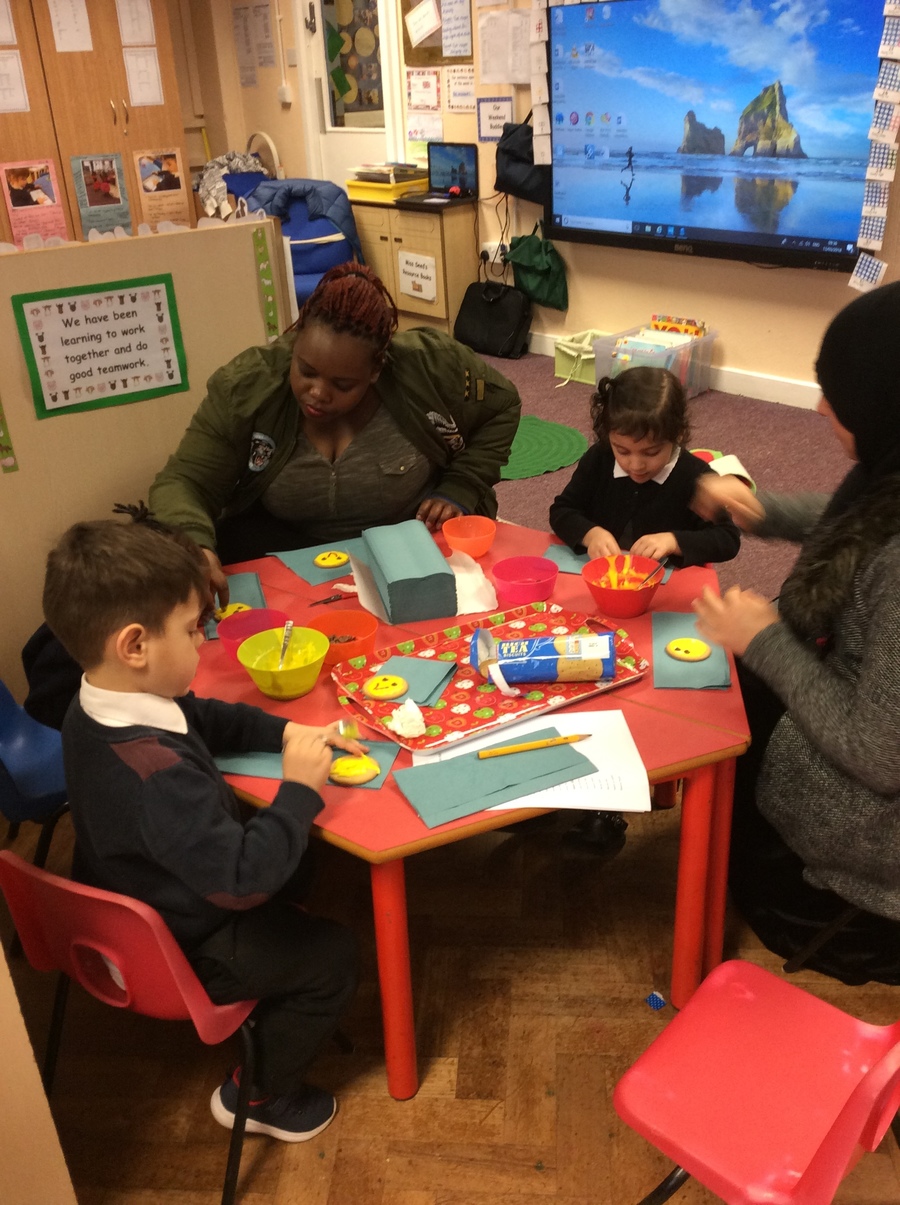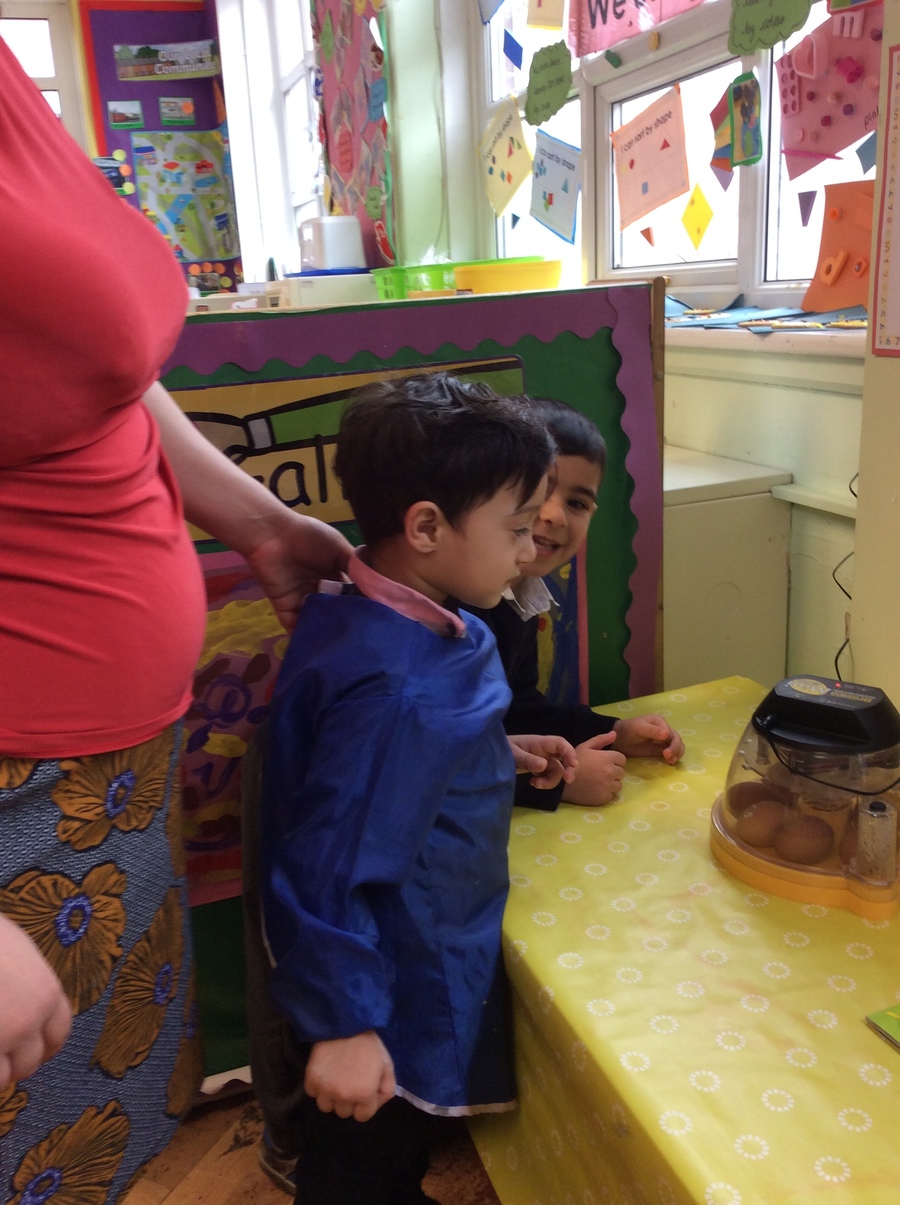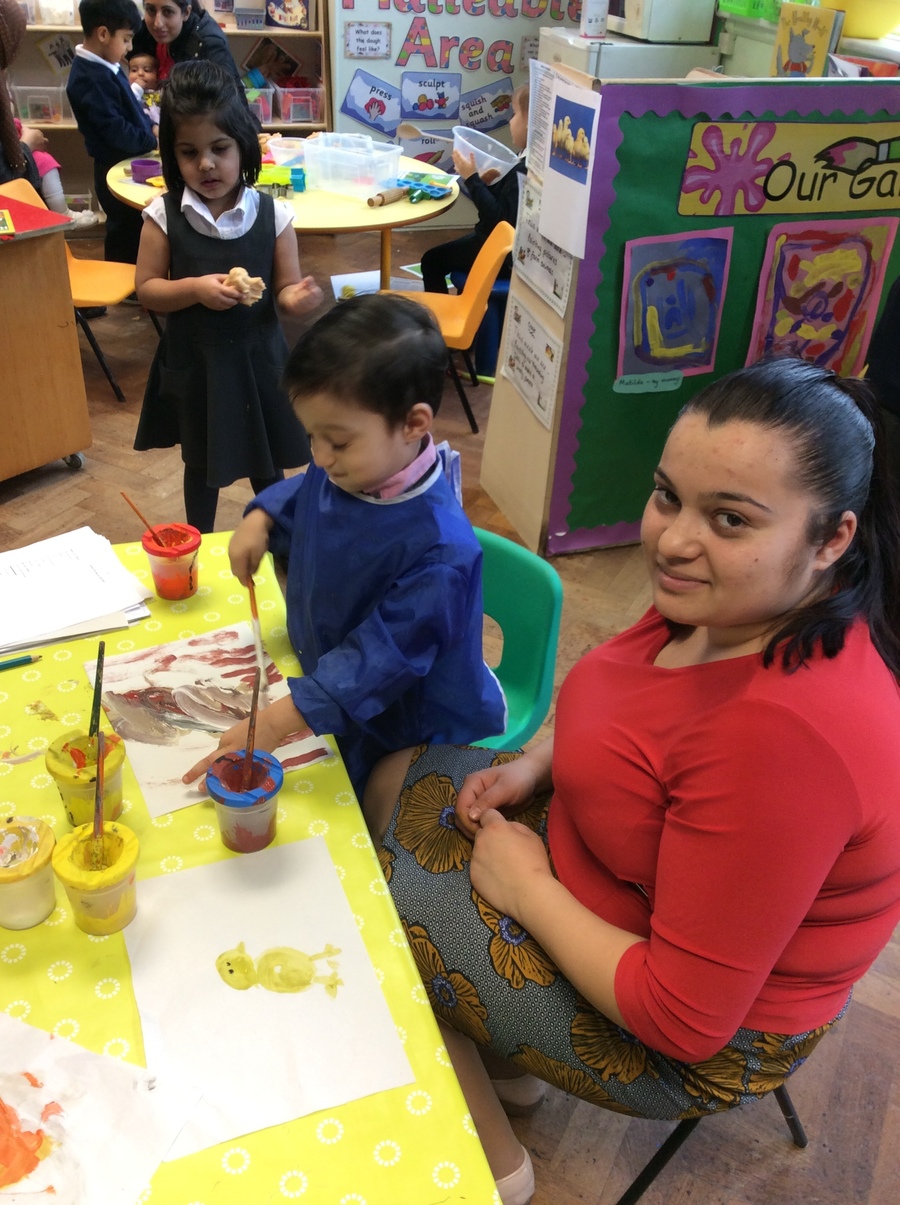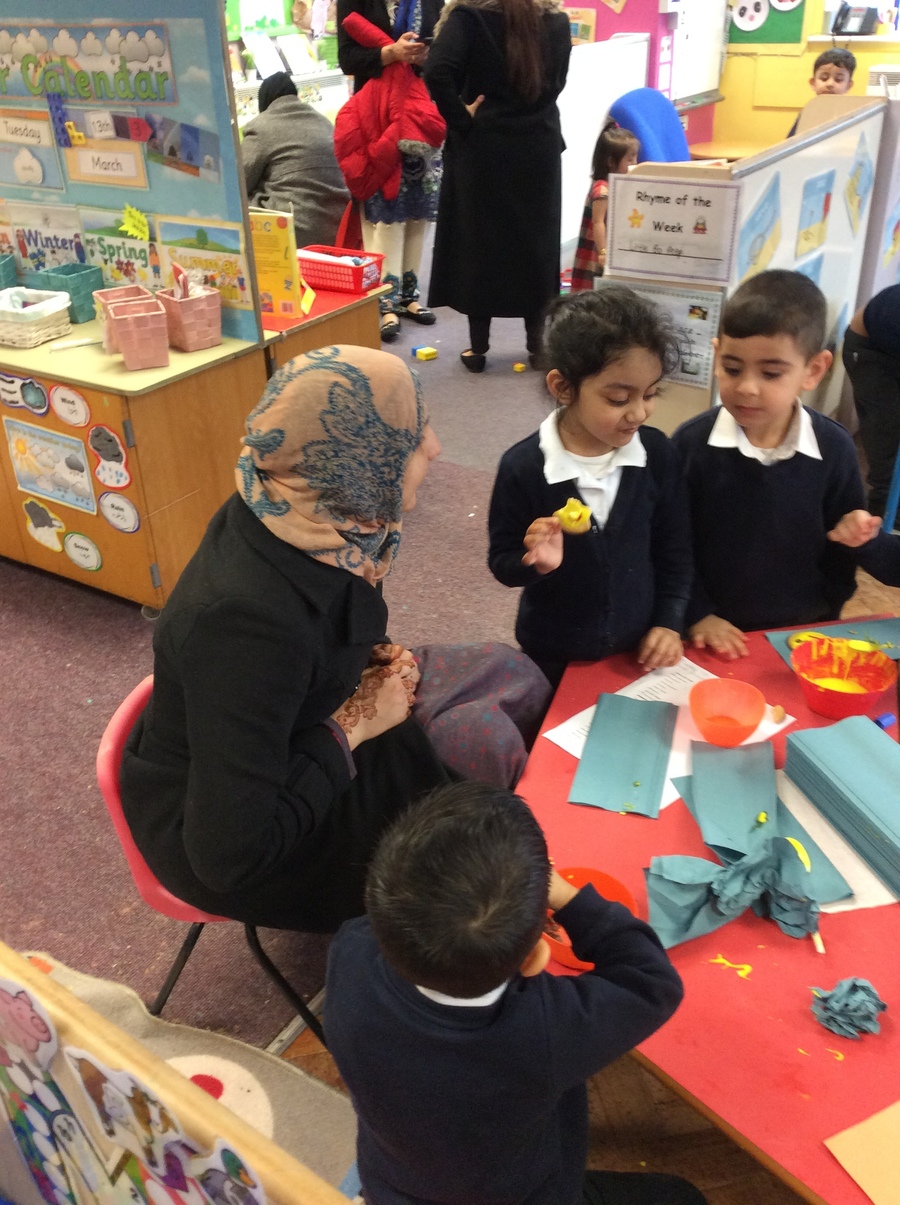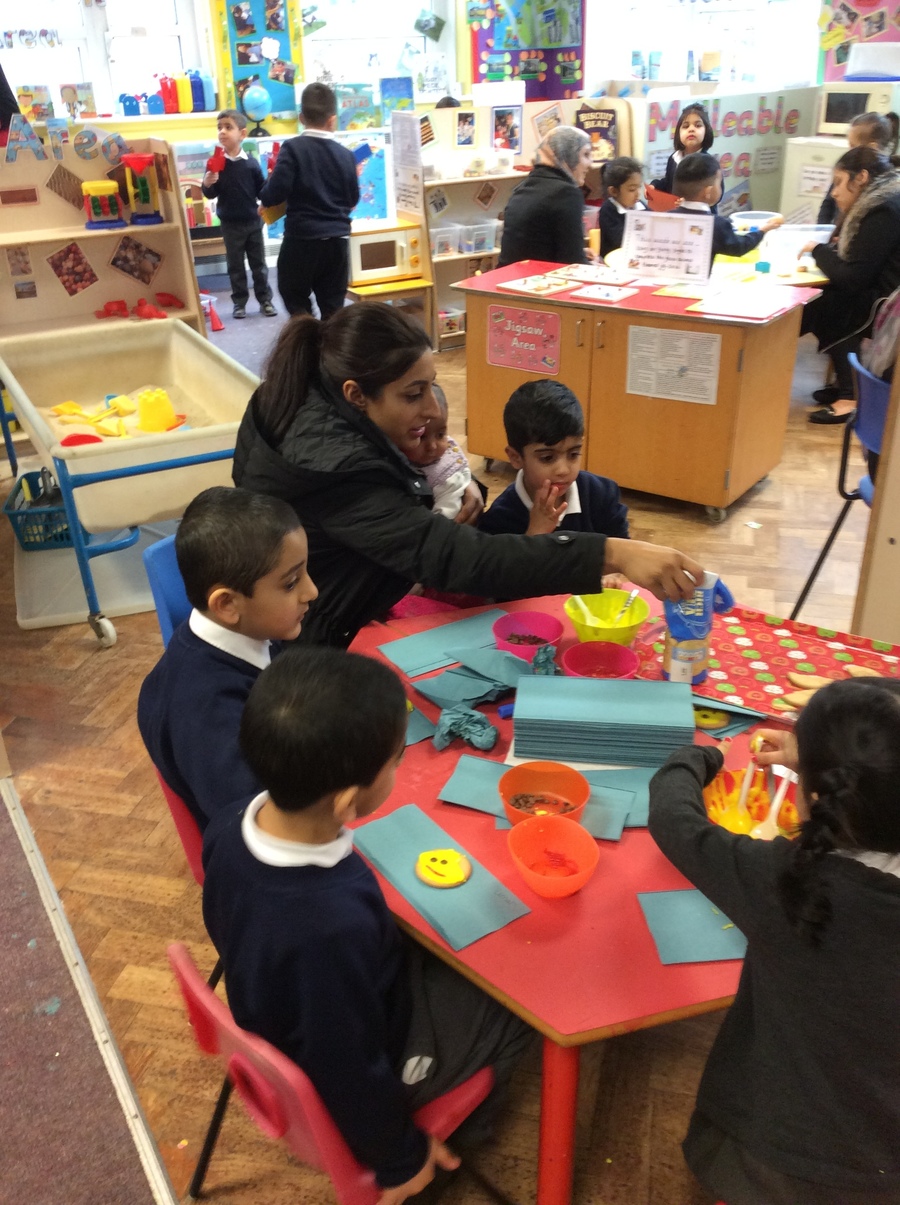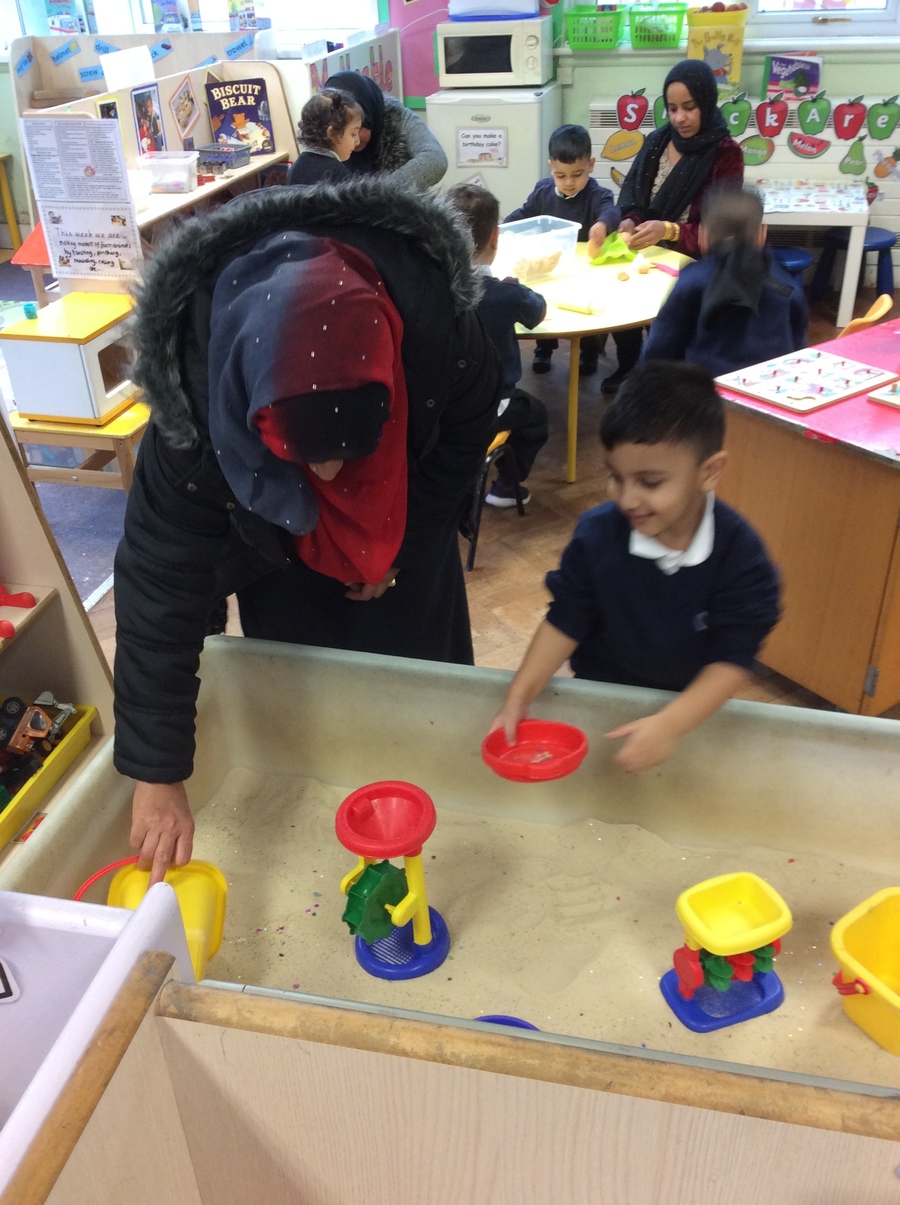 World Book Day
On Friday 9th March, we celebrated World Book Day. The Nursery children enjoyed coming to school dressed up as their favourite book characters. During the celebration of the day, they listened to the Elmer story, enjoyed collaging a large picture of Elmer and explored colour mixing with paint.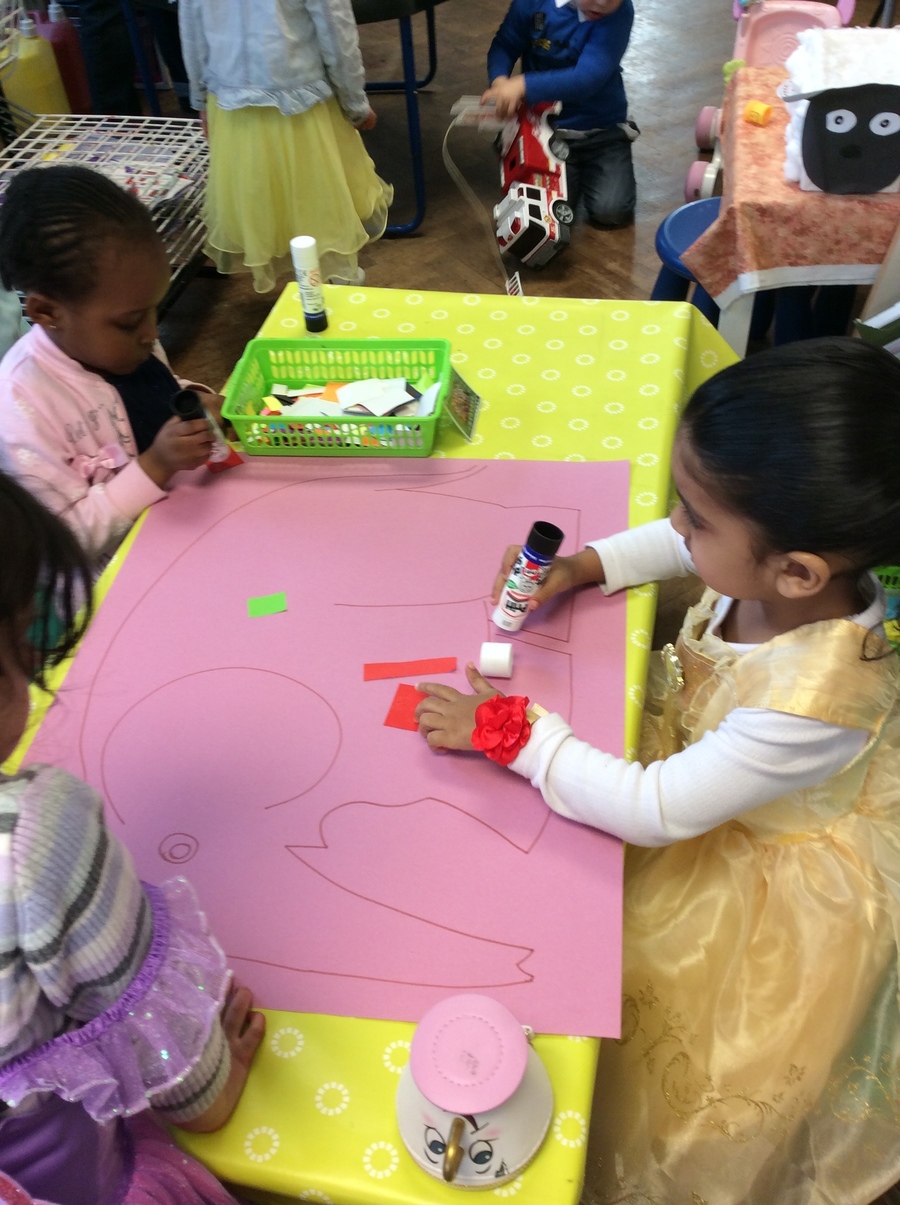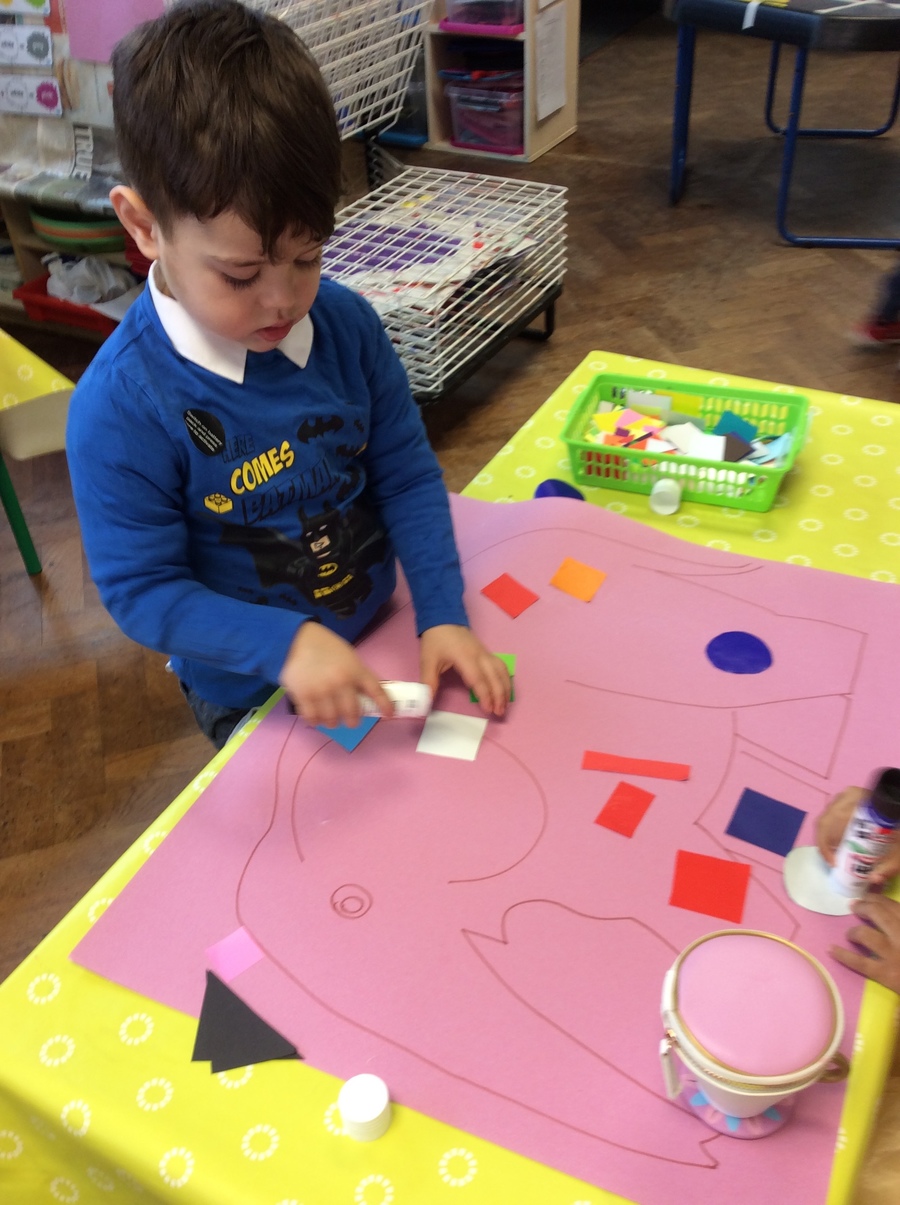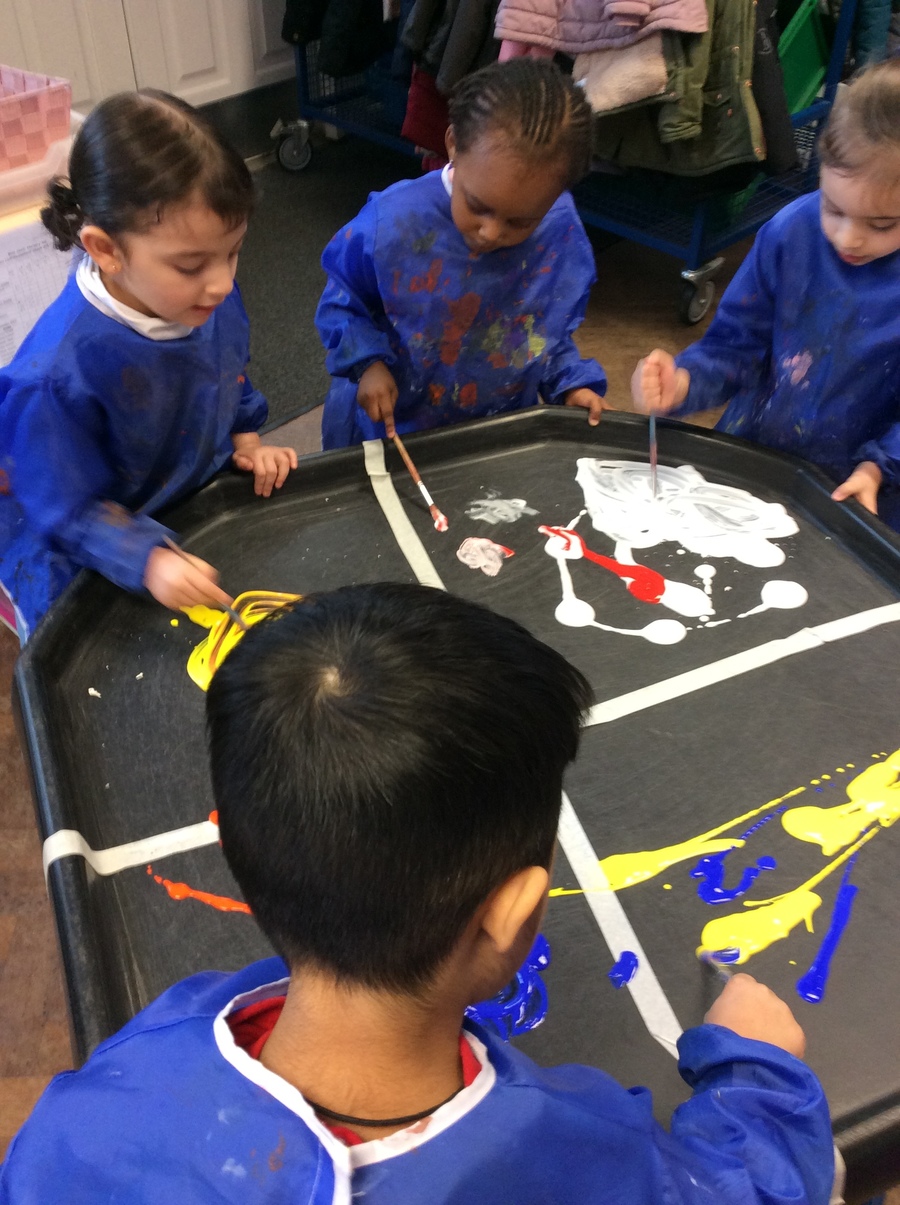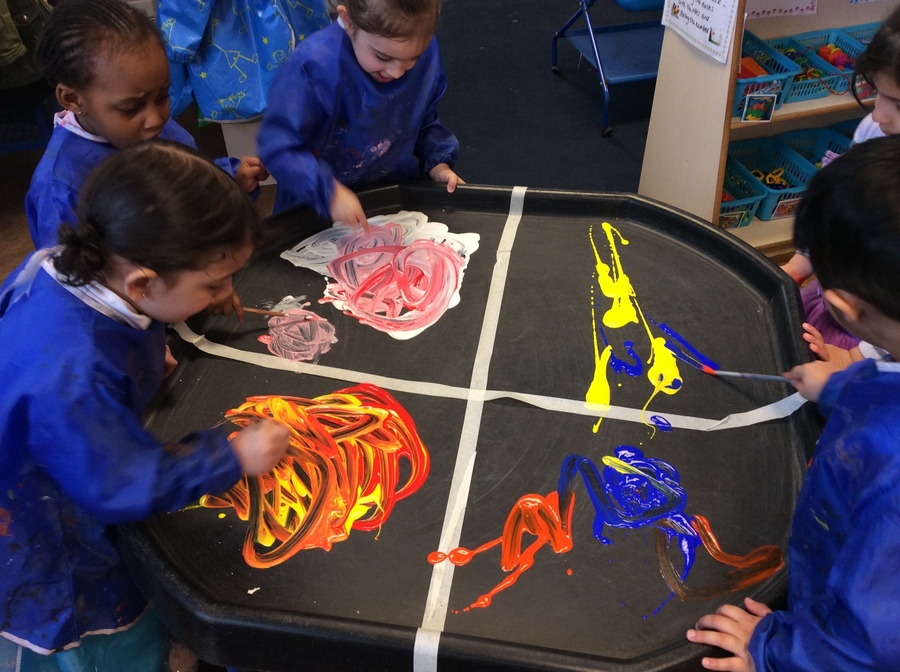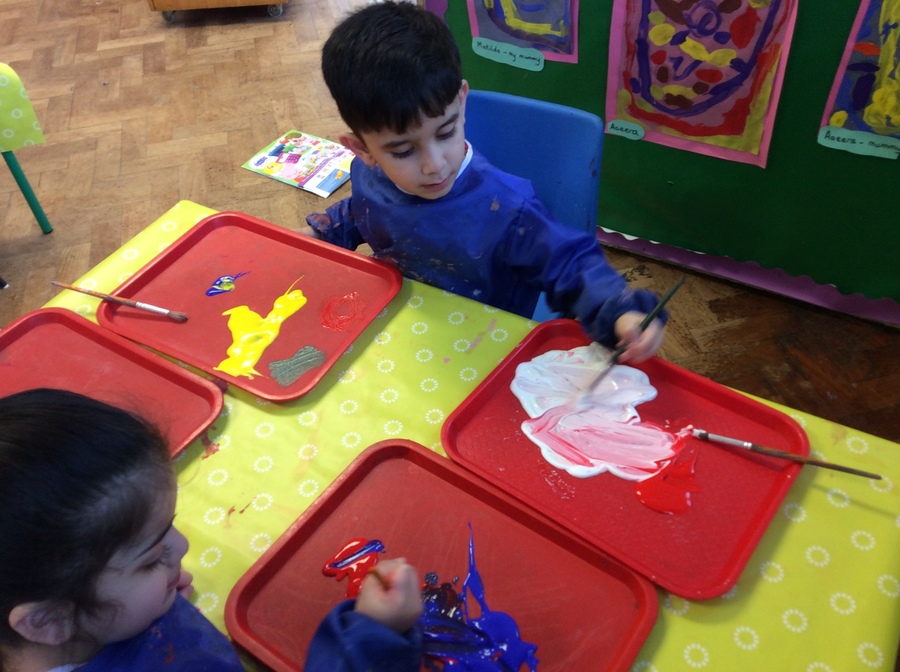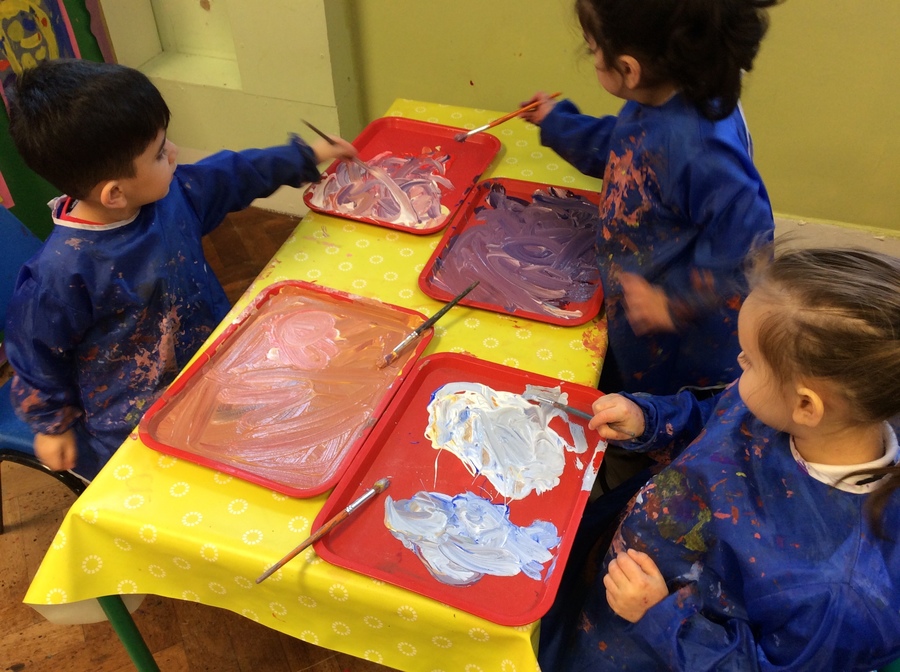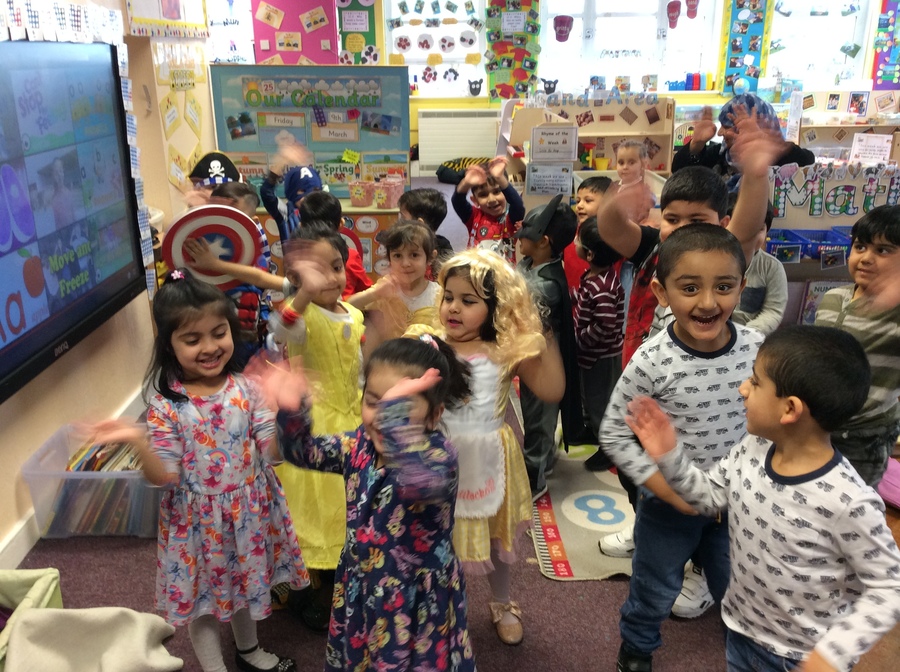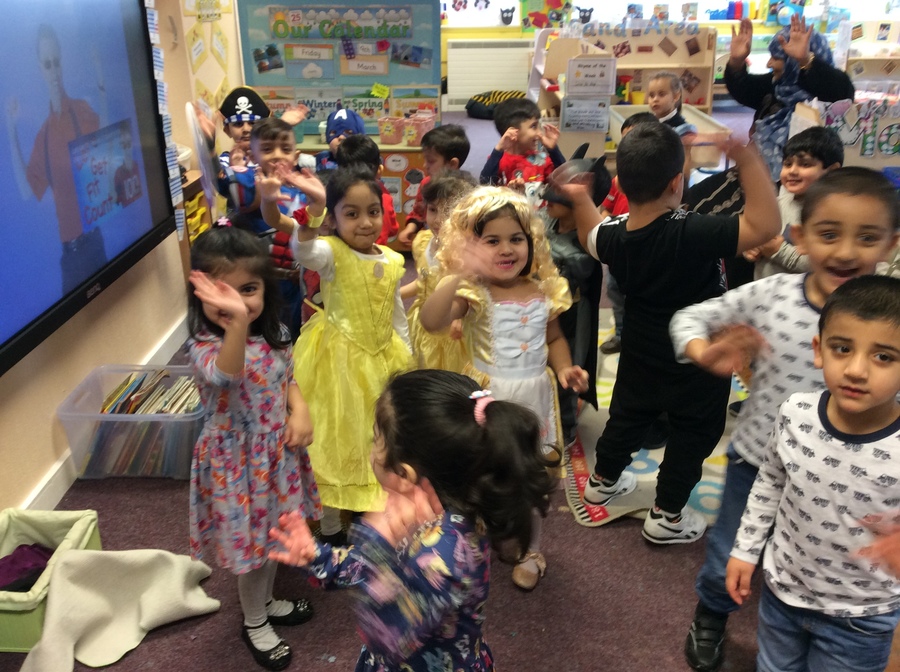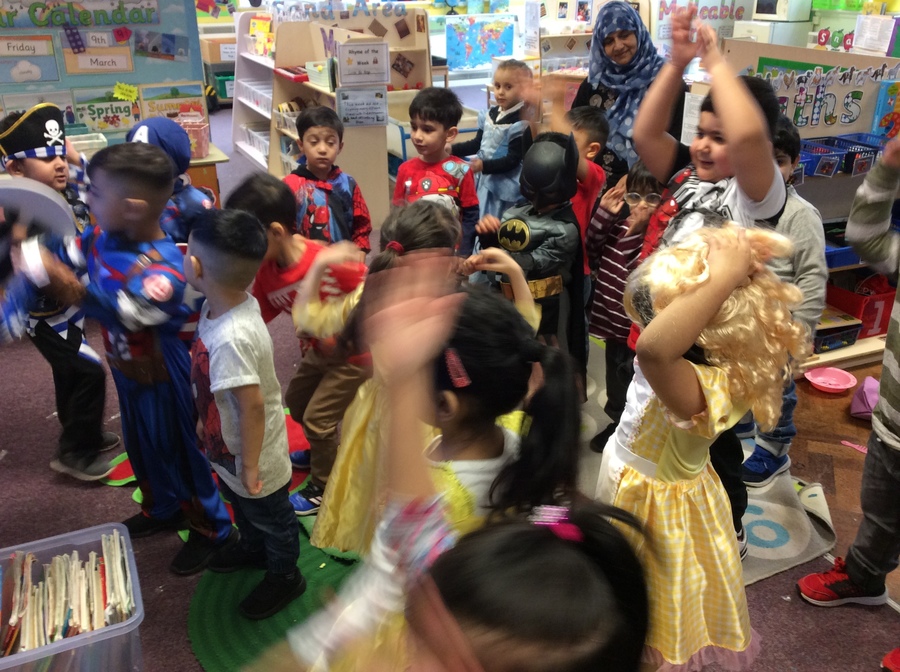 International Languages Day
On Wednesday 21st February, we celebrated International Languages Day. The Nursery children enjoyed learning about the country Spain. The children came to school wearing red and yellow clothes to match the colours of the Spanish flag. They enjoyed making flags, making fans, making and tasting fruit sangria, dressing up in traditional Spanish clothes and participating in flamenco dancing. The children also enjoyed looking at lots of images and video clips of traditional customs linked to Spain and engaged in speaking and listening activities linked to this.