School Council
Our aim is to improve and develop our school. We want to make our school a place where each child has a voice and their opinions and suggestions are heard.
Each class has a school council representative who wears a red tie so they can be spotted easily. Children can go to any member of the school council with suggestions they may have or they can put their suggestions into the school council folder.
The suggestions folder is taken to the school council meetings which occur every two weeks and any suggestions are discussed within the meeting. The school council aims to uphold as many of the suggestions as possible. If you have any ideas, suggestions or opinions please let us know.
We hope you enjoy visiting our page!
We have recently held elections in school for school council representatives for this year. The successful candidates were as follows:
Abeeha Chaudry (2EC)
Musa Iqbal (2KM)
Safa Noor Suleman (3PS)
Subhan Hussain (3KH)
Aisha Nawaz (4KS)
Iqra Jawaid (4SR)
Owais Khan (5NS)
Hasnian Salem (5DM)
Liyba Hussain (6NP)
Sareena Kauser (6SK)
Anti Bullying Week School Council Event (East Oldham Schools)
Clarksfield School Council members organised the first annual East Oldham Collaborative School Council event around the following theme: 'All Different, All Equal'.
The following East Oldham Schools were in attendance: Horton Mill, Willow Park Academy, Woodlands Academy, Littlemoor and Hodge Clough Primary School.
The session had the following aims:
*empower children and young people to celebrate what makes them, and others, unique
*help children and young people understand how important it is that every child feels valued and included in school, able to be themselves, without fear of bullying
*enable teachers and staff to celebrate what makes us 'all different, all equal' and celebrate difference and equality; encouraging them to take individual and collective action to prevent bullying, creating safe environments where children can be themselves
MacMillan Coffee Morning
Once again, the generosity of the school community has been brought to light! A huge thank you to ALL the children, parents and staff who donated biscuits, cakes, fruit and refreshments in support of the MacMillan Nurses cancer support coffee morning. Your generous cash donations have meant that the school has been able to raise £190.12!
Another wonderful example of a superb team effort!
A huge thank you to the School Council representatives and parent volunteers for their support during the event.
What did the School Council do last year?
Clarksfield's Got Talent 2017
What a great evening!
The Talent Show was a way of bringing together the school community to appreciate and celebrate the many talents at Clarksfield like: the amazing magicians, comedians, dancers, singers, musicians, and the list is endless...!
As you can probably appreciate, careful planning and preparation has gone into putting together such a wonderful event and none of this could have been possible without the super efforts of our dedicated staff and children.
A great team effort!
A huge THANK YOU to everyone involved!
Clarksfield In Bloom
The school council have organised the Clarksfield in Bloom competition which the whole school have got involved over the last few weeks by designing and planting their own class planters in the playground. Each class is responsible for one planter and each class put a lot of time and effort into getting theirs looking great!
We had a special visit from Phil Coombes to judge the competition. The councillors each represented their class during the judging and explained the theme of their planter or the thinking that went into it. After seeing all of them he decided on the winner and some runners up, they were:
1st place - 2EC
2nd place - both year six planters
3rd place - all other year groups came in third as he was so impressed with everyone's hard work and effort.
Trip to B&Q
As part of the 'Clarksfield in Bloom' competition the school council visited B&Q to purchase plants to go into our class planters on the playground. The school council representatives enjoyed selecting plants for their class' planter and went back to school excited to start their project!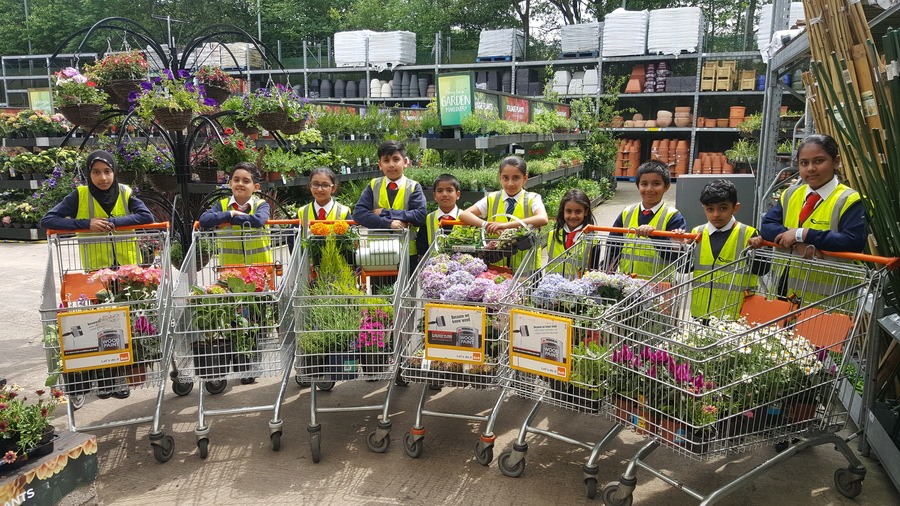 Key 103 Mission Xmas Appeal
Clarksfield School took part in the annual Key 103 Mission Xmas appeal. Staff donated unwanted toys and the School Council representatives presented the toys at the drop-off point: B&M Stores, Chadderton.
A huge thank you to all our school councillors from 2016-17! You all did an amazing job and made our school a better place.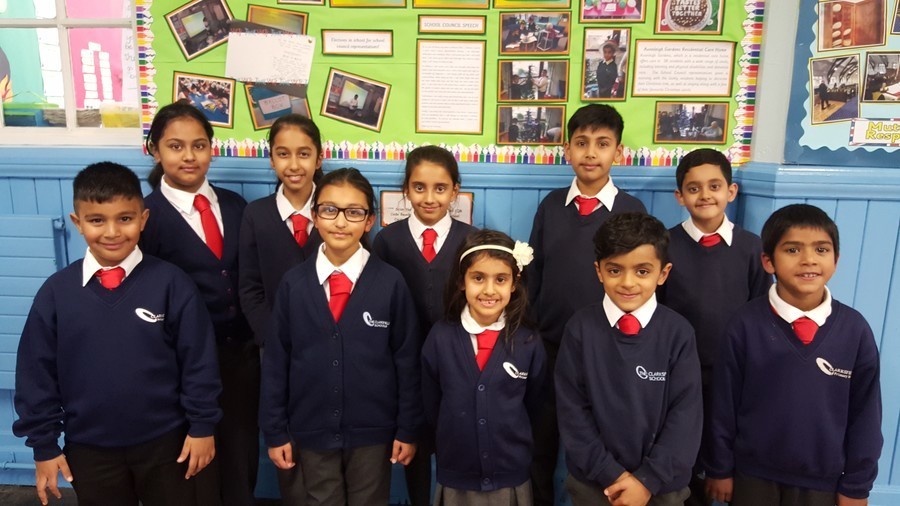 Meeting Agendas and Minutes