Welcome to Year 6
Homework: Homework is set on a Friday and needs to be completed and returned to school the following Wednesday
PE: PE is on a Monday (for 6SK) and Wednesday (for 6NP) so please remember to send your children in with their PE Kits
Staff:
Teachers: Mr Prendergast (TLR), Mr Khan (AHT) & Mrs Smith
Teaching Assistants: Mrs Kazmi, Mrs Dust & Mrs Cassin
In Year 6, we are beautiful, but unique and together we are a masterpiece!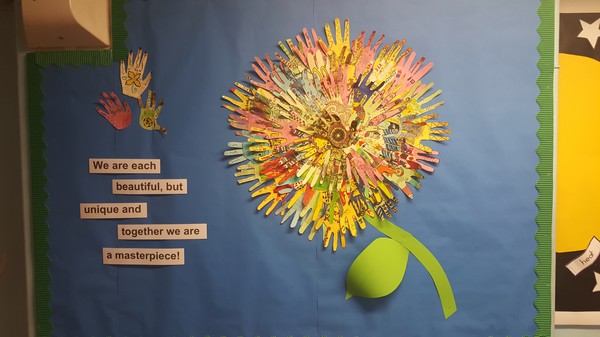 What can you do to improve your learning at home?
English: Practice a variety of sentence types e.g. BOYS, de:de, use of a subordinate clause at the start of a sentence. This will help to improve your sentence structure. Reading good quality books will also help to improve your vocabulary and imagination. Finally, practise spellings.
Reading: listen to your child read (daily), explain unfamiliar words, use a dictionary/thesaurus, read to your child
Maths:
Science: exercise, eat healthy, healthy snacks, brush their teach and personal hygiene
Humanities: Any extra research of interesting facts will make sure that you make excellent progress in Humanities.
Music: When listening to music on the radio, in the car or at home think about what instruments are being used
Computing:
Art/DT:
What will we be learning about in this half term?
English: This half term, we will be reading the story of Romeo and Juliet. We will be exploring the themes around this story and consider how the language used fits with the time period. Hopefully, we will complete two pieces of writing, using this text as a stimulus: a diary in the role of Juliet and a newspaper article.
Reading: to retrieve, record and present information from non-fiction, exploring the meaning of words in context, drawing inferences and justifying inferences with evidence, predict what might happen from details stated and implied, summarise the main ideas drawn from more than one paragraph.
Maths: this half term we will be covering the following topics: Coordinates – four quadrants, reflection and translation, ratio and proportion and percentages.
Science: Topic: Classifying Living Things
In this unit, the children will learn how to classify living things using the major classification kingdoms defined by Carl Linnaeus. Working scientifically, the children will carry out investigations to observe how mould grows over time.
Humanities: This half term, the Learning Challenge Curriculum challenge question is 'Why is London such a cool place to live?' Our learning will be preparing us for our trip to London, which we are really looking forward to!
Music: Living on a prayer - Charanga
Computing: to use logical reasoning to explain how some simple algorithms work and to detect and correct errors in algorithms and programs (Scratch).
Art/DT: Islamic Art linked to the Learning Challenge Curriculum
RE: This half term, the children will be been thinking about Christianity as part of their RE topic, and wondering: 'Is Christianity still a strong religion 2000 years after Jesus was on the Earth?'
PE: This half term, the children will be learning key skills and tactics by taking part in net, court and wall games.
What exciting things have we been up to?
Visit to the Jorvik Centre in York
SEN Sports Event
NSPCC - Speak out. Stay safe