Welcome to Year 6
Homework: Homework is set on a Friday and needs to be completed and returned to school the following Wednesday
PE: PE is on Tuesdays and Wednesdays (for 6SK) and Wednesday and Thursdays (for 6MS)
so please remember to send your children in with their PE Kits
Staff:
Teachers: Mr M Swift, Mr M Khan (AHT) & Mrs Smith (0.6)
Teaching Assistants: Mrs Kazmi, Mrs Kausar, Mrs Dust Miss Eastmond, Mrs Akhtar (Mon - Tues) & Mrs Sultana (Wed - Fri)
In Year 6, we are beautiful, but unique and together we are a masterpiece!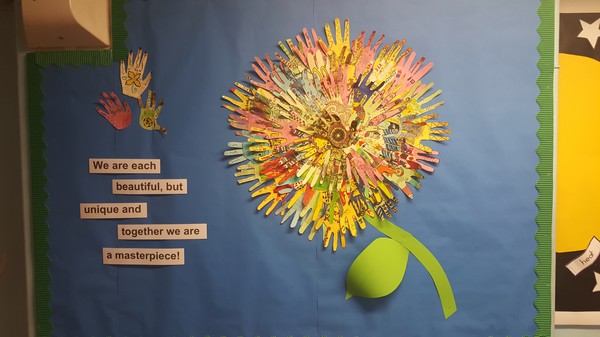 What can you do to improve your learning at home?
English:
Encourage your child to write:
Suggest your child is responsible for the weekly shopping list, equipment list for weekends away and holidays, task lists for the week

Encourage your child to write to others - emails, letters, texts, postcards. It will help if some of what your child writes about is for others

Short stories or a journal – on paper or on a computer – can help them to write about their experiences and their own feelings about things that have happened at school, in their family, in the world, at sports events and on TV

Make an argument in writing for a special request – trip, event, present etc

Draw up written contracts for agreed jobs; eg Every day I will…(make my bed, do one lot of dishes, and when I complete the contract I can choose…).
Here's a tip - keep writing fun and use any excuse you can think of to encourage your child to write about anything, anytime. Reading good quality books will also help to improve your vocabulary and imagination. Finally, practise spellings.
Reading:
Make reading fun
Have discussions together about books – read the books your child is reading

Encourage Internet research about topics of interest – notice what they are keen on

Make your home a reader-friendly home with plenty of books, magazines, newspapers that everyone can read – look for books and magazines at fairs and second-hand shops. Ask your family or whānau if they have any they no longer want

Share what you think and how you feel about the characters, the story or the opinions in magazines and newspapers you are reading. It is important that your child sees you as a reader and you talk about what you are reading.
Here's a tip - encourage your child to read every day. Make reading fun and praise your child's efforts, all the time.
Read together
Reading to your child is one of the most important things you can do, no matter how old they are. You can use your first language

When you are reading to your child, you can talk about words or ideas in the text that your child might not have come across before

Children are often interested in new words and what they mean – encourage them to look them up in a dictionary or ask family/whānau about the meaning and origin.
Here's a tip - keep the magic of listening to a good story alive by reading either made up, retold or read-aloud stories to your child – with lots of excitement through the use of your voice!
Maths:
count forwards and backwards (starting with numbers like these fractions: ¼ , ½ , ¾ , 1, 1¼ , 1½ then back again)

talk about large numbers in your environment e.g., computer game scores, distances

talk about the phases of the moon and link these to the best times for fishing/planting

talk about the patterns in the night sky – summer and winter. What changes and why?

talk about graphs and tables that are in your local newspapers.
Here's a tip - being positive about maths is really important for your child's learning – even if you didn't enjoy it or do well at it yourself at school.
Science:
Humanities: Any extra research of interesting facts will make sure that you make excellent progress in Humanities.
Music: When listening to music on the radio, in the car or at home think about what instruments are being used
What will we be learning about in this half term?
English: This half term, we will be reading the text: How To Train Your Dragon. We will complete two pieces of writing, using this text as a stimulus: writing instructions and a non-chronological report.
Reading: to retrieve, record and present information from non-fiction, exploring the meaning of words in context, drawing inferences and justifying inferences with evidence, predict what might happen from details stated and implied, summarise the main ideas drawn from more than one paragraph.
Maths: This half term, we will be covering the following topics: place value, negative numbers, all four operations, reasoning and problem solving, . We will also be revising all arithmetic strategies.
Science: Topic: Animals Including Humans
In this unit, the children will learn that there are many different but related aspects to keeping healthy. They will investigate the functions of the heart and circulatory system and will describe how nutrients and water are transported in human and animal bodies.
Working Scientifically, children will investigate how exercise and heart rate are related, and also to find out how scientific ideas about health have developed over time. They will plan an investigation and will take measurements with accuracy and precision. Children will present their findings in a number of ways, and will explain causal relationships emerging from their own data.
This unit builds upon children's existing knowledge of what their body parts are, and internal body systems such as the digestive system covered in Y4 Human Nutrition. They will develop their existing knowledge about the importance of diet and exercise to good health.
Humanities: This half term, the children will be learning all about the Vikings.
Click here to see our Curriculum Map
Music: This half term, the children will be following the Charanga scheme.
Computing: This half term the children will be learning how to stay safe online (eSaftey).
Art/DT: challenges linked to the Vikings.
RE: This half term, the children will be been thinking about Christianity as part of their RE topic, and wondering: 'Is Christianity still a strong religion 2000 years after Jesus was on the Earth?'
PE: This half term, the children will be learning key skills and tactics by taking part in invasion games.
What exciting things have we been up to?
Visit from the Greater Manchester Fire Service
Special Ethos Assembly delivered by Andrew Smyth (Hub Leader Oasis Hub Oldham)