School Council
Our aim is to improve and develop our school. We want to make our school a place where each child has a voice and their opinions and suggestions are heard.
Each class has a school council representative who wears a red tie so they can be spotted easily. Children can go to any member of the school council with suggestions they may have or they can put their suggestions into the school council folder.
The suggestions folder is taken to the school council meetings which occur every two weeks and any suggestions are discussed within the meeting. The school council aims to uphold as many of the suggestions as possible. If you have any ideas, suggestions or opinions please let us know.
We hope you enjoy visiting our page!
We have recently held elections in school for school council representatives for this year. The successful candidates were as follows:
Ayyan Khan (2KM)
Safa Noor Suleman (2EC)
Hassan Naveed (3JM)
Eshan Ahmed (3KS)
Kashaf Arshad (4JA)
Rayhaan Azhar (4SR)
Misbah Batool (5NS)
Zainab Chaudry (5EM)
Laiba Sajid (6NP)
Idrees Arfan (6RM)
Newly Elected Chair Person and Secretary
The School Council members held a vote and elected a Chair Person and Secretary.
Chair Person: Idrees Arfan
Vice Chair: Laiba Sajid
Secretary: Zainab Chaudry
Congratulations to you all!
Trip to B&Q
As part of the 'Clarksfield in Bloom' competition the school council visited B&Q to purchase plants to go into our class planters on the playground. The school council representatives enjoyed selecting plants for their class' planter and went back to school excited to start their project!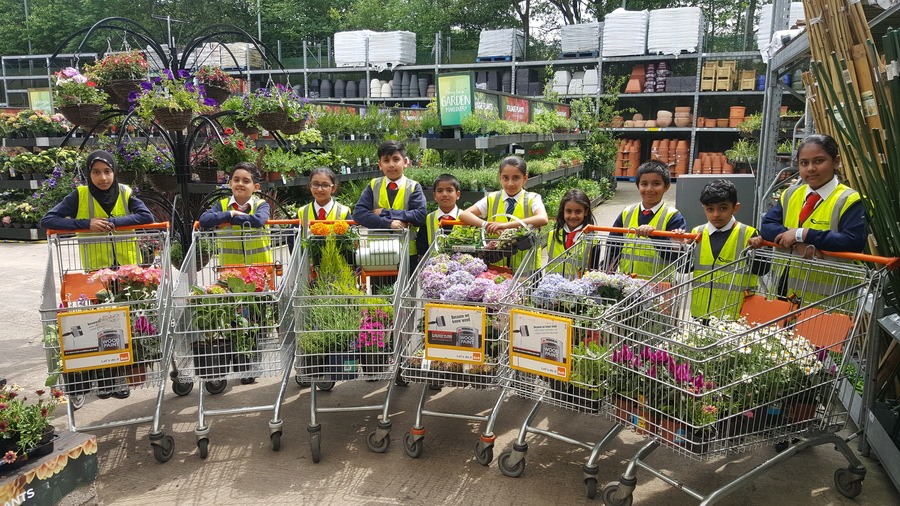 Key 103 Mission Xmas Appeal
Clarksfield School took part in the annual Key 103 Mission Xmas appeal. Staff donated unwanted toys and the School Council representatives presented the toys at the drop-off point: B&M Stores, Chadderton.
Avonleigh Gardens Residential Care Home
Avonleigh Gardens, which is a residential care home, offers care to 58 residents with a wide range of needs, including learning and physical disabilities and dementia care. The School Council representatives spent a morning with the lovely residents helping to decorate their Christmas tree as well as singing along with a few of their favourite Christmas carols.
Shoe Box Appeal
The School Council representatives are working with parent volunteers to support the Shoe Box Appeal in aid of the refugees in Syria. The children are working hard to raise the profile and promote the Shoe Box Appeal
A small shoebox can have a big impact. What goes into the box is fun, but what comes out of it is eternal.Be a part of changing children's lives all over the world through the power of a simple gift with Clarksfield School.
Debbie Abrahams (MP) Visits Clarksfield School
Clarksfield's School Council representatives had a special meeting with Debbie Abrahams (MP for Oldham East and Saddleworth). The children asked her question about her job, her hobbies and how she could help to improve our school and also make Clarksfield Community a better place.
NORTHWEST SHOE BOX AND AID APPEAL
Once again, the generosity of our families has been brought to light! A huge thanks to families who have donated shoe boxes filled with basic everyday items in support of the Shoe Box Appeal. These items will provide much needed relief for many Syrian refugees who have been affected by the crisis in Syria. Also, your generous cash donations has meant that the School Council has been able to raise £203.74!
We appreciate your continued support and hope that by working together, we can bring some joy into the lives of those innocent families whose lives have been devastated by war.
Well done Clarksfield Community!
Shoe Box Appeal - Update
As you may already be aware, in March, the School Council, with the support of the school community, was able to raise an incredible £203.73. The amount raise was then matched - pound for pound - by Mrs O'Donnell. So last week, the School Council members, along with Mrs Dust and Mrs Ali went to Alexander Retail Park to buy additional items necessary to complete the outstanding packs ready to be sent on the next convey to Syria.
School Councillors Visit the Royal Manchester Children's Hospital
As you may already be aware, in May, the school community came together - at a memorial service - to remember the short but beautiful life one of our very own, Aleeza Ali. The school was able to raise £516.00. It was decided that the money raised would be donated equally between the Royal Manchester Children's Hospital and the North West Air Ambulance Service.
Therefore, the School Councillors visited the Royal Manchester Children's Hospital, on Thursday 9th June 2016, to present the hospital with a cheque for £258.00 in support of the 'Helipad Appeal'. A representative from the hospital gave the children a tour of the building and explained how the money was going to be spent. The children, as always, participated well and behaved beautifully.
Helipad Appeal - GREEN DAY
The Royal Manchester Children's Hospital provides specialist healthcare services for children and young people throughout the North West, as well as nationally and internationally.
Last Thursday, Clarksfield Primary School's School Council members organised a special assembly which was delivered by Lisa Humphreys (Events Coordinator at the Children's Hospital) and Humphrey (the hospital's mascot). She explained to the children about the Charity Appeal to build a dedicated helipad on site at the Trust at a cost of £3.9 million.
Using the strapline, 'Time Saves Lives', the Helipad Appeal will enable the creation of a brand-new 24-hour access primary helicopter landing site, the first of its kind in central Manchester. This will allow the hospital to save many more lives and will increase the chances of a full or improved level of recovery in many seriously ill or injured patients.
The helipad will be built on top of the MRI hospital car park and connect to Manchester Royal Infirmary, Royal Manchester Children's Hospital, St Mary's Hospital and Manchester Royal Eye Hospital via a link bridge and roof top corridor.
Therefore, with it being the holy month of Ramadan - a time for reflection, doing good deeds and donating money to charity, the School Council members have decided to support this unique project by organising a whole-school non-uniform day, where the children will come into school in GREEN, whilst also making a generous donation towards the Helipad Appeal.
BE SEEN IN GREEN DAY
Thank you so much for all who have donated to the 'Be Seen in Green Day' at Clarksfield Primary School.
I am pleased to announce with the sale of the cakes and donations for coming to school in non-uniform, the whole school has managed to raise DRUM ROLL PLEASE... £416.00!!!! What a fantastic achievement from everyone in school, well done you should all be very proud of yourselves!
The amount raised will be donated to the Manchester Hospital's Helipad Appeal which will help and support Manchester Children's Hospital, St Mary's and Manchester Royal Infirmary.
Thank you again, everyone's support really is appreciated!
Happiness Fair at Hamer Primary School (Rochdale)
On Friday 1st July, Hamer Community Primary School, Rochdale, organised a Maths Happiness fair. Clarkfield's school council members received a special invite to participate in this unique event.
The school has been abuzz with Maths project ideas and the event was a huge success in terms of combining entrepreneurial Maths and the concept of sharing, spreading and valuing happiness. Well done Hamer and Clarksfield children!
Meeting Agendas and Minutes