Match Reports 2016/17
Sporting Participation: Boxing Club
After School Boxing Club was attended very well, we had 22 children taking part and learning various techniques of Boxing
Sporting Participation: East Oldham Football League
We finish Runners up in the league losing to Horton Mill 4-0 in the final at Waterhead Academy.
Sporting Participation: December -Girls Futsal Competition
Years 5 & 6 Girls participated in Oldham Schools Futsal Competition at Oldham College Futsal Arena
Sporting Participation: December- Oldham Schools Basketball
Years 5 & 6 taking part in Oldham Schools Basketball Competition finish third an excellent achievement by our children
Match Reports 2015/16
ADVENTURE IN ALEXANDRA PARK ACTIVITY DAY
The children in Year 5 took part in a fun and action packed adventure day in Oldham's award winning Alexandra Park on Thursday 30th June 2016. The children worked in teams of 8 to enjoy all the activities over the day with a competitive team building spirit. Activities included: Canoe Raft Challenge, Orienteering Challenge, Climbing Tower, Mountain Biking and Trim Trail Assault Course. As always, the children's behaviour was exemplary – we are all extremely proud of each and every one of them!
Sports Participation: Football Friendly
On Tuesday 28th June, Clarksfield Year 5 and 6 boys travelled to Freehold Community School for a football match. Awais put Clarksfield in front midway through the first half. As the game went it looked like they were comfortable, however with the last kick of the game Freehold equalised in the heavy rain denying our boys the win resulting in the game finishing at 1-1.
Sports Participation: East Oldham Schools Cricket Tournament
On the 28th June a mixed cricket team from Year 5 and 6 were one of 5 teams who travelled to Hollinwood Cricket Club for the East Oldham Cricket League. First up was a win against Mayfield after a great batting performance from Taki took the score beyond the opposition's reach. In their second game they beat Alexandra Park by 10 runs with an excellent all-round team performance with everyone playing their part with bat, ball and in the field. With 2 wins out of 2 there was no need for the third game and Clarksfield were declared CHAMPIONS!!!
Sports Participation: Oldham School Cricket Tournament
Clarksfield's Year 5 boys made it to the final of the 8 team Oldham Schools cricket tournament at Glodwick Cricket Club where they came up against Alexandra Park School. Clarksfield fielded first and bowled exceptionally, however after a couple of dropped catches and misfields Alexandra managed to set a target of 50. After a promising start from the opening pair scoring 19 the run chase slowed down due to some decent bowling from Alexandra. The last pair came in needing 15 runs, however they could not hold their nerve losing 3 wickets (-15runs) and finishing well short on 27.
Sports Participation: Cricket Competitions
On Tuesday and Wednesday this week, our cricket teams played in two separate competitions. Each brilliant match was played with excellent team spirit on both sides and with the added bonus that Clarksfield won. We would also like to thank parents for watching and supporting the team. Well done to everyone taking part.
Staff Training: Athletics
The Government and national partners are keen to ensure the Primary PE and Sport Premium is used to improve the knowledge, skills and confidence of school staff and volunteers so that the funding has a long-term impact on teaching and learning. As a result of this, and the school's commitment to staff CPD, Mr Hussain (Sports Coach) provided athletics training for members staff and volunteers in order to improve their knowledge, understanding and confidence when delivering sports sessions in school.
Sports Participation: Netball
Years 5 & 6 participating in the East Oldham Game Netball Competition at Horton Mill against 5 other schools in our clusters.
Sporting Participation: SEND Inclusion Event
3 children taking part in Oldham Sports Development Ability Roadshow at New Bridge.
Sporting Participation: Pop Lacrosse
Years 5 & 6 taking part in the Oldham Schools Pop Lacrosse at Bluecoat School.
Sporting Participation: Football Match
Year 5 & 6 footballers playing against St Hilda's on Clarksfield Pitch eventually winning 3-2.
Champions League Football
Some very lucky children were chosen to go and watch a 'Champions League' quarter final match between Manchester City and Dynamo Kiev at the Etihad Stadium, Manchester. Although it was a lackluster performance by both sides, the children thoroughly enjoyed their evening out in Manchester. As always, the children's behaviour was exemplary!
Dodgeball
Year 5 & 6 children competing in the Oldham Schools Dodgeball tournament at John Newman School against 6 other schools.
Clarksfield Football Team
Clarksfield B team played Medlock Valley and drew 2-2. The children played really well in difficult conditions. Well done!
Sports Participation: Year 1/2 Football
Year 1/2 school football team participated in a football competition at Greenhill Academy. Although the children did not win as many games as they hoped, they tried their best and enjoyed themselves doing so. The team represented the school exceptionally well as always, with the sports staff cheering them on from the side! Well played!
Clarksfield's Sports Leaders
Once again, Mr Hussain is working extremely hard to provide sports leadership training to some talented children in Years 5 and 6.
The Sports Leader Award is a great introduction into leadership, giving children knowledge of how to organise and lead small games and activities that can be they can delivery at break and lunch times.
The Young Leader Award aims to help children develop leadership skills such as organisation, communication and teamwork, as well as helping to build confidence and self-esteem as they take on responsibility of leading their peers and younger children.
Basketball Competition
East Oldham Schools Basketball competition was organised by nine (9) schools involved at the Old Counthill site which is managed by Waterhead Academy. The following schools took part': Clarksfield, Alexandra, Horton Mill, St Anne's Royton, Watersheddings, St Anne's Greenacres, Stoneleigh, Mayfield and Greenacres.
Abid Hussain, PE Leader at Clarksfield, commented: "This was a fantastic competition enjoyed by all the children who were of similar ability."
The eventual winners of the competition were Alexandra beating Watersheddings.
Football Match
Clarksfield (2) vs (2) Stoneleigh Academy
A great game was played by all in wet and windy conditions. Walid and Rehan had multiple shots at goal but the Stoneleigh goalie was just too good. Clarksfield's School captain played a great match with lots of headers and goal attempts. The team represented the school exceptionally well as always, with Mr Hussain and some supporters cheering them on from the side! Well played.
Athletics
Some of the school's talented athletes were chosen to represent the school at an athletics competition, organised by Oldham Athletic, at The John Newman College. Our children enjoyed participating in various events and represented our school exceptionally well! Well done!!
Sainsbury's School Award Gold Mark
Clarksfield School has achieved the Sainsbury's School Award Gold Mark for its dedication and hard work in promoting school sports. This entails various multi sports activities through the school week, entering various competition levels, playing regular matches against other schools, training up young sports leaders, organising Intra and inter competitions and establishing links with local sports clubs for school children to attend in their spare time.
Champions League Football @ The Etihad Stadium, Manchester
Some very lucky children went to watch a Champions League match between Manchester City and Borussia Mönchengladbach. Although it was a bitterly cold evening, the children were in very high spirits throughout, and enjoyed a thrilling encounter full of excitement and goals. Manchester City eventually won 4-2!
THURSDAY 12TH NOVEMBER 2015
MAYFIELD 1 CLARKSFIELD 0
CLARKSFIELD 3 ST EDWARDS 2
CLARKSFIELD 2 WATERSHEDDINGS 2
CLARKSFIELD 2 ST THOMAS MOORSIDE 0
HODGE CLOUGH 2 CLARKSFIELD 0
BROADFIELD 8 CLARKSFIELD 0
Basketball team bow out of tournament despite a very encouraging showing. The only major blimp was the defeat against a strong Broadfield side who seemed to hit every basket they shot. Besides that the Clarksfield team where very competitive as the results suggest and unlucky not to win 3 more. After a tough setback against Mayfield in which a questionable call was made against the team, the team improved with wins against St Edwards and St Thomas Moorside, drawing through a late Watersheddings basket and comprehensively dominating the Hodge Clough game until Hodge Clough scored on a rare attack forward. All in all with a relatively young side predominately made up of Year 5's there is potential to go far in next years tournament. Well done to all students who took part.
Team: Walid, Esah, Moin, Aatika, Abdullah, Sibgha, Taqi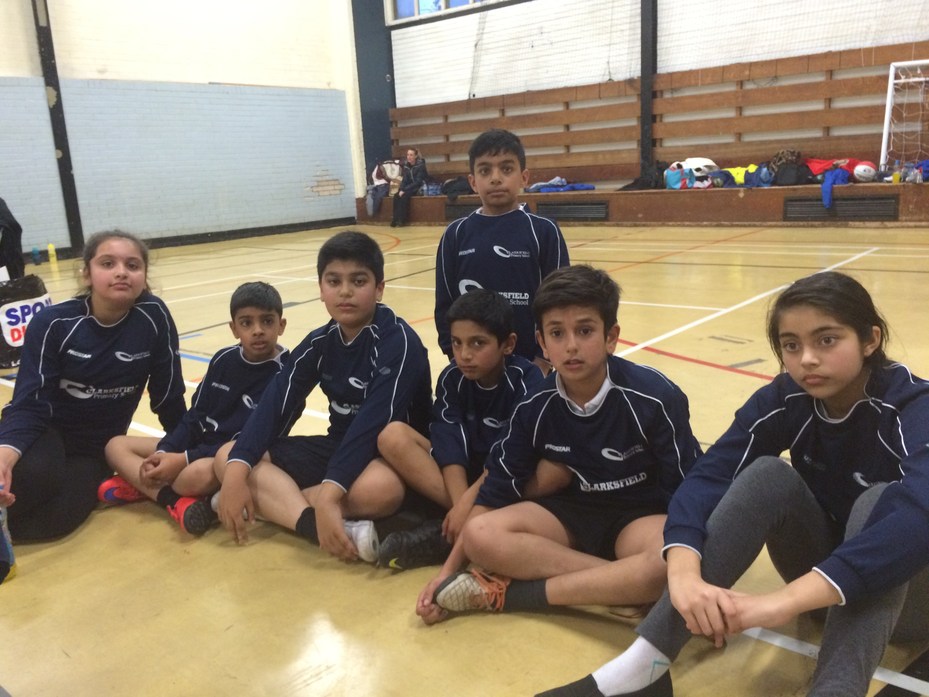 WEDNESDAY 11TH NOVEMBER 2015
YEAR 3 & 4 IN MULTI SKILLS EVENT
Year 3 and 4 children went to the Old Counthill School Campus to compete in a multi skills event. Children competed in catching, throwing, stepping and hitting the ball. The team came 3rd in the event. Well done to all children that took part in this event.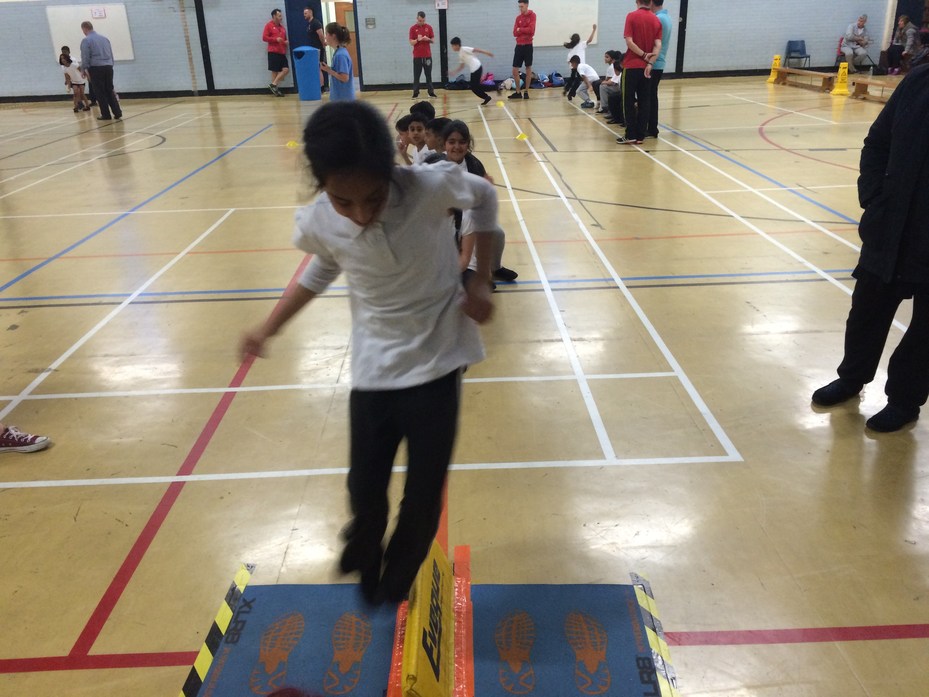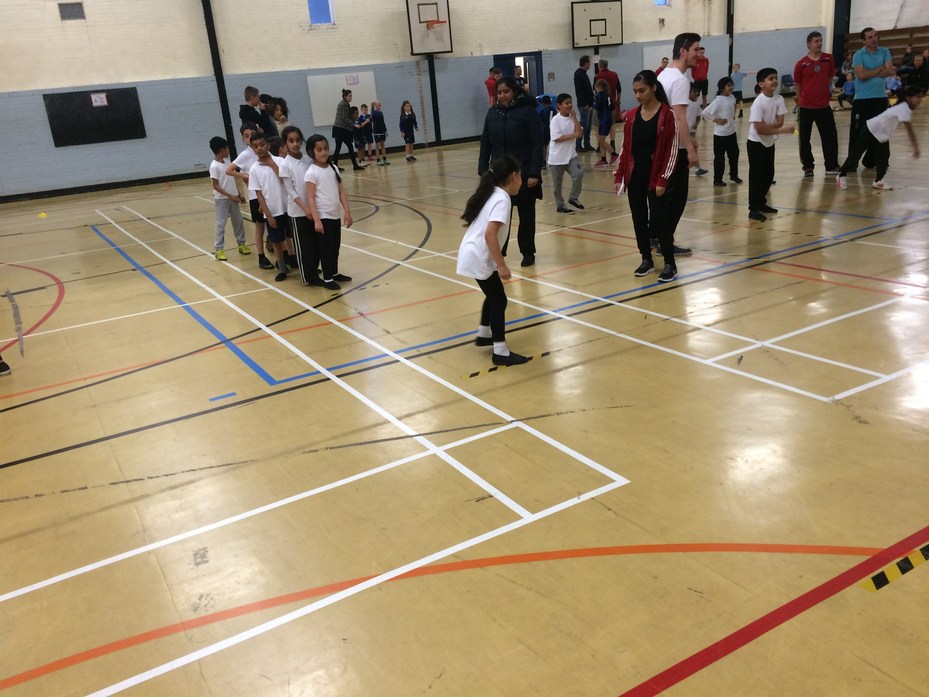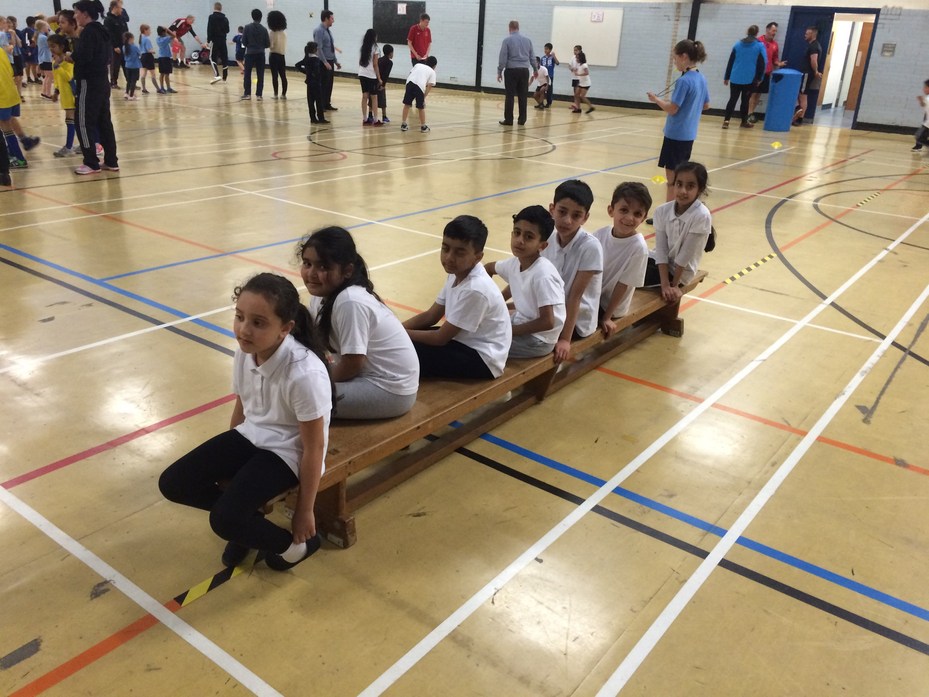 FRIDAY 15TH OCTOBER 2015
GREENACRES 3 CLARKSFIELD 1
FOOTBALL TEAM LOSE TO STRONG GREENACRES TEAM
The school football team travelling the short distance to Greenacres to play a game. After a dull goalless first half the game lived up in the second half as Greenacres raced into a 2 goal before Taqi's outstanding goal from the halfway line however the comeback was short lived as Greenacres scored late on to put the game out of our reach. A mixture of individual errors and good play where the downfall in this game and is something we must improve on in the future.
Team: Taqi, Esah, Noman, Walid, Ahsan, Huzaifa, Shanif, Sufiyan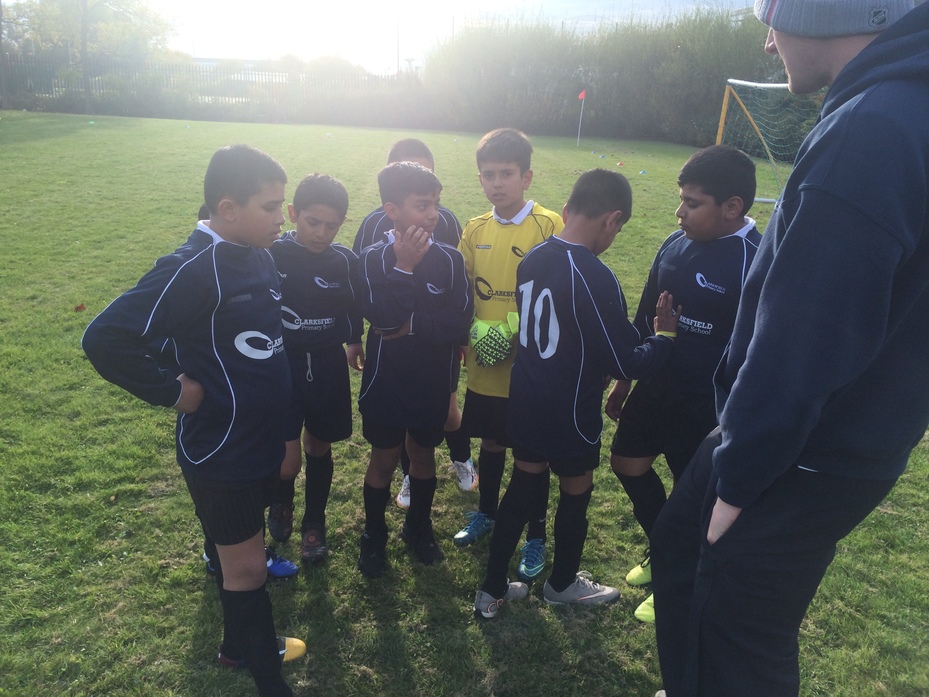 THURSDAY 14TH OCTOBER 2015
TAG RUGBY IN TOURNAMENT ACTION
The Tag Rugby Team travelling to Oldham Rugby Union Club to a school tag rugby tournament. We played five games; we drew one and lost four. Most of our opponents had very skilful and speedy players. In one of the games, Shanif and Esah scored and we played very well to draw. In the other games, although we lost, we tried our best. Walid scored in one of the matches and Shanif scored in another.
Team: Shanif, Taqi, Zeeshan, Ummar, Esah, Ahsan, Farhan, Huzaifa, Safeerah, Aatika, Walid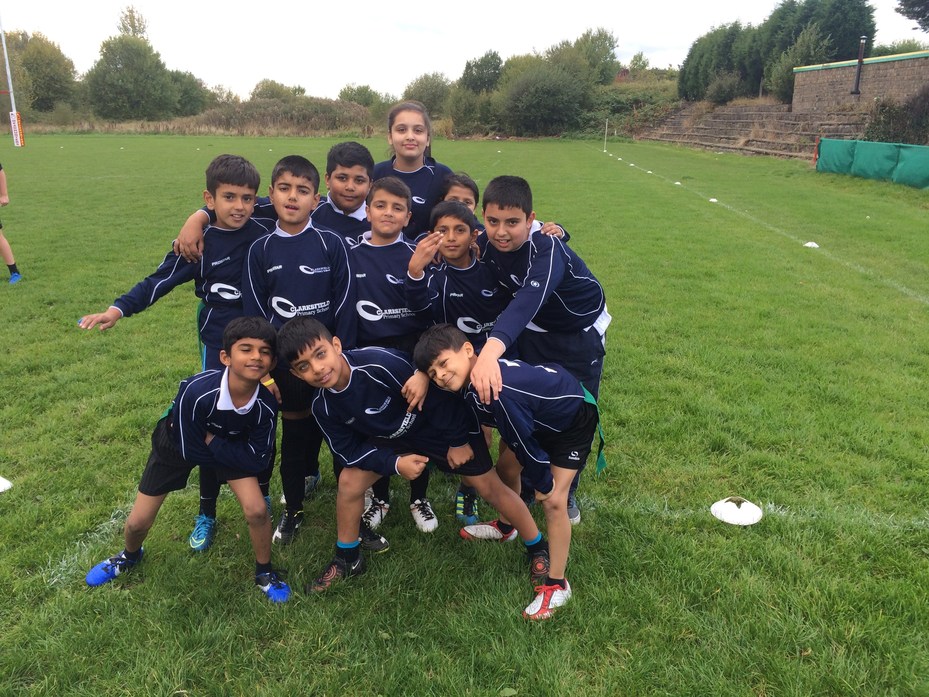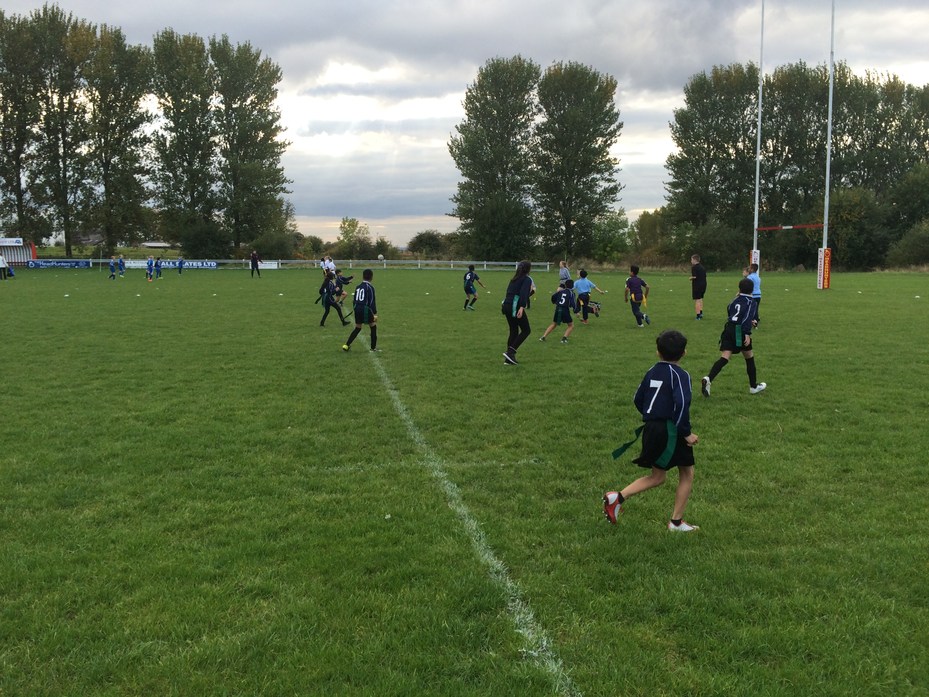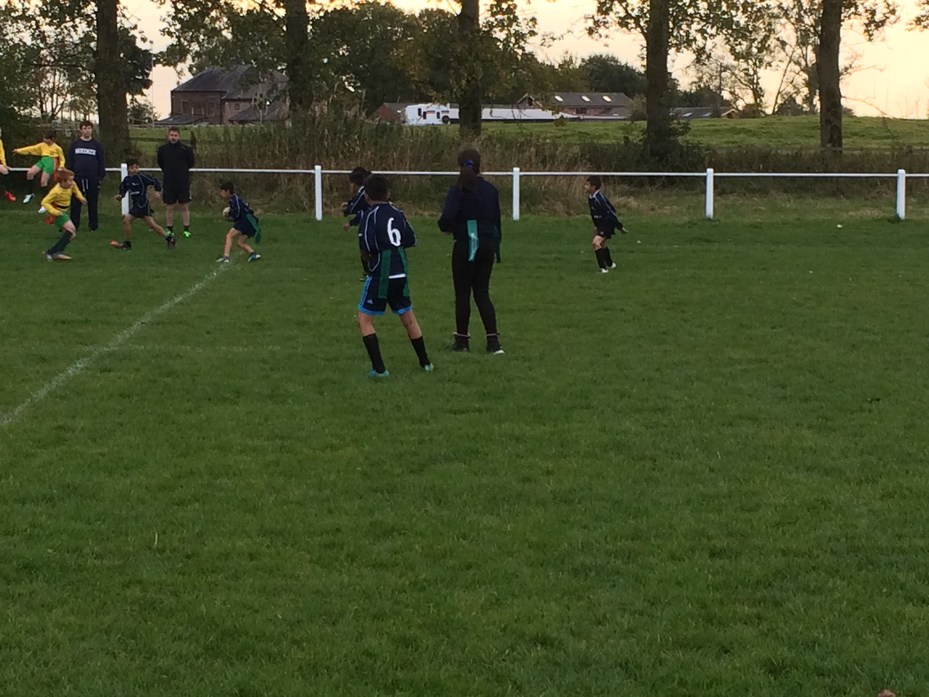 FRIDAY 9TH OCTOBER 2015
CROSS COUNTRY TEAM COMPETE IN THE EMERGING SCHOOLS COMPETITION
Our cross country team went to Stoneleigh park to compete in an emerging schools competition, although up against much stronger opposition Shahruk was the best placed Clarksfield athlete but he was well down the field mid pack. Here is a couple of accounts from students who took part.
"I started near the front of the line. As the race began, I found myself in 3rd place. As I ran up the hill, I began to lose my breathe and became very tired. I couldn't run anymore and started to slow down. I tried to save some of my energy by running slowly. Then I began to run faster as I came near the finishing line. At the end, I ended up walking, I came in 26th place but I tried my best." Aminah
"At the start, it was really difficult because we had to run down the hill. I started near the front of the line but as soon as I went up the hill, I found myself near the back of the group of runners. The longer the race went on, the further behind I found myself. I was running slowly near the end. It was very tough and I finished in 36th place. I was very proud of myself and very tired!" Simrah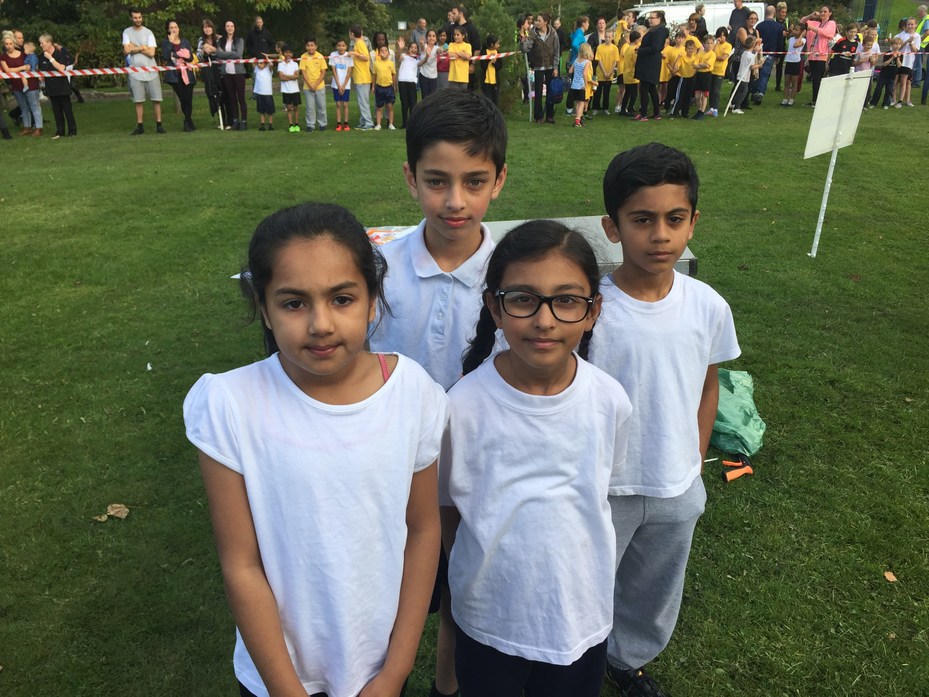 THURSDAY 1ST OCTOBER 2015
WATERSHEDDINGS A 4 CLARKSFIELD A 3
WATERSHEDDINGS B 2 CLARKSFIELD B 3
MIXED BAGS OF RESULTS FOR FOOTBALL TEAMS
B-Team
Clarksfield B team won a hard fought game by 3 goals to 2 through goals from Sufiyan (2) and Noman. The B team led 1-0, however they where pegged back to 1-1 and later fell behind 2-1, but through great character they fought back to win 3-2. Well done to the B team on their excellent result and fightback.
TUESDAY 29TH SEPTEMBER 2015
CLARKSFIELD 2 MAYFIELD 2
FOOTBALL TEAM EARN DRAW
The match started at 3.15pm. We scored 2 beautiful goals, whilst Mayfield scored 2 good goal and then the match ended at 4.00pm ending with a hand shake.
FRIDAY 18TH SEPTEMBER 2015
CROSS COUNTRY TEAM COMPETE AT STONELEIGH PARK
1 boy and 1 girl from Year 1 through to Year 6 went to Stoneleigh Park for a Cross Country meet. Unfortunately, it wasn't a great meet for the team as none of the children medalled in their events unlike in last years event. Daud from Year 3 was the best placed child coming 15th in his event and however next year in his event he can medal as he was running with Year 4's. Well done to all children competing in the events and unlucky in not winning better lucky next time.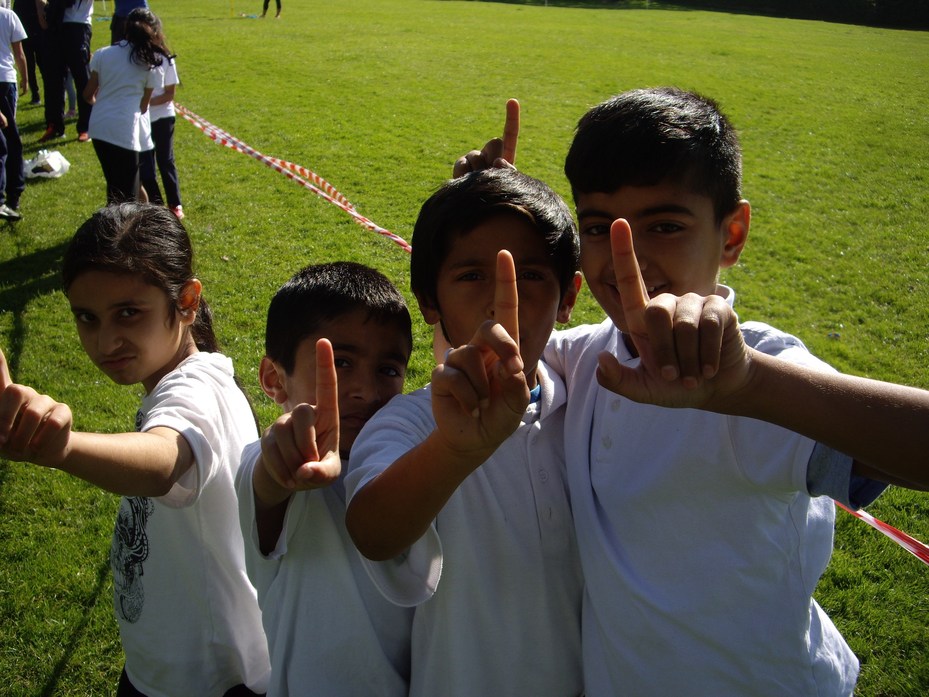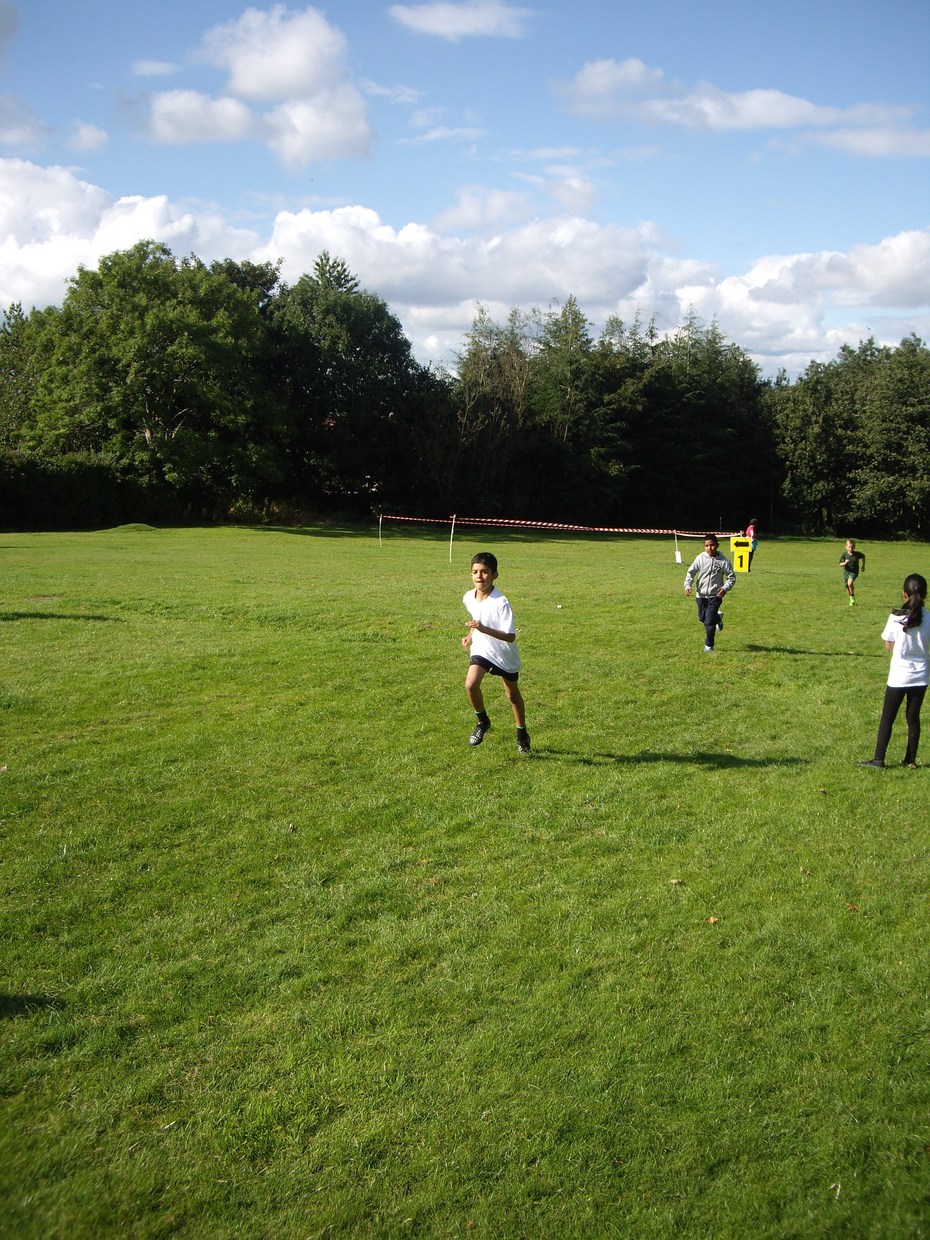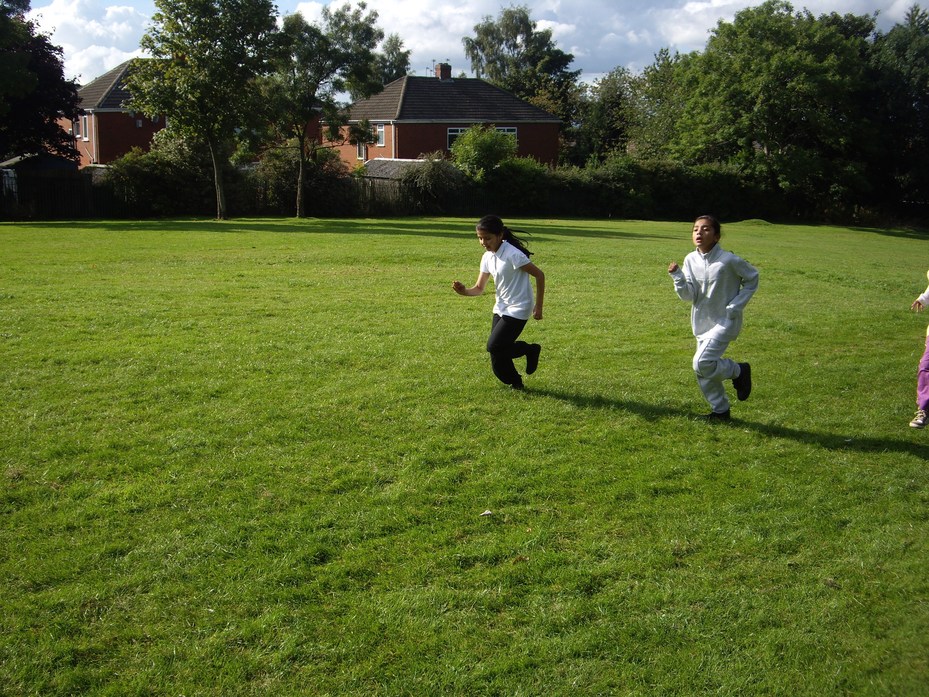 THURSDAY 17TH SEPTEMBER 2015
BOY'S FOOTBALL TEAM IN TOURNAMENT
THURSDAY 10TH SEPTEMBER 2015
CLARKSFIELD 4 GREENACRES 2
CLARKSFIELD CLAIM WIN IN FIERCELY CONTESTED GAME
Year 5 & 6 boys started off their football campaign with a convincing 4-2 win against Greenacres in a home friendly. Taking the lead early through Ayaan, the delivery from set pieces from Subhan caused problems for the visitors throughout as 2 other goals came from such situations. Greenacres were never in the game and only made the scoreline respectable with a late consolation. The Year 5 boys now head to Waterhead Academy next Thursday in the Boy's Football Tournament looking to continue their good start to the year. Well done to all that took part.
Squad: Yousuf, Walid, Noman, Subhan, Sufiyan, Ayaan, Ummar, Taqi, Adil, Ahsan