Latest News
Easter Fun Day
On Wednesday 21st March, Nursery and Reception children enjoyed participating in an Easter Fun Day to consolidate their learning about the Easter time. The children joined in with a range of traditional customs such as having their faces painted like the Easter bunny, making chocolate Easter nest cakes, eating hot cross buns at snack time, joining in with an Easter egg and spoon race, making Easter bonnets and going on an Easter egg hunt. They also enjoyed listening to lots of Easter themed stories and singing Easter themed songs. The children had lots of fun.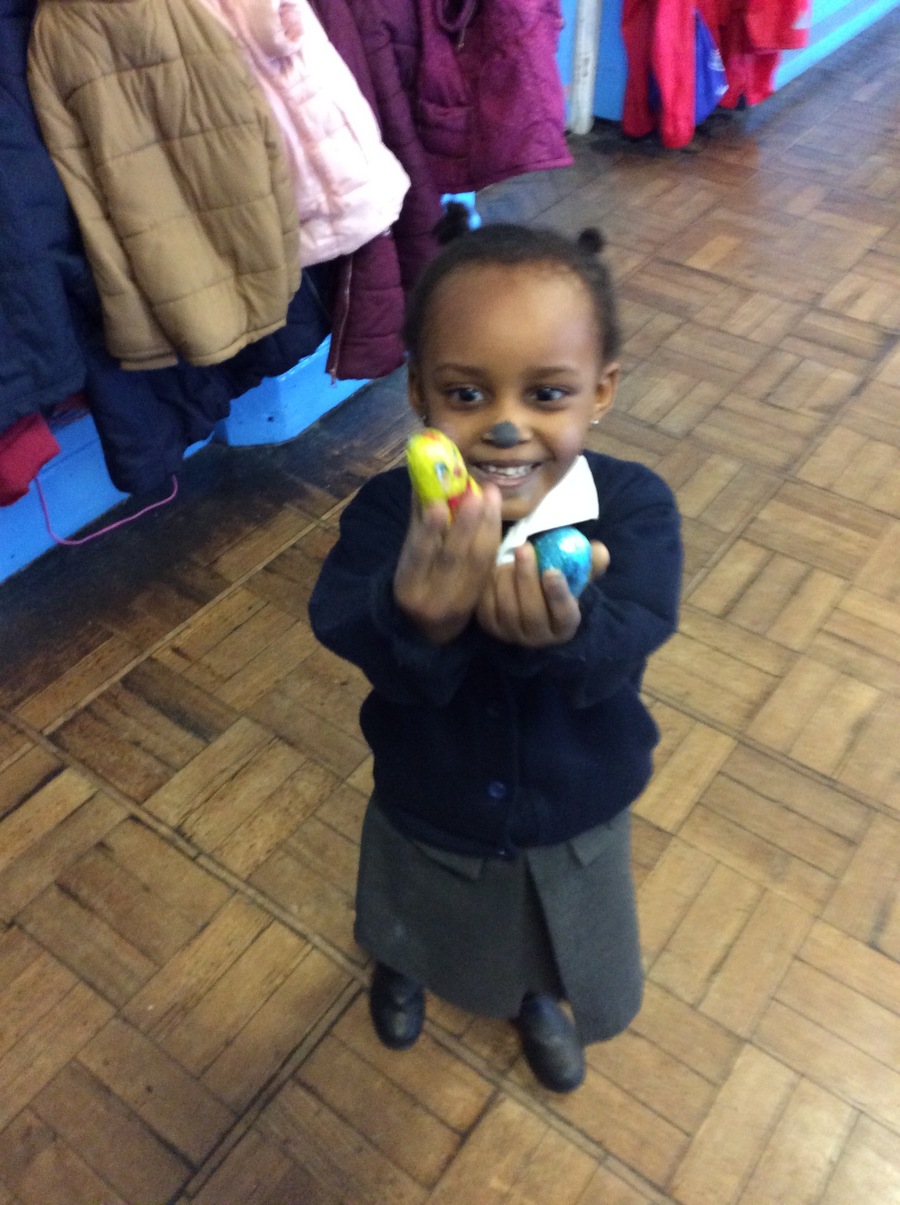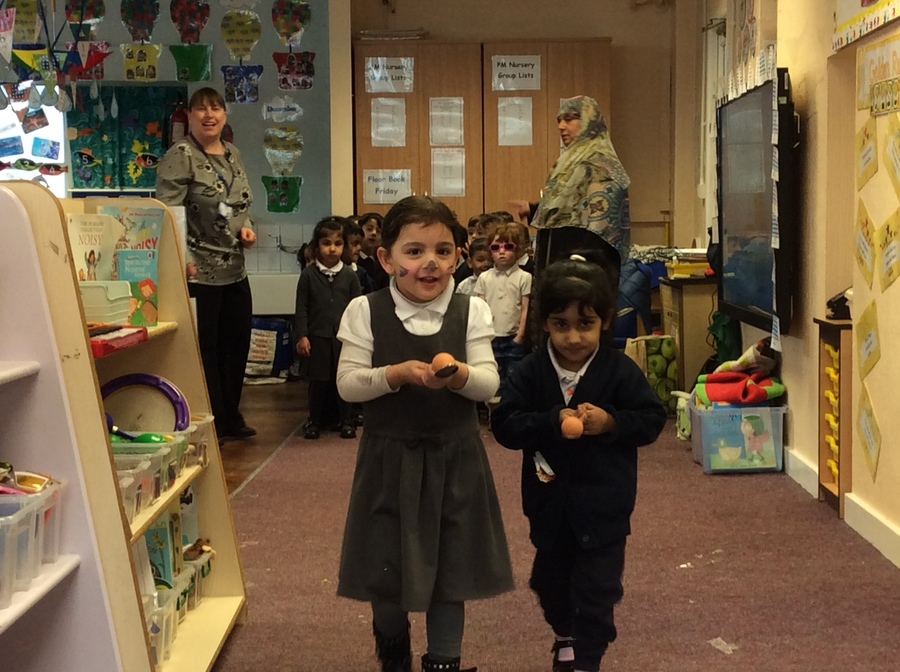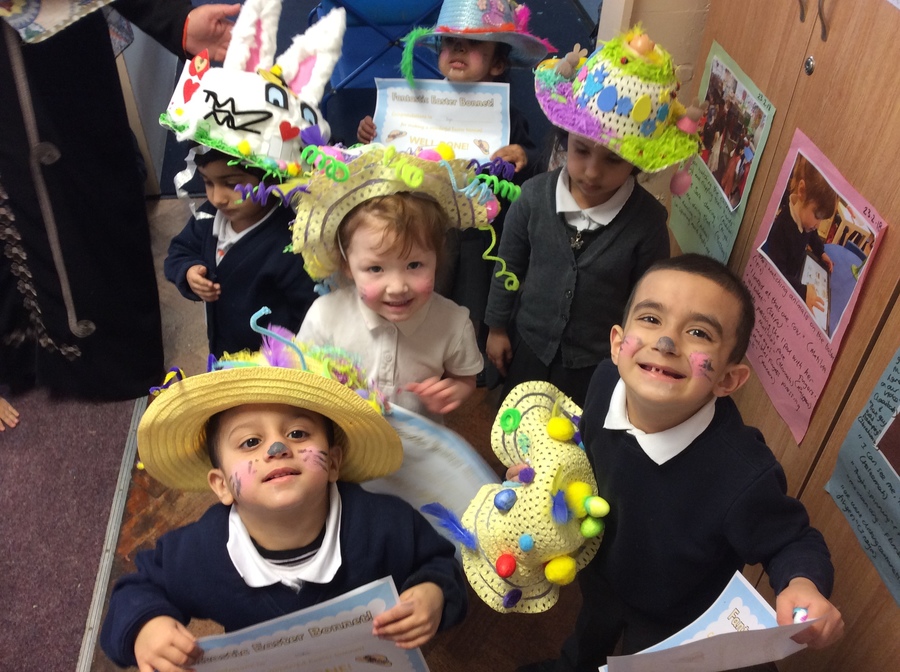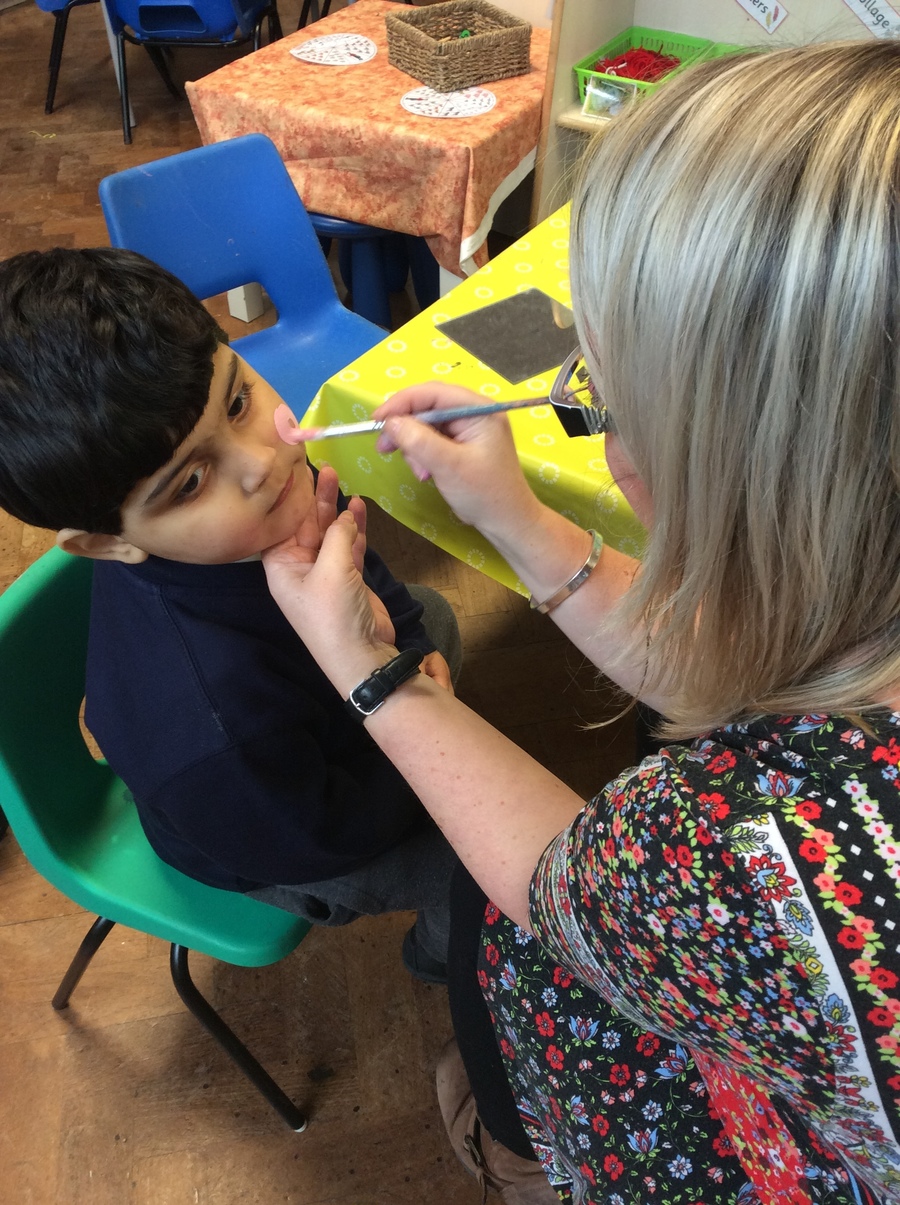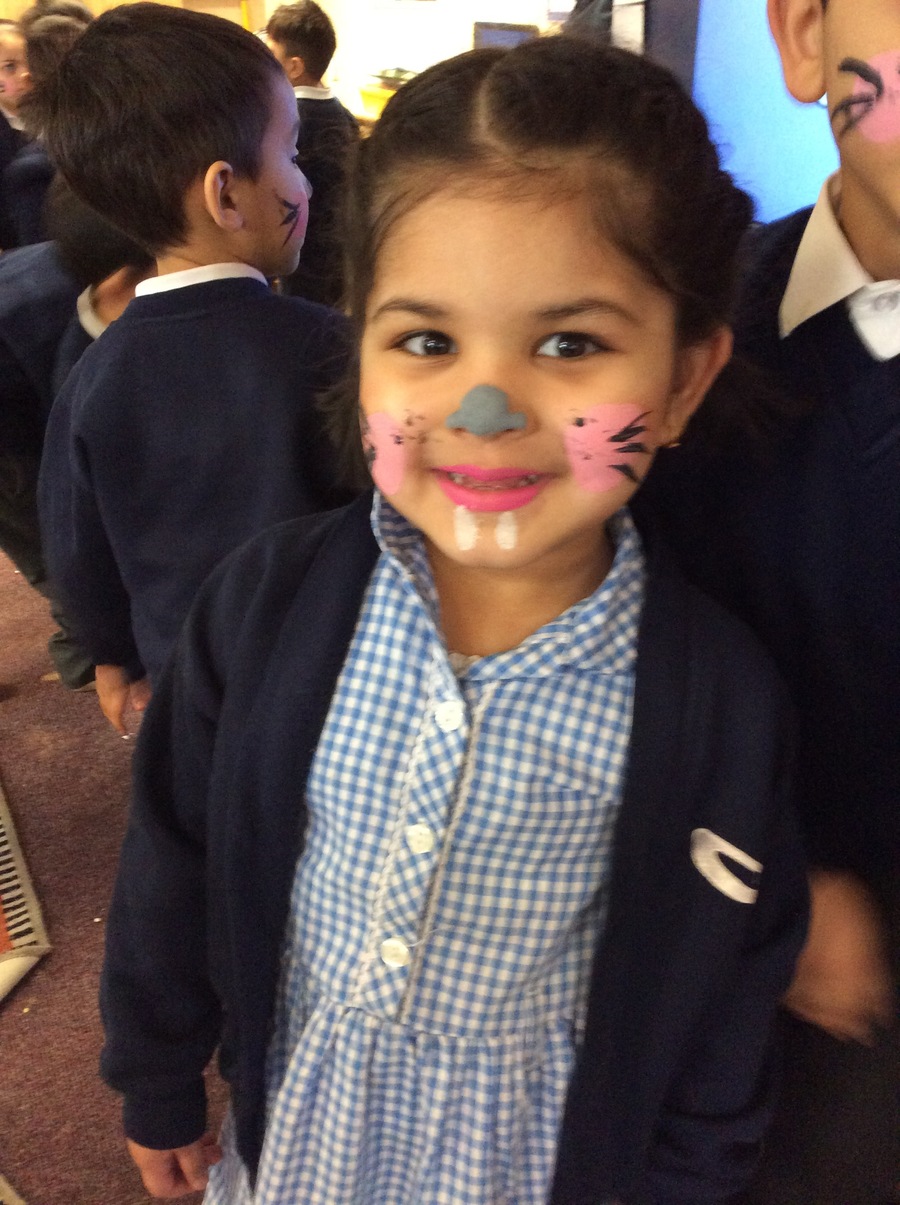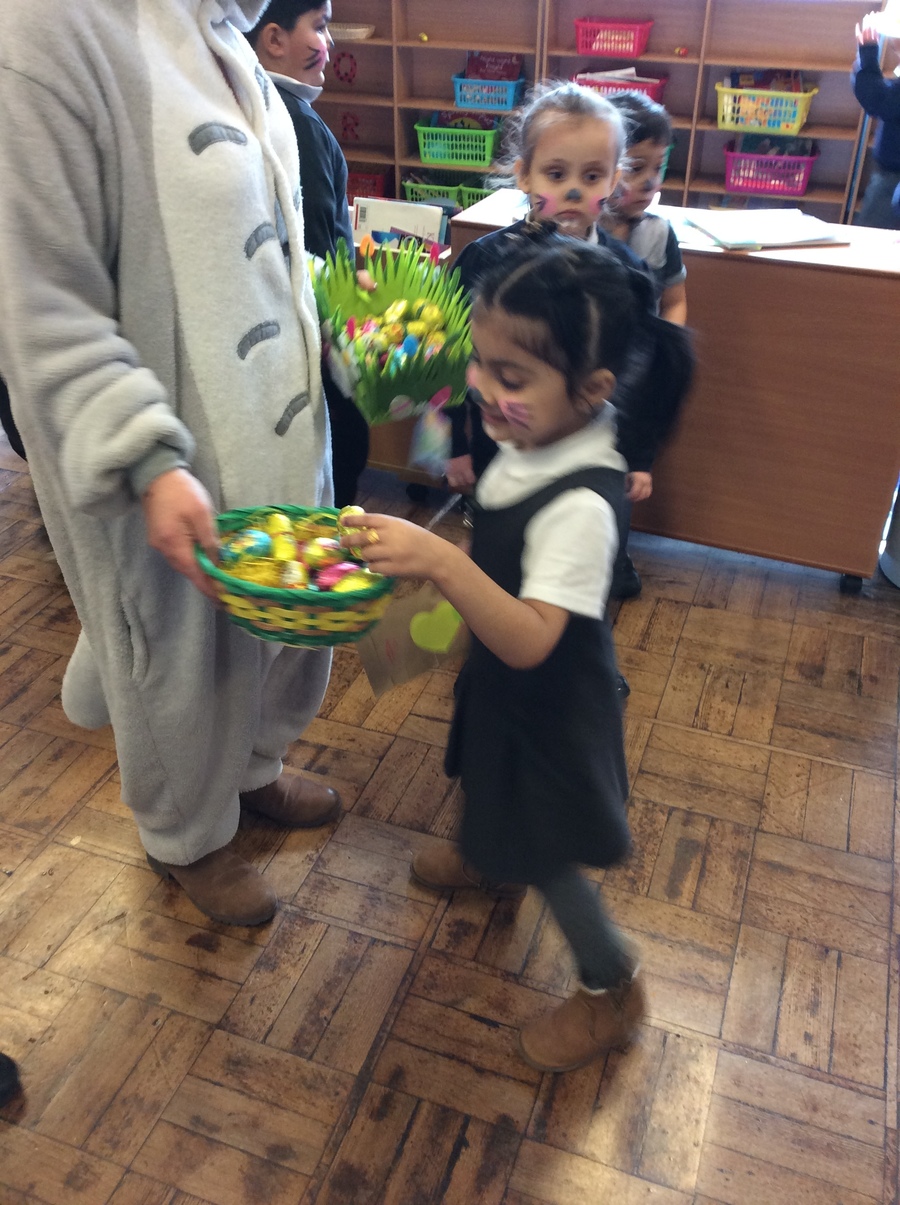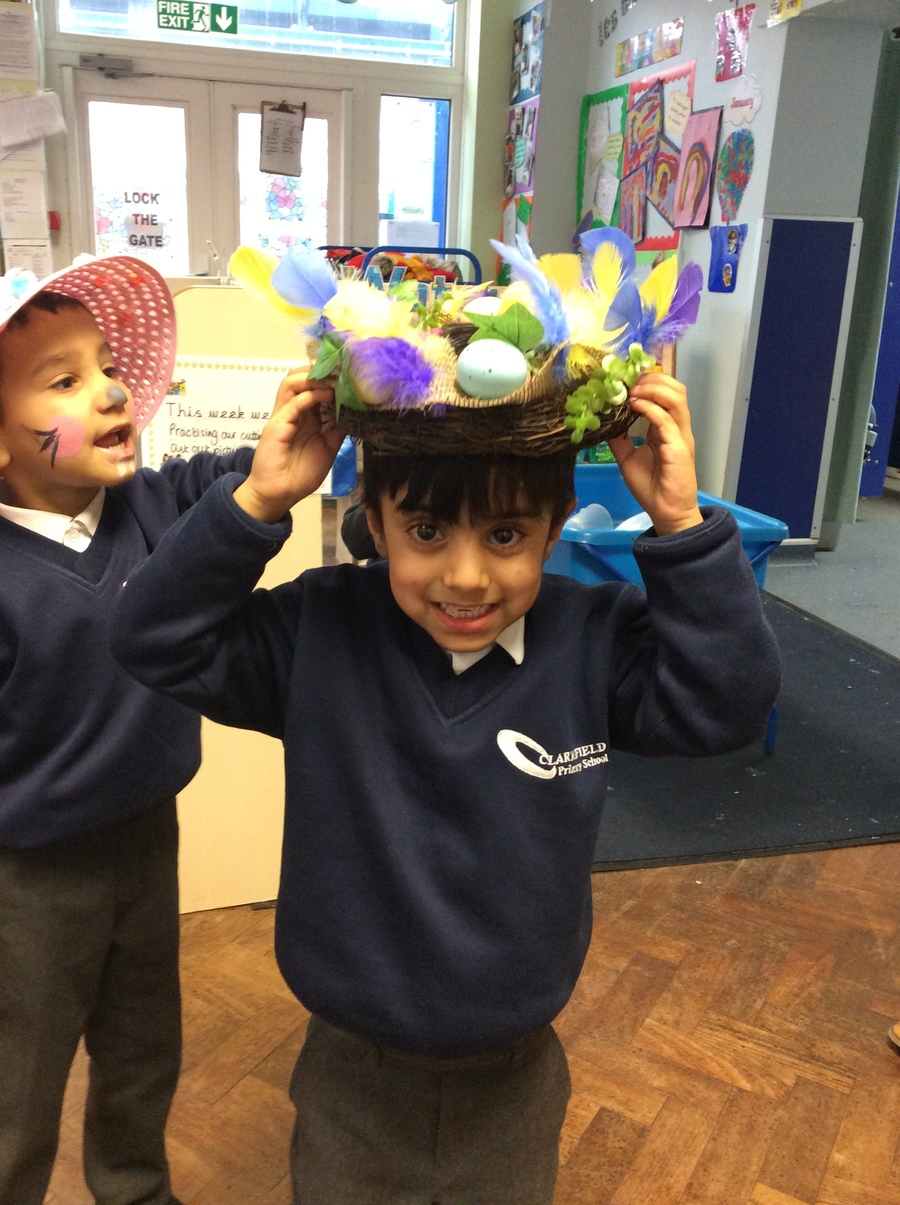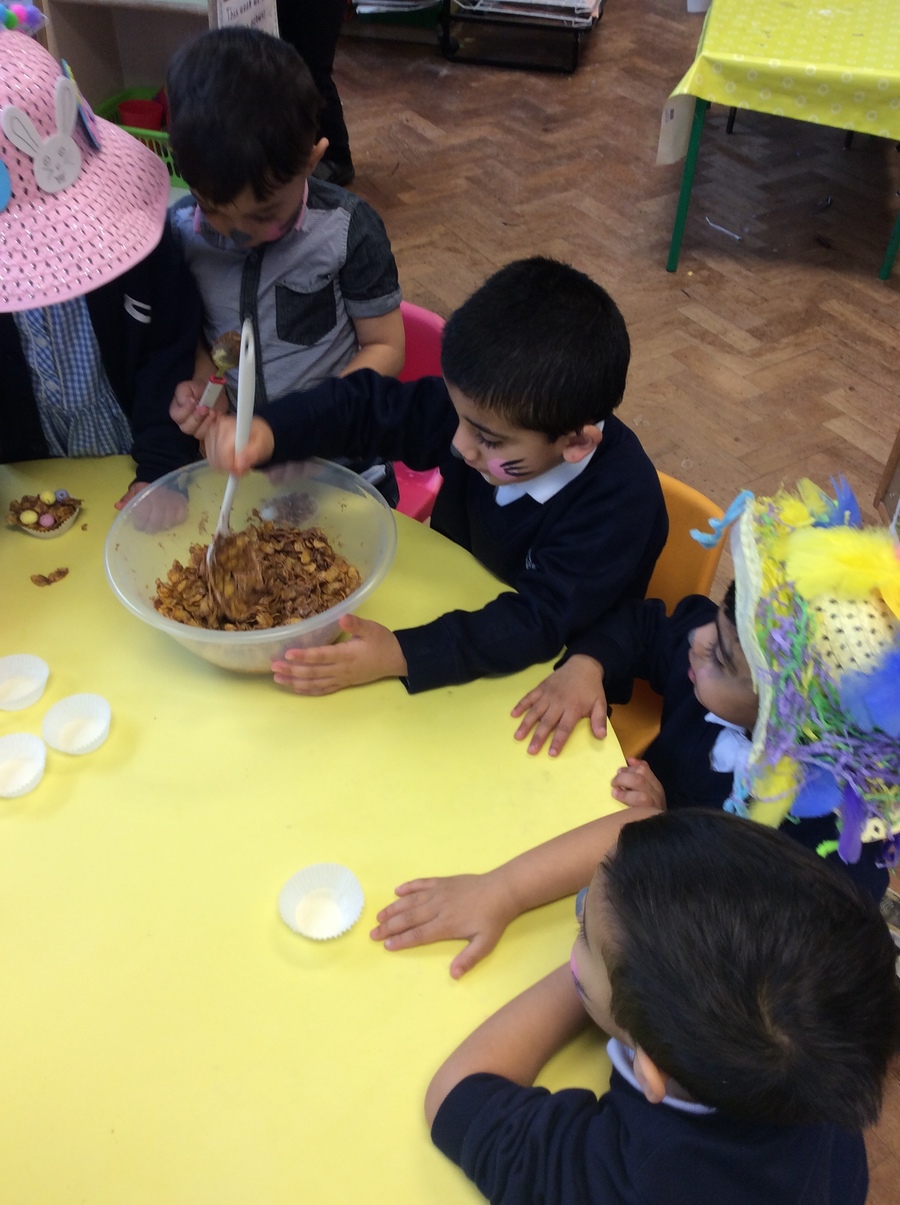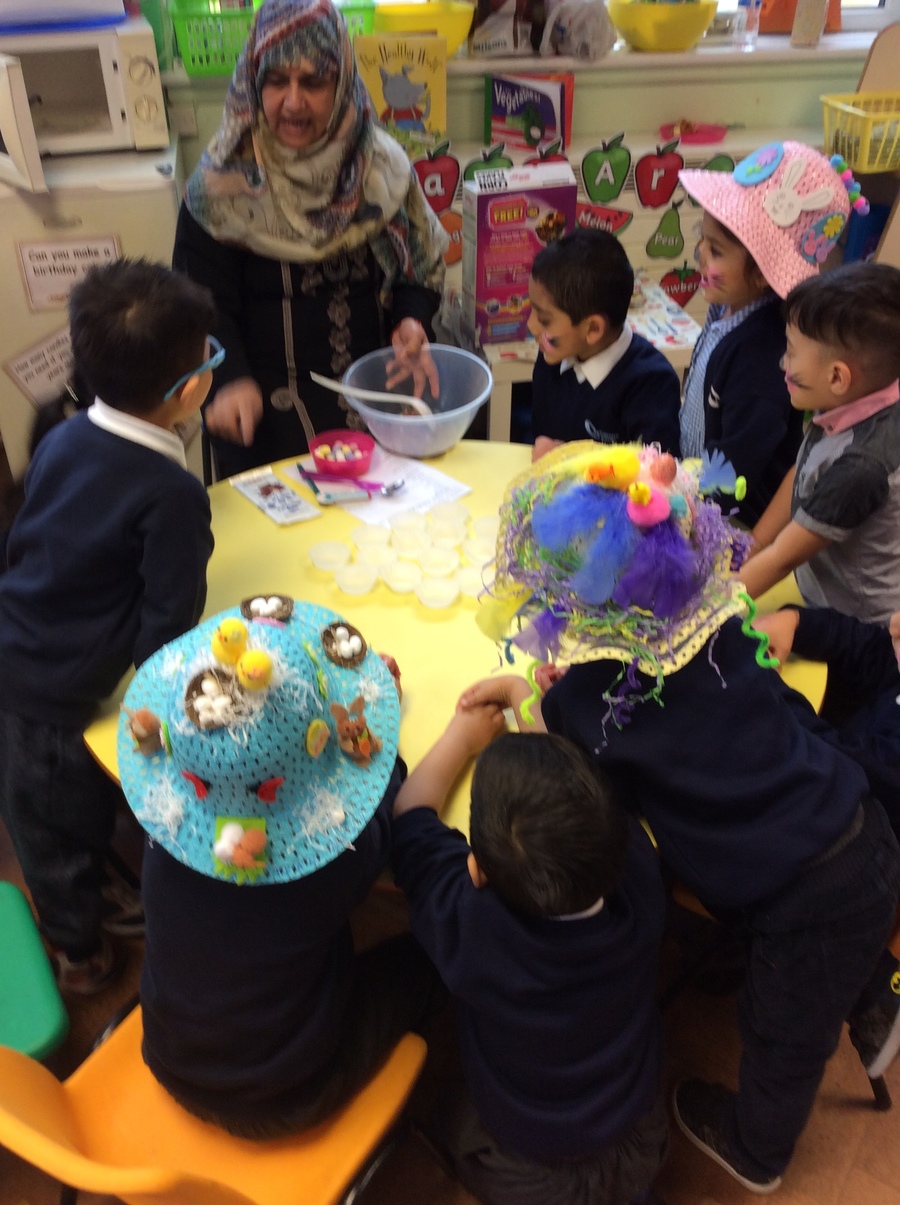 Chick Visit
Nursery children have enjoyed learning about the life cycle of a chick linked to their Learning Challenge curriculum question 'What happens to the eggs?'. They have observed first hand how the chicks hatch out of their eggs and how they start to grow and develop. The children also enjoyed carefully holding the chicks using their kind hands.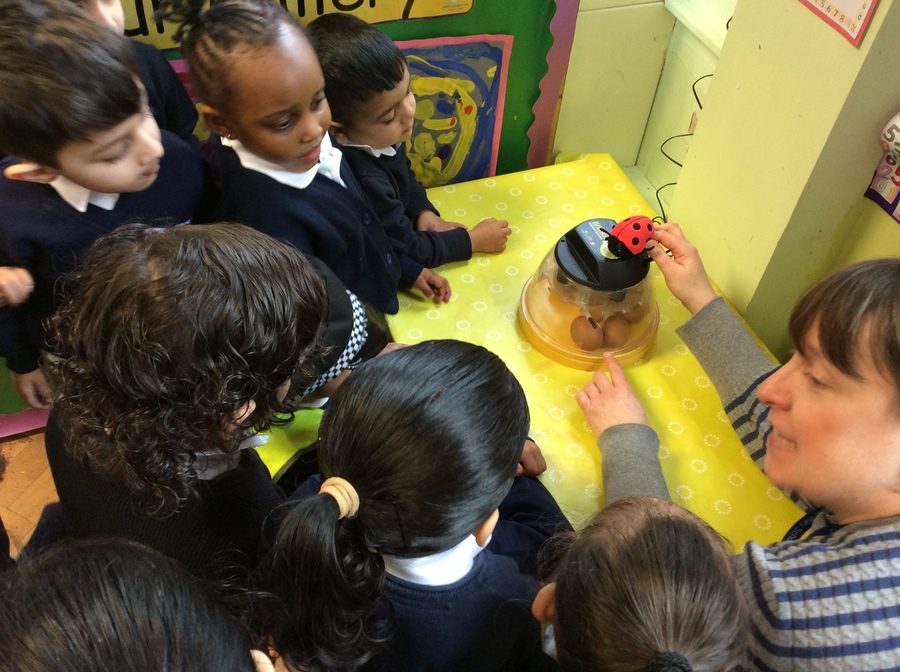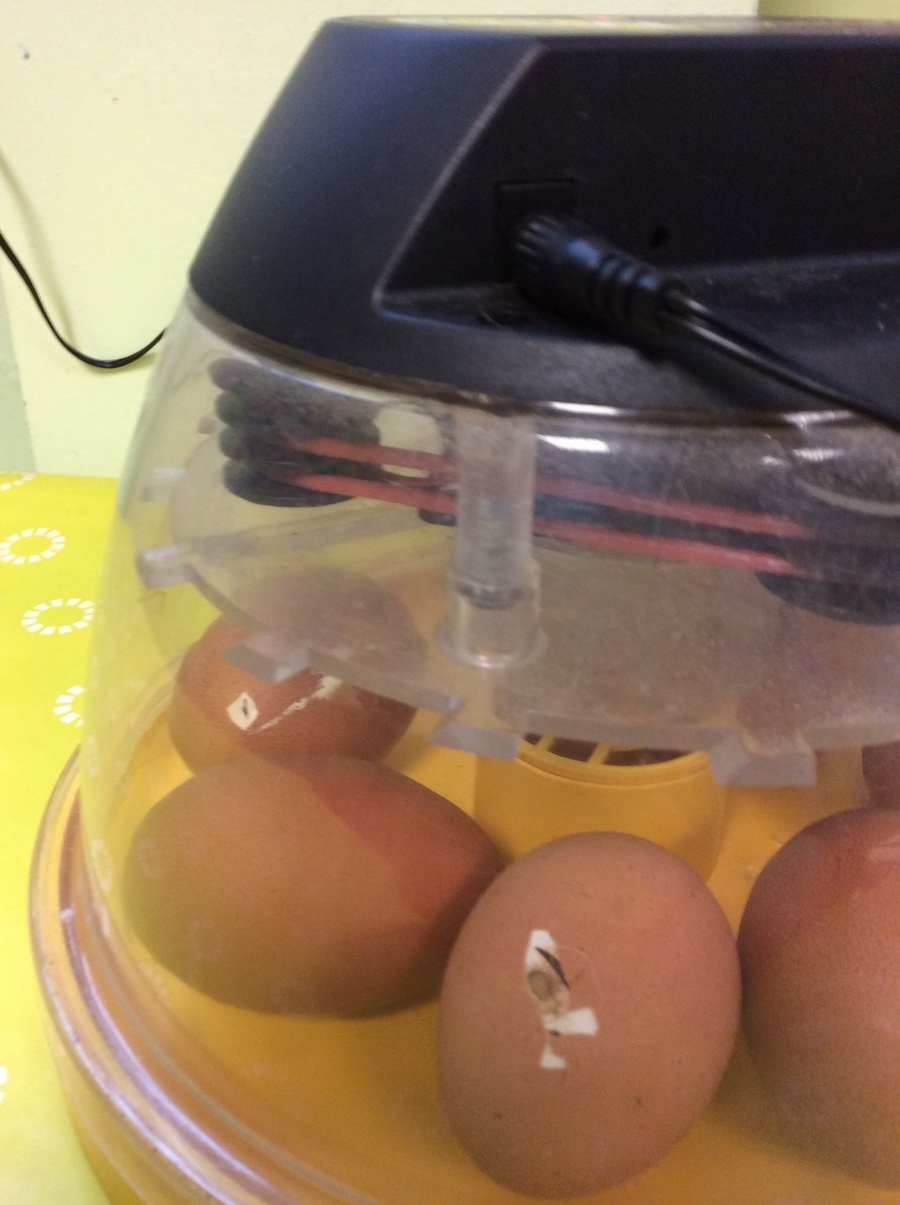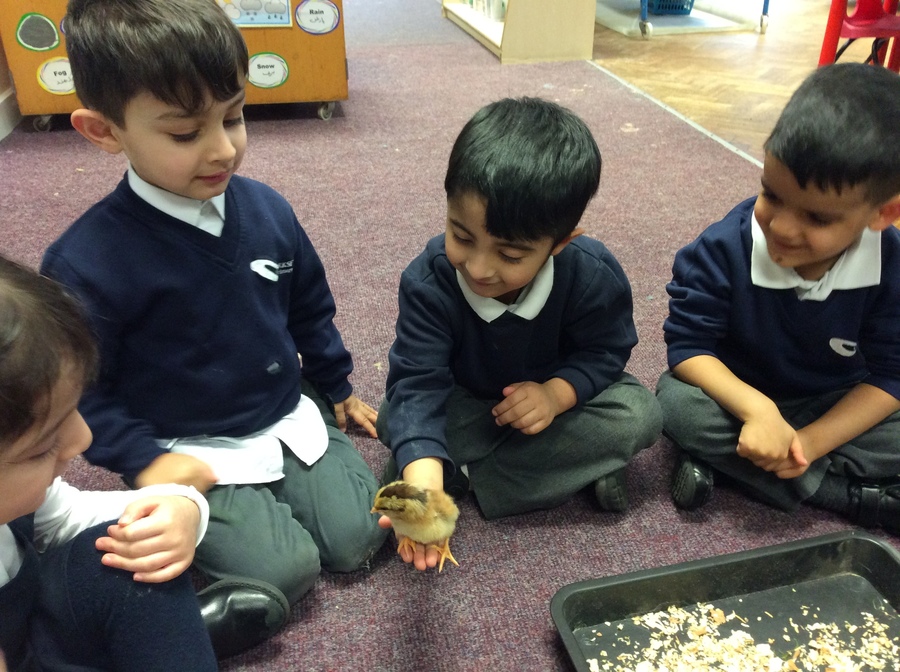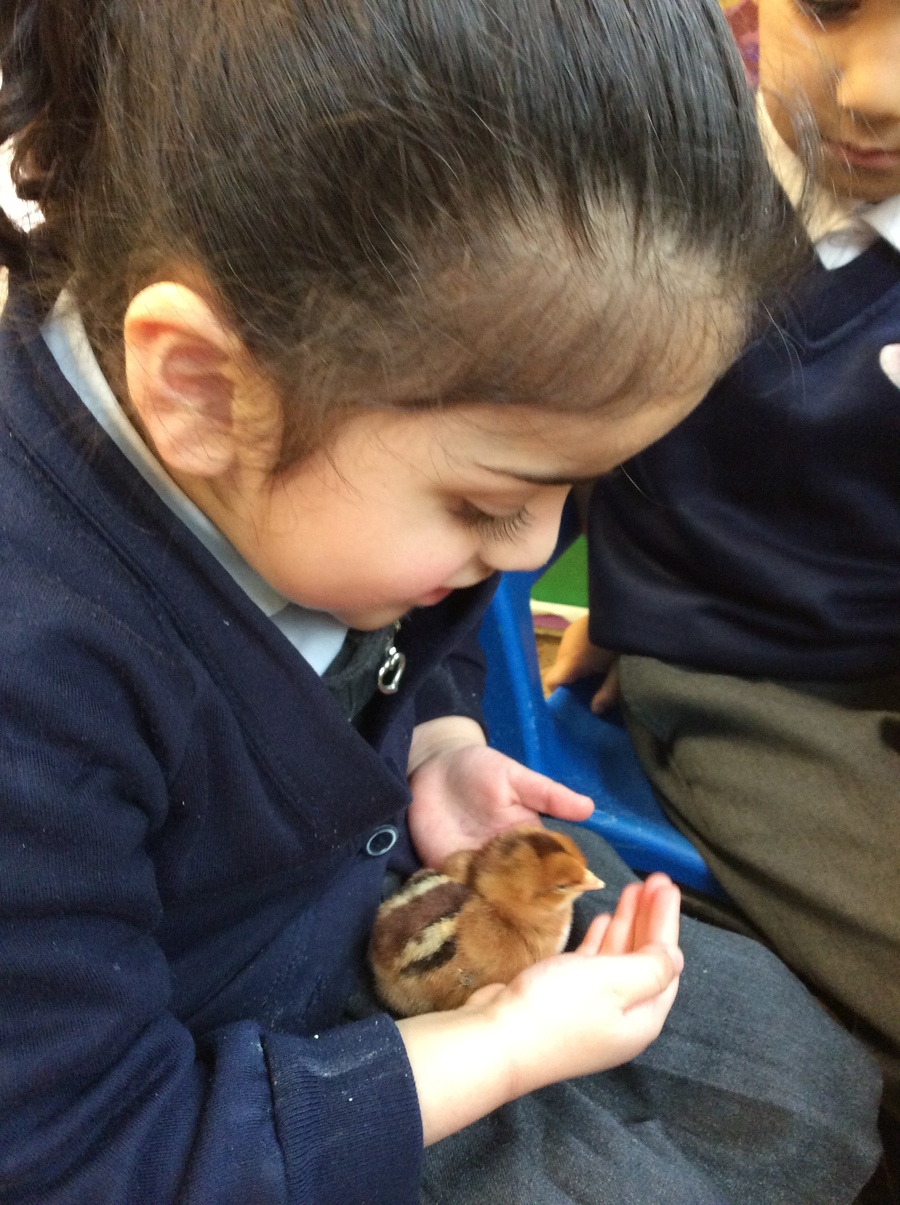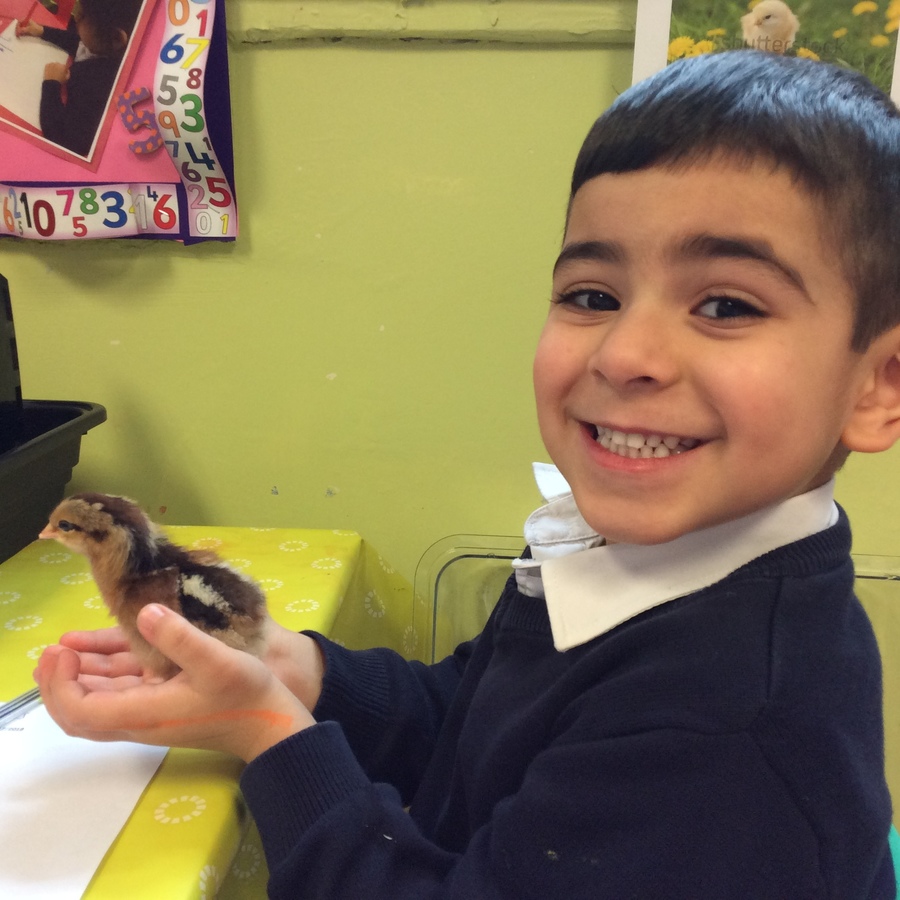 Animals In Tuition Visit
Year Two have had a visitor from Animals In Tuition who brought some animals to show them which linked to their Africa topic and their Science learning about animals and their habitats. He brought sandfish, a gecko, a frog, a guinea pig and a snake called Mr Tickle! He told the children about where each of the animals live and how they are suited to their habitat and lots of the children were very brave when touching or holding the animals. Some of them even held the snake! Lots of the staff came for a look as well, see if you can spot any of them in the pictures...
African Drumming Workshop
On Tuesday 23rd January Key Stage One had some visitors who came to run an African drumming workshop for the children. This linked with our topic in year two of 'Where would you prefer to live, Oldham or Africa?' Each class got an hour in a workshop to learn how to play the drums and to get ready for their performance. Then at the end of the day we had a performance to all of Key Stage One so we could show our friends what we had learnt!
It was very very noisy and lots of fun. All of the children loved it!
Happy Christmas and New Year
May I take this opportunity to thank all of our brilliant Hamer families for the support and sense of community you nurture and continue to develop at school.
Clarksfiled School is the fabulous place it is because of our true "working together and caring spirit" which happens all year round and not just at Christmas!!
Have a happy holiday with those who mean the most to you.
Children finish school at the end of the day next Tuesday (19th December) and we look forward to them returning on Wednesday 3rd January 2018.
Save the Children - Christmas Jumper Day 15th December 2017
It's the most magical time of the year fairy lights and baubles, snowmen and Christmas trees. And on 15th December 2017, we want it all - on a jumper.
The children and staff were all donning their daftest, most wonderful woolies - all for a great cause.
I am pleased to announce with the generous donations made by children and staff for coming to school wearing a Christmas jumper, the whole school has managed to raise… DRUM ROLL PLEASE… £280!
What a fantastic achievement from everyone in school, well done you should all be very proud of yourselves!
An enormous THANK YOU to everyone who wore their favourite festive knit and donated so generously towards this extremely worthwhile initiative.
Your donations will help give hope to many families experiencing difficulties during the Christmas period.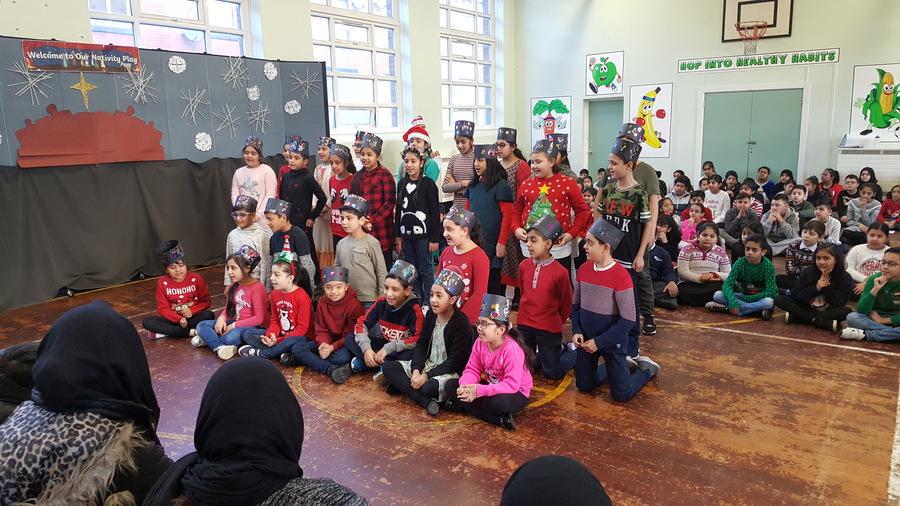 UKS2 Christmas Concert
Our UKS2 Christmas Concert took place on Friday 15th December 2017.
Each class performed two of their favourite Christmas songs/carol.
It was a wonderful morning full of joy, laughter and festive cheers; we even had some audience participation : ).
Year 6 visit to the Jorvic Viking Centre
History - Progression of Skills: Historical Enquiry
Learning Challenge:
Can I use pictures, photographs, artefacts, visits to museums and galleries and visits to sites to collect evidence about the past?
Check out the pictures of the Year 6 children's visit to the Jorvik Viking Centre in York.
D Whittington: Oldham Coliseum Theatre
The Leopard's Drum by 2EC
2EC have been reading The Leopard's Drum, a traditional Asante tale from West Africa, which was written down by Jessica Souhami.
They have been working collaboratively to practice retelling the story with their own actions.
Check out the video below where the children are retelling the story in their groups.
Anti-bullying Week 2017
We recently held Anti-bullying week. Every class in the school had a lesson about what bullying is and how to stop it happening in our school.
We talked to the children and they came up with some things that they thought were bullying:
Hurting someone by hitting or kicking them

Making fun of someone

Telling lies about someone, the things they have said or done

Making comments about the way someone looks

Pulling faces

Using bad language

Ignoring a person, refusing to let them join in with a game
We talked about the fact that in order for a person's actions to be called bullying they have to be repeated. Falling out with a friend one day and making up the next is not bullying. Being unkind to someone day after day is bullying.
The children came up with some ideas about how we can beat bullying:
Look out for the other children in your class

Tell a teacher or someone you trust what is happening

Talk to the bully and tell them to stop

If you can, ignore the bully

If your friend is being bullied, go over and ask them if they would like to play with you or tell a teacher what you think is happening
People who are being bullied often feel very alone. It can feel as if no-one cares or even that other people are on the bully's side if they don't speak up. If you think your friend is being bullied, say something! Speak to your friend, to a teacher/teaching assistant/dinner lady.
We want all the children at Clarksfield to feel safe at school.
Anti Bullying Week School Council Event (East Oldham Schools)
Clarksfield School Council members organised the first annual East Oldham Collaborative School Council event around the following theme: 'All Different, All Equal'.
The following East Oldham Schools were in attendance: Horton Mill, Willow Park Academy, Woodlands Academy, Littlemoor and Hodge Clough Primary School.
The session had the following aims:
*empower children and young people to celebrate what makes them, and others, unique
*help children and young people understand how important it is that every child feels valued and included in school, able to be themselves, without fear of bullying
*enable teachers and staff to celebrate what makes us 'all different, all equal' and celebrate difference and equality; encouraging them to take individual and collective action to prevent bullying, creating safe environments where children can be themselves
Actions have Consequences Day
On Wednesday 15th November 2017, our Key Stage 2 pupils took part in a programme called 'Actions have Consequences'. The full day consisted of games and learning around drugs, alcohol, bullying, stranger danger and personal safety. Lots of important lessons were learnt by all and at the end of the day the children had fun with the police officers participating in their police dog challenge.
Using Play Scripts to Develop Speaking and Listening Skills
Play Script: Moody Margaret Moves In
Success Criteria:
*I can make reading fun by listening to and discussing plays
*I can prepare a play script to read aloud and to perform, showing my understanding by using the tone of my voice, and actions
Sporting Participation: After School Dance Club
MIND ASSEMBLY 2017
The children's session was around raising awareness of mental health and signposting to MIND services in Oldham. The staff session was an overview of mental health in children and young people and also information on pathways to all other services available.
MacMillan Coffee Morning
Once again, the generosity of the school community has been brought to light! A huge thank you to ALL the children, parents and staff who donated biscuits, cakes, fruit and refreshments in support of the MacMillan Nurses cancer support coffee morning. Your generous cash donations have meant that the school has been able to raise £190.12.
Another wonderful example of a superb team effort!
Greater Manchester Fire and Rescue Service
Greater Manchester Fire and Rescue Service Clarksfield Primary School to delivery fire safety talks to children.
The visit by the fire service covered the following topics:
what they do

their Equipment

the dangers of playing with matches and lighters

stop, drop and roll (a technique for putting out a fire on your clothes)
The talk was held as part of a wider programme of work in Oldham to help boost safety at Halloween and on Bonfire Night.
During the visit, children were spoken to about how to prevent fires at Halloween and how to keep safe if trick or treating.
Year 6 Oscars Night 2017
Year 6 Oscars Night provided a platform for our school community to celebrate the fabulous achievements and personalities of our wonderful children.
The evening was a truly amazing spectacle - one that will live in all our memories!
A HUGE THANK YOU to everyone involved, for their incredible input from Nursery to Year 6!
Special Recognition Award
As part of the school's commitment to rewarding children making good or better progress (New Arrivals to the country and school), a Progress Reward trip to The Chill Factore was arranged for the children in Year 6 on Wednesday 19th July 2017.
Although the SATS outcomes do not provide a progress measure or a standardised score for these children (as they have been in the country and school for less than 5 terms) the school's internal tracking systems demonstrates that these children have made accelerated progress.
Congratulations to the five children who enjoyed an 'all expenses paid' day out! As always, the children's behaviour was exemplary and they thoroughly enjoyed the experience afforded to them by the school!
Clarksfield in Bloom - The Final Judgement
100% Attendance Reward Trip - Chill Factore
The children who have had 100% attendance and no recorded lateness, this academic year, received a special reward - A FREE summer day trip to The Chill Factore in Manchester.
Y6 Lightwater Valley Reward Trip 2017
The children in Year 6 were rewarded to an 'all expenses paid' trip to Lightwater Valley Adventure Theme Park for all the hard work and effort they have put into their learning during their time at Clarksfield, and especially leading up to their end of KS2 SATS tests.
Clarksfield's Got Talent 2017
What a great evening!
The Talent Show was a way of bringing together the school community to appreciate and celebrate the many talents at Clarksfield like: the amazing magicians, comedians, dancers, singers, musicians, and the list is endless...!
As you can probably appreciate, careful planning and preparation has gone into putting together such a wonderful event and none of this could have been possible without the super efforts of our dedicated staff and children.
A great team effort!
A huge THANK YOU to everyone involved!
Business Challenge: The Dragons Den
'Y6 DRAGONS DEN' PRESENTATION MORNING at Chambers Business Centre on Monday 10th July.
The children presented their products and business plans to the Dragons.
Year 6 Business Challenge
Since completing their SATs, our Y6 children have been involved in a Business Enterprise Challenge Project.
Each class has created a product to sell in an attempt to make profit for two fantastic charities: Children in Need and Macmillan Cancer Support. The children have designed the product, produced financial plans, calculated all the costs and potential profits and designed marketing for their businesses. They have worked extremely hard!
On Monday 3rd July 2017 at Tesco, Huddersfield Road, Oldham, the children were selling their products.
6NP created key ring pom-pom decorations.
6RM created clay dishes.
Small groups of children were trading at Tesco from 9:30 until 2:30.
The children raised over £160 - all of which is profit for their nominated charity. The children were able to offset their costs by raising money when they organised a coffee morning and cake sale at school.
The children had an amazing experience! They were all polite, well-mannered and extremely well behaved - a real credit to the school!
Thank you to everyone for your support.
Well done to everyone involved!
Trip to B&Q
As part of the 'Clarksfield in Bloom' competition the school council visited B&Q to purchase plants to go into our class planters on the playground. The school council representatives enjoyed selecting plants for their class' planter and went back to school excited to start their project!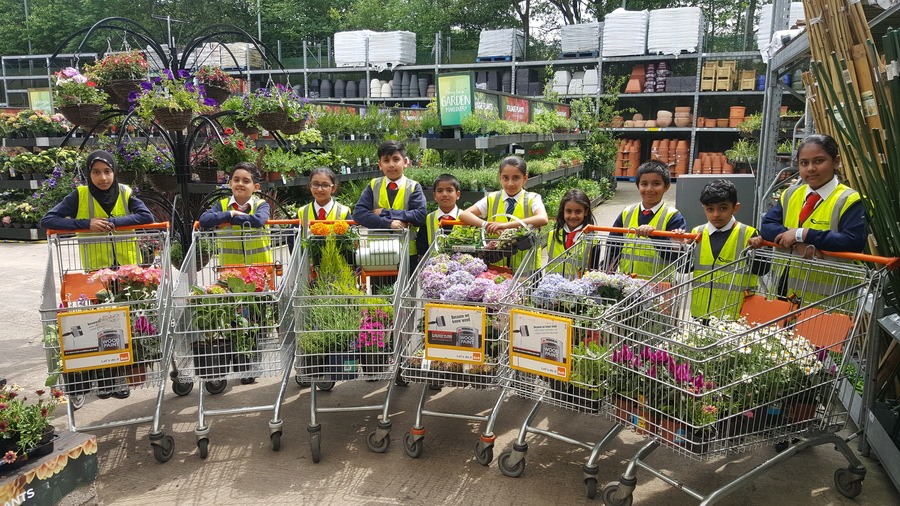 Y6 London Residential 2017
Crucial Crew Event at The MAHDLO Centre
Oldham Crucial Crew – working together to keep local children safe
Crucial Crew is an innovative and interactive way of delivering health and well-being messages to Year 6 children in preparation for their migration to secondary school. The event encouraged model behaviour and good citizenship through active participation in a range of health and safety activities. Professionals from the combined Emergency Services and local agencies were on hand to instruct children on matters that taught them community values to potentially help them save lives in the future.
Year 6 SATS Meeting 2017
Thank you to ALL the parents for attending the KS2 SATS information meeting.
As always, your continued support is noticed, and always appreciated.
As requested, please find attached the PPT presentation (from the parents' meeting).
To view each page, click on the image below.
English Classes for Parents and Carers
The school offers FREE English classes to parents and carers, please contact Hussain at school if you would like to join one of our classes.
We recommend all our new parents join the English class to help their children settle into school quicker and to make new friends!
The class is led by experienced staff.
Year 6 SATs
Just a reminder that the KS2 Year 6 SATS will be administered in the week commencing 8th May 2017.
Date

Activity

Monday

8/5/2017

KS2 English Reading Paper

Tuesday

9/5/2017

KS2 English Grammar, Punctuation and Spelling Paper 1

KS2 English Grammar, Punctuation and Spelling Paper 2

Wednesday

10/5/2017

KS2 Mathematics Paper 1: Arithmetic

KS2 Mathematics Paper 2: Reasoning

Thursday

11/5/2017

KS2 Mathematics Paper 3: Reasoning
What can I do to help my child?
supporting your child at home will be of great benefit in ensuring that they are prepared for the tests

use the Rising Stars study books and completing the practice questions (these have been provided to every Year 6 child, by school)

use the sample papers on the government website
Comic Relief 2017
Friday, 24th March was Comic Relief. Thank you to all families who arranged for red coloured outfits for their children to wear.

I am pleased to announce with the sale of the cakes, red noses and donations for coming to school wearing a red outfit, the whole school has managed to raise… DRUM ROLL PLEASE… £537.31!!!!
What a fantastic achievement from everyone in school, well done you should all be very proud of yourselves!
Year 5 Careers Fair: Love Learning – Be Inspired
Some of our Year 5 girls went to the Mahdlo Centre in Oldham. They participated in an exciting event that motivated and inspired them to think about the world of work and future careers. There were over 40 local businesses and employers attending from a wide range of sectors, and the event raised awareness and aspirations of young people in Oldham in an interactive and fun way.
Sporting Participation
Mr Hussain took a group of children to the Castleshaw to take part in a walk along with other schools from the Oldham Schools' Sport Partnership. The aim of the walk was to engage some of our more inactive pupils in a non-competitive sporting environment and given them the opportunity to get out into the countryside.
Year 6 London Residential 2017
As one of the children's learning experience, Year 6 pupils experienced first-hand some of our capital city's most historic and iconic landmarks.
During the trip, the children participated in a number of activities to support their learning throughout the curriculum, as well as providing a memorable and exciting shared experience with their friends.
Activities included:
- Walking tour to see famous landmarks (Downing Street, Buckingham Palace, Houses of Parliament, Hyde Park)
- London Eye
- A river Cruise on the Thames
- A live musical at a London Theatre
- A visit to Parliament to meet with our local MP, Debbie Abrahams
- Museum Visit
- Warner Brothers Studio – Behind the scenes Harry Potter tour
Year 6 London Residential 2017 - Day Three
Year 6 London Residential 2017 - Day Two
Year 6 London Residential 2017
World Book Day 2017
It's that time of year again, where we celebrate authors, illustrators, books and reading...
It's World Book Day of course!
At Clarksfield, we celebrated World Book Day by dressing up as characters from some of our favourite books.
Activities included:
re-design your favourite book cover,

World Book Day quiz,

Key Stage assemblies and whole school competitions (various)
Yet again, many of the children and staff excelled in their efforts for World Book Day this year.
As always, the children and staff were very creative in their ideas for dressing up as a favourite book character.
School Linking Project with Hey With Zion
We carried out a number of activities; getting to know you, find someone who......, dodge ball, tour of the school and we made acrostic poems with our names and decorated photo frames to put them in.
Children got to know each other and made penpals.
We will be spending a day at Castleshaw with them and we will be visiting their school for a sports afternoon next term.
Year 5 Castleshaw Visit
Class 5NS visited Castleshaw on Thursday 9th February. Despite the cold weather and occasional snow showers, the children and staff enjoyed a full day of activities.
The journey to the centre was full of excitement (and maybe a little trepidation).
The team building day included rope tying, this was later used to build shelters, rope swings and adventure trails. The final activity was a map reading a location finding completion.
Outdoor education makes an important contribution to students' physical, personal and social development. (Ofsted 2013).
Sainsbury's Sports Award
We are pleased to announce that our school has been awarded the Sainsbury's School Games Mark (Gold Level of the award) for the school's commitment to and development of competition, school sport and physical education. A huge thank you to Mr Hussain for all his efforts in raising the profile of PE and School Sports at Clarksfield.
Armistice Day/Poppy Appeal
Our children observed a period of silence today to mark Armistice Day. We have also been selling poppies, wristbands and other items throughout the week to raise money for the British Legions Poppy Appeal.
MIND Training
As part of the school's continued commitment to CPD, a speaker from Tameside, Oldham and Glossop MIND came into school to cover issues around children's mental health.
The children's session was around raising awareness of mental health and signposting to MIND services in Oldham. The staff session was an overview of mental health in children and young people and also information on pathways to all other services available.
Greater Manchester Police
On Thursday 13th September, PSCOs from Oldham Police Station visited Clarksfield Primary school.
The PCSOs, who work in the Clarksfield and surrounding areas, visited the school to educate the children regarding the work of the police, along with giving a talk on 'Stranger Danger'. After the talk, the children had to opportunity to ask the officers questions and were shown the types of equipment the officers carry.
Sporting Participation: PE and School Sports
Computing Week @ Clarksfield
As part of Clarksfield's Computing Week, the children were visited by professionals working in the industry. They used existing technology in new and exciting ways and experienced programming robots, as well as getting creative with Makey Makey, iMovie, Green Screens and Virtual Reality Goggles.

In addition to this, throughout the week, each class focused on a specific aspect of e-safety from password encryption to communication using social media.
E-safety Workshops
A member of Oldham's Local Safeguarding Children Board visited Clarksfield Primary School this half-term and delivered some E-Safety workshops to the children in UKS2, titled: Are you a superhero or a sheep?
The session consisted of a 20 minute assembly followed by a lesson to year 5 or 6 lasting approximately 1 hour tackling the issues of E-safety, including: grooming, digital footprint, how to report abuse/CEOP button, gaming, webcams, chatrooms and cyberbullying etc.
A Special Prayer Service for One of Clarksfield's Special Children: Aleeza Ahmed
Dear Parents and Friends,
As you will probably know - one of our children - Aleeza Ahmed, who attended our school in Year 1, very sadly passed away last year. Last Friday, the school community gathered to celebrate her short but very happy life with a special prayer service at school. This was arranged with Aleeza's family. The Imam from Ronald Street Mosque led a short but beautiful prayer. After the prayer, a plaque engraved with Aleeza's name was placed on one of our school playground benches in memory of Aleeza Ahmed: our little girl from Clarksfield.
Aleeza's family have also made a donation of some special books (for our school library) for all the children of Clarksfield to read and these books will be inscribed in her name for remembrance.
In addition to this, the staff and pupils organised a coffee morning and a bake sale which took place in the gym after school. As a result of all of your generosity, the school was able to raise an outstanding £516.00.
All the money raised will be given to The Royal Manchester Children's Hospital and The North West Air Ambulance Service in memory of Aleeza Ahmed.
Furthermore, Aleeza's parents were very deeply moved that the entire school community should care so much about their daughter and remember her in such a special way; they have asked Mrs O'Donnell to thank you all for your support - they really could not be more grateful and appreciative!
Finally, Mrs O'Donnell, along with the Governors of Clarksfield and the school community would like to express their heartfelt appreciation for everything that everyone has done to contribute to the memorial for Aleeza.
Aleeza Ahmed
"Surely we belong to Allah and to Him shall we return"
"Rest in Peace Aleeza"